CBSE Class 12 Maths Preparation Tips 2023 to Score 90+ Marks
CBSE class 12 Maths Preparation Tips 2023- Are you struggling on how to prepare maths for board exams? It is time to take a sign of relief as here we have concluded some simple CBSE 12th mathematics preparation tips 2023. Maths is a scoring subject in Class 12th board exams but it needs regular practice and clearing of concepts.
Latest Updates for CBSE Class 12th
Stay up-to date with CBSE Class 12th News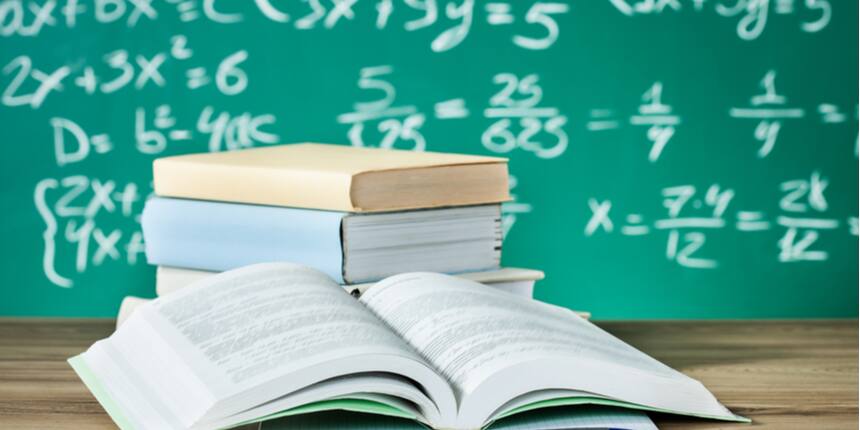 Hence, it is necessary to implement these CBSE 12th preparation tips for mathematics in your schedule to score high and follow it tightly. These CBSE Class 12 Maths preparation tips 2023 are created with the help of experts. Following these tips helps students to get good marks in the CBSE 12th board exams. Read the complete article to know in detail about how to prepare for class 12 maths board exam and get some important CBSE class 12 maths last minute tips.
CBSE Class 12 Maths Preparation Tips 2023
The CBSE Board 12th Maths preparation tips can really help students to score higher marks. CBSE Class 12th exams are quite important for the future and need to be taken care of to achieve goals. Read more to get all the important CBSE Class 12 Maths last minute tips here
CBSE Board 12th Maths Preparation Tip 1 - Go Through with Syllabus
A good preparation strategy can be very helpful to ace the class 12 Maths exam. Students start with getting familiar with CBSE Class 12 syllabus thoroughly. Cover all the topics and concepts by making a proper study plan in order to clear the exam successfully. Important topics of maths class 12 CBSE with marking scheme is given in the table below:
CBSE Class 12 Maths Syllabus 2023
| | |
| --- | --- |
| Units | Marks |
| Relations and Functions | 08 |
| Algebra | 10 |
| Calculus | 35 |
| Vectors and Three - Dimensional Geometry | 14 |
| Linear Programming | 05 |
| Probability | 08 |
| Internal Assessment | 20 |
| Total | 100 |
CBSE Class 12 Maths Preparation Tip 2 - Get Familiar with Paper Pattern
After understanding the syllabus, it's time to get familiar with the exam pattern. These CBSE class 12 Maths Preparation Tips will help in understanding the exam scheme, type of questions asked, marking scheme, and the no. of questions asked. With this, students can easily make their strategy to tackle the examination effectively. It would be better to go through the CBSE 12th question papers to know the difficulty level and exact paper pattern.
CBSE Maths Exam Pattern
Section - A has 18 MCQ's and 02 Assertion-Reason based questions of 1 mark each.
Section – B has 5 Very Short Answer (VSA)-type questions of 2 marks each.
Section - C has 6 Short Answer (SA)-type questions of 3 marks each.
Section - D has 4 Long Answer (LA)-type questions of 5 marks each.
Section - E has 3 source based/case based/passage based/integrated units of assessment (4 marks each) with sub parts.
Also, check NCERT Class 12 Maths Solutions
Chapter wise Solutions of CBSE Class 12 Maths
CBSE Class 12 Maths Preparation Tip 3 - Practice from Reference Books
NCERT Class 12 Maths books are best to start practice for your exams, after completing the NCERT start with reference books. These are the vital steps of how to prepare for class 12 maths board exam. Practicing a variety of questions will help in exams to tackle difficult questions, this is one of the best CBSE class 12 Maths preparation tips 2023.
There are various books that one can use to practice, R.D Sharma and R.S Agrawal are two books that are considered as standard reference books for CBSE class 12 Maths 2023. Below we have listed useful books that can be used, check out the list.
List of Best Class 12 Maths Books 2023
| | |
| --- | --- |
| Book Name | Author |
| Mathematics-Class XII (Set of 2 Volumes) | R.D. Sharma |
| Senior Secondary School Mathematics for class 12 | R. S. Aggarwal |
CBSE Class 12 Maths Preparation Tip 4 - Regular Practice
Regular practice is the most important part of your preparation for CBSE class 12 Maths exam 2023. Try to solve a number of questions from different books, CBSE class 12 sample papers, previous year papers, etc. This practice will help in gaining confidence for the exam, the more you practice the better you get. CBSE 12th preparation tips 2023 for practicing on a regular interval can be really helpful, including small breaks in your study timetable.
Also download, CBSE Class 12 Maths sample paper 2023
CBSE 12th Mathematics Preparation Tips 2023- Bonus Points
Clear all Doubts: Doubts can seriously damage a lot whether it's a minor or major. It would be better to be clear with the concepts. Maths is an interesting subject unless you are solving questions efficiently, but when you get stuck with any question then you will feel bored with it. Try to practice all types of questions to be clear with the concepts.
Make Notes: Making notes can be really helpful in revising the concepts quickly. It will also help in remembering the formulas.
Find out your weak areas: Self evaluation is very helpful in finding the weak points to improve your score.
Make a Time Table: Give equal time to each chapter and include small breaks to avoid boredom.
Also, check the model answer sheets for CBSE 12 maths exams to know how to write answers in the exam.
Also check, Tips for Scoring High Marks in CBSE 12th Maths
Topic-wise CBSE Class 12th Maths Preparation Tips
Start with simple chapters like Relations and Functions, and Linear programming.
Algebra contains two topics namely matrices and determinants are also easy to understand.
Questions are asked from Vectors and Three -Dimensional Geometry can be tricky but they are also easy to solve.
Probability is an easy unit which has a weightage of 8 marks and it is easy to score in this section.
Calculus is the most important section as it carries a huge weightage. By using a logical approach and rigorous practice, you can easily complete this section.
CBSE Class 12 Maths Last Minute Tips
Utilize the initial 15 minutes in analyzing the question paper.
Solve the questions that are easy and can be solved efficiently without any problem.
Don't stick to one question for too long, if you don't know how to solve it.
Try to write in steps and keep the sheet clean with specific answers.
In the last 15 minutes, revise your paper and rectify the mistake.
Also, Read
Frequently Asked Question (FAQs) - CBSE Class 12 Maths Preparation Tips 2023 to Score 90+ Marks
Question: How to prepare for class 12 maths board exam?
Answer:
Get familiar with the syllabus and exam pattern and then make a proper study timetable accordingly. Stick to the timetable and remember to include short breaks in it.
Question: Does CBSE fail students?
Answer:
CBSE board has omitted the word 'FAIL' from the mark sheet of the students.
Question: Is Ncert enough for Class 12 boards maths?
Answer:
NCERT Class 12 books are best to start the preparation, after that go for other reference books for class 12th Maths.
Question: Is class 12 maths difficult?
Answer:
Class 12 Maths requires regular practice to crack the exam with good marks.