CBSE Class 12 Preparation Tips 2022 -Subject wise Tips & Trick
Top 10 CBSE Class 12 Preparation Tips 2022 - Preparing for the CBSE board exam becomes easy by following CBSE exam preparation tips for class 12. These CBSE 12th preparations tips 2022 are helpful to organize the study time, marking a CBSE Class 12 study plan and other important things. CBSE Board Class 12 term 2 exams will be held in March/April 2022.
Latest Updates for CBSE Class 12th
Stay up-to date with CBSE Class 12th News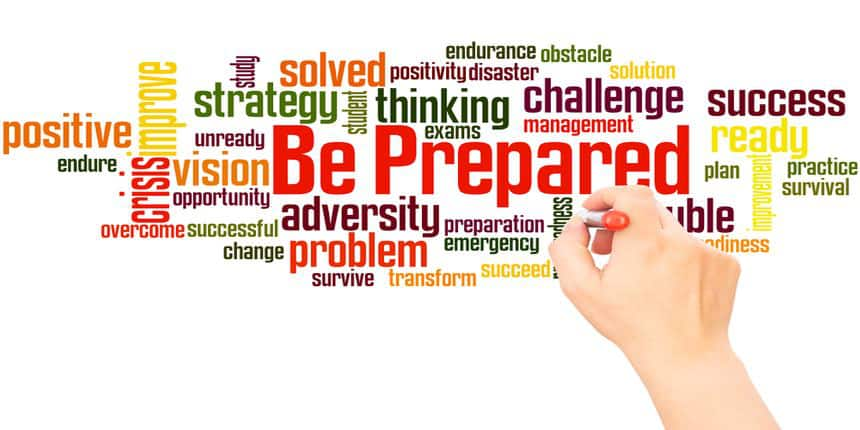 Students should cover the entire CBSE 12th exam syllabus 2022 by the end of February 2022 and follow the CBSE Class 12 Board Preparation Tips to excel in the exams. CBSE Class 12 preparation tips 2022 given in this article will aid students to achieve the target score if studied dedicatedly. Read below to know more about how to prepare for 12th board exam and subject-wise tips.
How to Prepare for Board Exams class 12 CBSE 2022?
Students can score good marks in the CBSE class 12 exams with a good preparation strategy. Let's have glimpses into CBSE Class 12 Board Preparation Tips that every student must follow to get good marks.
Preparation Tip 1- Know the Syllabus and Exam Pattern
Knowing the syllabus is the basic step towards preparation which makes it an important tip among all CBSE Class 12 preparation tips 2022.
This year, the CBSE class 12 syllabus 2022 has been reduced by 30% and divided into two terms. Each term contains 50% syllabus. Students should prepare with the new syllabus. If they are preparing for any national level entrance exam, then try to cover the entire syllabus for conceptual clarity.
By knowing the weightage of different topics, you can divide your time accordingly and will get more time for revision.
8 min read
Mar 05, 2022
Read More
Check subject-wise syllabus
CBSE Class 12 Preparation Tip 2 - Conceptual Clarity
You must not try to cram the whole syllabus as it will make you feel stressed and forget things in exams. On the contrary, if you have proper clarity of the topics you can write the exam in a better way. Try to learn by understanding the depth of the topic and not by memorizing each and everything.
CBSE Class 12 Preparation Tip 3 - Practice with Previous Year's Papers
You can refer to the previous year papers to know which type of questions are asked. Along with this, refer to the latest CBSE class 12 sample papers to know exam patterns.
When you have completed all the important topics it is suggested that you must practice CBSE 12th previous question papers. This is one of the most important CBSE Class 12 preparation tips 2022 for gaining outstanding scores. Question papers help to understand thoroughly the subject and types of question.
CBSE Class 12 Preparation Tip 4 - Stay Organized
You should make a study plan for class 12 CBSE to do an organized study. It helps in better productivity.
Include time for all subjects and also include some time for interests and hobbies. Take short breaks after 40-45 minutes to keep your mind fresh.
CBSE Class 12 Preparation Tip 5 - Refer to the Best Books
You must prefer NCERT books while preparing for class 12. As CBSE Class 12th question paper is prepared from topics of NCERT only.
After NCERT, you can also use other reference books for the practice of problems, numerical, etc.
Check reference books for some subjects
CBSE Class 12 Preparation Tip 6 - Make Daily Study Plan
It is not possible to achieve the desired target without proper planning. Set a daily schedule and implement it. It will help you boost confidence and study at a constant pace. At the end of the week, revise the topics studied in the week to keep them remembered.
Following a planned schedule helps in covering the syllabus on time. It is important among other CBSE exam preparation tips for Class 12. Hence, it is recommended to make a good study schedule and follow the same with utter dedication.
CBSE Class 12 Preparation Tip 7 - Make Notes
You should write the studied topic in your own language and make notes. These notes will be helpful in the last minutes to revise the syllabus in short. It makes a best among all CBSE Class 12 Board preparation tips 2022.
You should check out these subject-wise NCERT solutions in case of any doubt while studying:
CBSE Class 12 Preparation Tip 8 - Take proper diet and Sleep
There is a common saying, 'A healthy mind lives in a healthy body.' So, you should keep yourself fit and fine. For this, a balanced diet and proper sleep are mandatory.
Take a balanced diet and adequate sleep for at least 6 to 8 hours a day. Do not study late at night and for long hours, take short breaks to feel fresh.
Stress, fear, and anxiety will hamper the preparation and affect the performance in board exams.
CBSE Class 12 Preparation Tip 9 - Stay Away from Distraction
Avoid listening to music, watching television, text messaging or surfing the Internet while studying. You should find the study spot with minimal or no disturbance to focus on study and cover topics quickly. Distractions can hinder your path to success.
CBSE Class 12 Preparation Tip 10 - Make Strategy to write answers
One of the most important CBSE 12 class preparation tips 2022 is to know how to write answers during the exam. Students should highlight the important section of an answer with a different colour pen or by underlining. Besides, write answers in points instead of writing in paragraphs. To know the best way of writing answers, students can also download the topper's answer sheet from the main website of CBSE. Make the best use of 15 minutes of reading time to properly read and plan accordingly.
Subject-wise CBSE Class 12 Preparation Tips 2022
The above-given tips are the general tips which can be followed while preparing for all subjects. Below, we have given some subject-wise CBSE 12th Preparation Tips 2022:
Mathematics is an important subject for all stream students as it is the main part of most of the entrance and scholarship exams. Students who want to pursue a career in the field of engineering, chartered accountancy, statistics, needs logical thinking which can be developed with maths:
Tricks & Tips for CBSE 12th Maths Exam
Students must refer to NCERT Class 12 maths syllabus as the entire paper revolves around the concepts given in this syllabus.

Practise with all the solved and unsolved questions too. Solve the CBSE 12th Maths sample papers 2022and previous year question paper available on the CBSE website
Download CBSE Previous Year Question Papers Class 12 Maths.

In the exam, attempt long answer questions (6 marks) as it will give you a good time to attempt and secure good marks

The important and more weightage topics must be written first.
Chemistry is the most important subject of science which consists of the structure, properties, and composition of matter. It includes the changes that take place in matter and types.
CBSE 12th Chemistry Exam Tips & Tricks
CBSE 12th Preparation Tips 2022 for Physics
Physics includes the scientific study of motion, light, electricity, radiation or gravity. Physics deals with matter ranging from subatomic particles like photons and electrons to galaxies.
Tricks & Tips for CBSE 12th Physics Exam
Prepare a list of formulae, derivations, and experiments mentioned in the syllabus.

Try to understand the logic behind the derivation rather than just mugging up.

Revise concepts regularly and do practice more and more numerical

Solve the latest CBSE 12th Physics sample papers 2022 to know the right paper pattern and type of questions asked.

Do mention S.I units (if any) of all physical entities.

Start your preparation depending upon the weightage of each topic given in the CBSE Class 12 Physics syllabus 2022
Biology is the study of plants and animals. Biology has 2 broad branches Botany (the study of plants) and zoology (the study of Animals). Also, microbiology(the study of microorganisms) is included in Biology. Refer to the below CBSE Class 12th preparation tips 2022 to make most of this subject-
CBSE 12th Biology Tricks & Tips
You will be learning new terms which are to be memorized. You can make notes with definitions of the new terms that you learn each day.

Prefer to write the definition in your own way without changing the meaning rather than cramming.

Practice previous year question paper and make a list of common questions that have been asked and then practice them more thoroughly

Make a strategy for CBSE class 12 Biology exam preparation based on Marks distribution of different units.
CBSE 12th Preparation Tips 2022 for Business Studies
Business studies paper has two subdivisions.
Part 1 consists of questions from Principles and Functions of Management and carries 60 marks.
Part 2 consists of questions from Business Finance and Marketing and carries 40 marks.
Tricks & Tips for CBSE 12 Business Studies Exam
To solve questions that require higher-order skills you must read as many case studies as possible, and start analyzing topics.

Solve the mock papers given by CBSE and, also, from other books.

Solve each and every question given at the end of the chapter in NCERT.

Prepare for the chapter at first which carries high weightage
Computer Science is one of the optional subjects which is preferred by most of the students. Below mentioned CBSE Class 12 preparation tips for computer science that will help you to score good marks:
Tricks & Tips for CBSE 12th Computer Science Exam
Create Flash Cards- students must make flashcards of important facts and revise them frequently so as to remember them.

Solve CBSE 12th Computer Science Question Papers - Solving around 5-6 questions of each type from the previous CBSE 12th board paper helps students to know the exam pattern and clear all doubts.

Make a rough sketch- Before attempting the exam make a rough sketch for programs so as not to make mistakes while writing the final program.

Prepare according to weightage- Students are recommended to prepare subjects carrying more weightage first and then low weightage subjects.
Also, Check
Frequently Asked Question (FAQs) - CBSE Class 12 Preparation Tips 2022 -Subject wise Tips & Trick
Question: How many hours should I study to crack CBSE 12th board exams?
Answer:
Students should at least devote 7-8 hours to study daily to crack CBSE 12th exams with good marks.
Question: What are the CBSE 12th topper's tips?
Answer:
Clear all your basics and solve last year's question papers to crack the exams with good marks.
Question: Which are the best books for CBSE Class 12 preparation 2021?
Answer:
Students first cover the syllabus and related exercises from NCERT books. Almost all questions will be asked from NCERT books.