NCERT Books for Class 11 for All Subjects - Download PDF
NCERT Books for Class 11 2022- The NCERT books of Arts, Commerce, and Science stream for class 11 are available to download on the official website, ncert.nic. The NCERT books for Class 11 are available offline and online in PDF form as well. NCERT books for 11th 2022 are designed under the National Curriculum Framework (NCF). All the CBSE schools prescribe the NCERT books for Class 11 in their curriculum.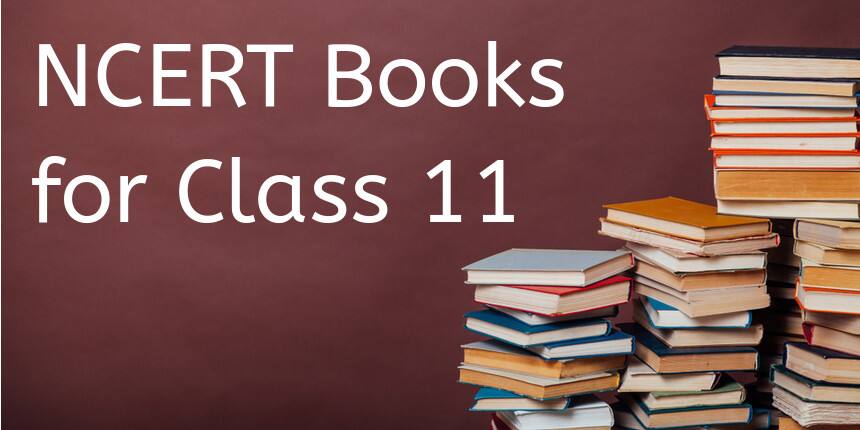 The book carries all the topics of the NCERT syllabus which will help students in the competitive exams as well. It explains every topic in a comprehensive way which is clearly understandable for everyone. CBSE Class 11 Books Science provides all the basic and conceptual knowledge of topics. Read the complete article to know the best NCERT books for Class 11 along with the price list of books.
7 min read
Mar 05, 2022
Read More
NCERT has prescribed four books for class 11 namely Hornbill, Snapshots, and Woven Words.

These books include all the chapters along with exercise to practice at the end of each chapter.

The questions in the examination will be asked directly from these textbooks for the literature sections. So these books are a must-read for every student.
NCERT Class 11 books for Hindi comprise of literature book and supplementary books.

The name of the books are Antara, Antaral, Aaroh, Vitaan, and Abhvyakti Aur Madhyam.

These books provide to the point and relevant information to qualify the examination.

Practice questions are provided after every chapter. There will not be any need to refer any other books as the questions provided in the CBSE NCERT books for class 11 Hindi will be enough to score well in the exam.
The book prescribed by NCERT for Maths is Mathematics Textbook for Class XI.

NCERT 11th book for Maths has six units i.e. Sets and Functions, Algebra, Coordinate Geometry, Calculus, Mathematical Reasoning, Calculus, Mathematical Reasoning, and Statistics and Probability.

The NCERT book provides the fundamental clarity of Mathematical Concept which will help students in better understating of each and every topic.

Different types of questions are provided by NCERT in the book.
NCERT book of Biology includes five units i.e. Diversity of Living Organisms, Structural Organisation in Plants and Animals, Cell: Structure and Function, Plant Physiology, and Human Physiology.

The book provides all the topics of Biology in a simple and easily understandable language.

NCERT books for class 11th for Biology subject provide the colourful illustrations of diagrams which will be really helpful in understanding it.
Units included in class 11 Physics NCERT book are Physical World and Measurement, Kinematics, Laws of Motion, Work, Energy and Power, Motion of System of Particles and Rigid Body, Gravitation, Properties of Bulk Matter, Thermodynamics, Behavior of Perfect Gas and Kinetic Theory, and Oscillations and Waves.

The book explains all the concepts and theorems of physics nicely.

NCERT of Physics is a must for the students preparing for competitive exams.
CBSE NCERT Books for Class 11 will be highly beneficial for students in understanding the basic concepts of each and every topic.

Students can read the other prescribed reference books as well to practice more from every topic.

The book covers all the important topics asked in the competitive examination. Hence it is a must-read for the students.
Also read -
NCERT Books for Class 11 - Price list
The price list of all important books of NCERT for Science, Commerce, and Arts stream are given in the table below.
9 min read
Mar 05, 2022
Read More
Also read -
Price list of NCERT Books for Class 11
| | |
| --- | --- |
| Books | Price |
| Aroh - Hindi Core | 65/- |
| Vitan - Suppl.Hindi I ( Core ) | 25/- |
| Antara - Hindi Lit. | 65/- |
| Antaral - Suppl. Hindi Lit. I | 40/- |
| Abhvyakti Aur Madhyam(Core & Lit Cl XI & XII) | 145/- |
| Hornbill - English Core | 50/- |
| Snapshot - Suppl. Eng Core | 35/- |
| Owoen words - English Lit. | 75/- |
| Mathematics | 180/- |
| Biology | 200/- |
| Chemistry Part I | 155/- |
| Chemistry Part II | 105/- |
| Physics Part I | 130/- |
| Physics Part II | 105/- |
| Themes of World History | 155/- |
| Fundamental of Physical Geo. | 80/- |
| India Phy. Environment | 55/- |
| Prac.Work In Geogrophy | 85/- |
| Eco. Statistics | 55/- |
| Indian Eco. Development | 85/- |
| Indian Constitution at Work | 100/- |
| Pol. Theory part II | 70/- |
| Sociology Part I | 45/- |
| Understanding Society Part II | 45/- |
| Business Studies | 115/- |
| Accts Part I | 125/- |
| Accts Part II | 110/- |
| Psychology | 120/- |
| Computers & Communication Technology Part I | 140/- |
Also read -
Frequently Asked Question (FAQs) - NCERT Books for Class 11 for All Subjects - Download PDF
Question: Is there any change in NCERT books of Class 11?
Answer:
There are no major changes in the NCERT books in this session.
Question: Are CBSE books the same as NCERT?
Answer:
CBSE is the educational board which prescribes NCERT books in its curriculum.
Question: Do NCERT questions come in CBSE board exams?
Answer:
NCERT questions will not come directly but the concepts in NCERT will help you solve the board exam questions.
Question: Is NCERT enough for NEET?
Answer:
NCERT will help in understanding the concepts, but you need to refer other books as well for practice.
Explore Popular Degree, Branches and Courses
Browse by Branches/Majors
NCERT Books for Class 11 for All Subjects - Download PDF