NCERT Syllabus for Class 11 Biology 2022 - Check Unit Wise
NCERT Syllabus for Class 11 Biology 2022-23 - NCERT releases the Biology Class 11 NCERT syllabus to help the students in the exam. NCERT Biology syllabus for Class 11 includes all the important topics, marking scheme and marks distribution. NCERT syllabus for Class 11 Biology is followed by CBSE and many other State boards. NCERT books are set by the best authors which makes them very reliable.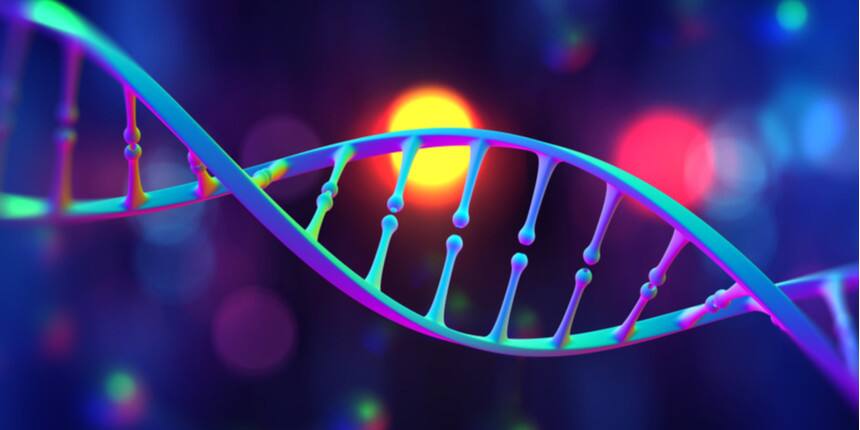 In addition to this, NCERT Class 11 Biology syllabus is written in an easy language which makes it very understandable. Many questions are asked in the competitive exams from the NCERT Class 11 syllabus for Biology. Therefore, students must refer to the same and complete it on time. Read this article to download the NCERT Biology syllabus for Class 11. The Biology syllabus will be included in the JEE Main syllabus and NEET syllabus too.
NCERT Syllabus for Class 11 Biology 2022-23 (Theory)
NCERT prescribes the syllabus for class 11 Biology which is explained unit-wise and topic-wise in the tables given below:
Unit-wise NCERT CBSE 11th Class Biology Syllabus
Unit no.

Unit Name

Chapters

Marks

1

Diversity in Living World

Diversity of living organisms

Biological Classification

Plant Kingdom

Animal Kingdom

12

2

Structural Organisation in Plants and Animals

Morphology of Flowering Plants

Anatomy of Flowering Plants

Structural Organisation in Animals

12

3

Cell: Structure and Function

Cell-The Unit of Life

Biomolecules

Cell Cycle and Cell Division

12

4

Plant Physiology

Transport in Plants

Mineral Nutrition

Photosynthesis in Higher Plants

Respiration in Plants

Plant - Growth and Development

17

5

Human Physiology

Digestion and Absorption

Breathing and Exchange of Gases

Body Fluids and Circulation

Excretory Products and Their Elimination

Locomotion and Movement

Neural Control and Coordination

Chemical Coordination and Integration

17
NCERT Syllabus for Class 11 Biology 2022-23 (Important Topics)
Refer the table given below to know NCERT solution for class 11 Biology & important topics exam.
Chapter No.

Chapter name

Topics

1

Biodiversity; Need for classification; taxonomy and systematics; binomial nomenclature; zoological parks, herbaria, botanical gardens, etc.

2

Salient features and classification of Monera, Protista and Fungi, Five kingdom classification, etc.

3

Gymnospermae and Angiospermae, Salient features and classification of plants, Angiosperms - classification up to class

4

Salient features and classification of animals, non-chordates up to phyla level and chordates up to class level

5

Morphology of different parts of flowering plants, Morphology and modifications

6

Anatomy and functions of different tissues and tissue systems.

7

Anatomy, functions and Morphology of different system, Animal Tissues

8

Cell theory, Structure of prokaryotic and eukaryotic cells; Plant cell and animal cell; cell structure and function; endomembrane system, endoplasmic reticulum, Golgi bodies, lysosomes, vacuoles; mitochondria, ribosomes, plastids, microbodies; cytoskeleton, cilia, flagella, centrioles; nucleus.

9

Enzymes- types, properties, enzyme action. Chemical constituents of living cells: structure and function of proteins, lipids, nucleic acids, biomolecules, carbohydrates

10

Cell cycle, mitosis, meiosis and their significance

11

Movement of water, cell to cell transport, diffusion, facilitated diffusion, plant-water relations, imbibition, osmosis, plasmolysis; Absorption, apoplast, symplast, transpiration pull, root pressure and guttation;

transpiration, opening and closing of stomata, etc

12

Essential minerals, macro- and micronutrients; deficiency symptoms; Mineral toxicity; nitrogen metabolism, nitrogen cycle, biological nitrogen fixation.

13

Photosynthesis as a means of Autotrophic nutrition; Site of photosynthesis; Photochemical and biosynthetic phases of photosynthesis; cyclic and

non-cyclic photophosphorylation, factors affecting photosynthesis.

14

Exchange of gases; cellular respiration - glycolysis, fermentation, TCA cycle and electron

transport system; energy relations, amphibolic

pathways; respiratory quotient.

15

Seed germination; differentiation, dedifferentiation and redifferentiation; sequence of developmental processes in a plant cell; growth Regulators, seed dormancy; vernalisation; photoperiodism.

16

Alimentary canal and digestive glands, digestive enzymes and gastrointestinal hormones; Peristalsis, absorption and assimilation of proteins, carbohydrates and fats; egestion; nutritional and digestive disorders

17

Respiratory in animals and humans; mechanism of breathing, disorders related to respiration,

18

Blood groups, Composition of the blood, coagulation of blood, human circulatory system, cardiac cycle and output, ECG, double circulation, disorders of the circulatory system

19

Modes of excretion; human excretory system; urine formation, osmoregulation; regulation of kidney function; the role of other organs; disorders; dialysis and artificial kidney, a kidney transplant.

20

Types of movement; skeletal muscle; skeletal system and its functions; disorders of the muscular and skeletal system

21

Neuron and nerves; peripheral and visceral nervous system; generation and conduction of nerve impulse; reflex action; sensory perception; sense organs; elementary structure and functions of eye and ear

22

Endocrine glands and hormones; hypothalamus, pituitary, pineal, thyroid, adrenal, pancreas, gonads; mechanism of hormone action (elementary idea); hypo - and hyperactivity and related disorders; dwarfism,

acromegaly, goitre, diabetes, Addison's disease.
CBSE 11th Biology Marking scheme 2022-23
| | | |
| --- | --- | --- |
| Typology of questions | Number of questions | Marks |
| Very Short Answer Type Questions (VSA) | 5 | 5x1=5 |
| Short Answer-I type Questions (SA-I) | 7 | 7x2=14 |
| Short Answer-II type Questions (SA-II) | 12 | 12x3=36 |
| Long Answer type Questions (LA) | 3 | 3x5=15 |
| Total Questions | 27 | 70 |
Unit-wise Marking Scheme
CBSE Class 11 Biology Syllabus 2022-23 Prescribed Books
CBSE prescribes the NCERT Books for every subject. CBSE prescribed "Biology Class-XI, Published by NCERT" book to cover 11th class Biology syllabus. Apart from this, Candidates should also read other reference books to gain additional information which is listed below:
3 min read
Mar 05, 2022
Read More
S. Chand's Biology for Class XI

Modern"s Abc Biology Class 11 Part 1 & 2
NCERT Syllabus for Class 11 Biology 2022-23 (Practical Examination)
CBSE also conducts a practical examination of 30 marks for the duration of 3 hours. NCERT devised CBSE class 11 Biology Syllabus for practical exams which are explained below:
Practical Evaluation Scheme
| | |
| --- | --- |
| Particular | Marks assigned |
| One Major Experiment Part A (Experiment No- 1,3,7,8) | 5 |
| One Minor Experiment Part A (Experiment No- 6,9,10,11,12,13) | 4 |
| Slide Preparation Part A (Experiment No- 2,4,5) | 5 |
| Spotting Part B | 7 |
| Practical Record + Viva Voce | 4 |
| Project Record + Viva Voce | 5 |
| Total | 30 |
CBSE Class 11th Biology -List of Experiments

Benefits of NCERT Syllabus for Class 11 Biology 2022-23
It plays an important role to prepare for the annual and terminal examinations by providing the complete course structure.

It instructs students to prepare for their practical exam also which is an important section to gain good marks.

NCERT syllabus for Class 11 Books helps students to make a study plan and exam day strategy.

This syllabus is easily available to download online from the official website or students can download the same using the links given below.


Also read,
NCERT Class 11 Biology Syllabus 2022-23 Important Points
It is devised by NCERT Separately for practical and theoretical examinations.

The entire syllabus is divided into 5 units which are further divided into chapters. The topic-wise syllabus for all the chapters explained in this article below.

Human Physiology and Plant Physiology are the most important topics of the NCERT Syllabus for Class 11 Biology. Each of them contains the weightage of 17 marks in the CBSE exam.

NCERT Books are devised and published on the basis of this syllabus, which is followed by CBSE and other academic boards.
Download NCERT Class 11 Biology Syllabus and Books
NCERT Class 11 Syllabus and Books
Frequently Asked Question (FAQs) - NCERT Syllabus for Class 11 Biology 2022 - Check Unit Wise
Question: Is the NCERT syllabus enough for the exam preparation?
Answer:
Yes, NCERT syllabus covers all the important topics and is enough for the exam preparation. However, students can also refer to some reference books to solve a variety of questions.
Question: What is the advantage of NCERT class 11 syllabus?
Answer:
The main advantage of class 11 syllabus of NCERT is that it clears the fundamental concept of the student for all the exams.
Question: What is the difference between CBSE and NCERT syllabus for class 11?
Answer:
NCERT Class 11 syllabus is the foundation syllabus from which CBSE and other state boards derive their syllabus.
Explore Popular Degree, Branches and Courses
Browse by Branches/Majors