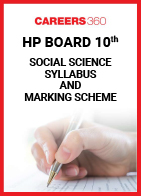 HP Board 10th Social Science Syllabus & Marking Scheme 2020
Description
Download the HPBOSE Class 10 Social Science Syllabus 2020 to know what to prepare for the HP Board Class 10th exams. Also, check the marking scheme along with the chapter.

When you look back in life , this app would have played a huge role in laying the foundation of your career decisions.
Ayush JaipuriarEngineering Aspirant

Found everything I wanted and it solved all of my queries for which I was searching a lot....very helpful site. A must visit.... kudos to the team!
Anushka AnnieMedical Aspirant

No need to find colleges in other sites, this is the best site in India to know about any colleges in India.
Ashish KumarEngineering Aspirant