Sainik School Reservation 2021 - Know Sainik School Reservation System
Sainik School Reservation 2021 – AISSEE reserved a few seats for SC/ST, OBC(NCL) category students and a few for ex-defence personnel as per the reservation policy. According to the Sainik School reservation norms, seats are reserved for SC/ST/OBC students, home state students, girls and children of defence personnel and ex-servicemen. The Sainik School reservation 2021 criteria are crafted after considering the government norms. Sainik School Society has conducted AISSEE 2021 exam on February 7, 2021, for class 6 and 9 admissions.
Sainik School admit card 2021 released. Check here!
Download Sainik School question papers to prepare for the exam.
Sainik School admission 2021 will be given on the basis of student's performance in the AISSEE 2021 exam, medical exam and seat reservation system. Read below to get details of Sainik School reservation 2021 criteria and other related information.
Also, read Sainik School admission 2021 form
Latest Updates for AISSEE
Stay up-to date with AISSEE News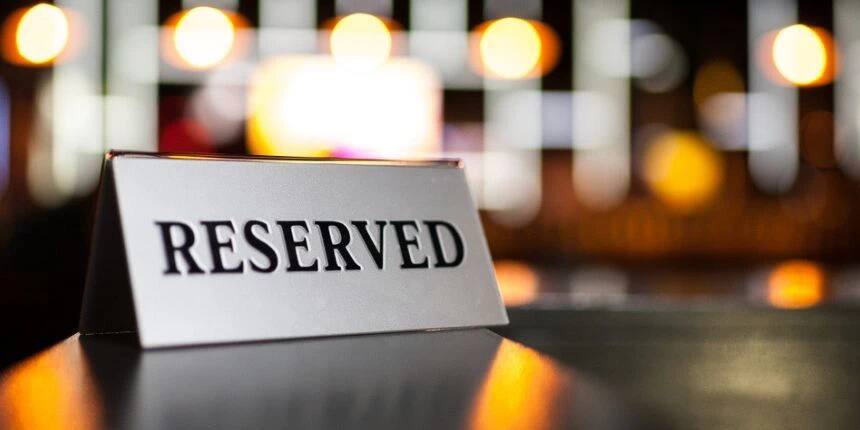 Sainik School Reservation 2021
The reservation criteria of Sainik School admission 2021 as stated by the conducting body are mentioned below:
AISSEE 2021 Reservation Criteria 2021
| | | |
| --- | --- | --- |
| S.No | Category | Reservation |
| 1 | Home State Students | 67% |
| 2 | Boys from other states and UTs | 33% |
| 3 | SC (Scheduled Caste) | 15% |
| 4 | ST (Scheduled Tribe) | 7.5% |
| 5 | OCB (Non Creamy Layer) | 27% |
| 6 | Child of service personnel including ex-servicemen | 25% |
| 7 | 10% of the total vacancies or for Girls (For Class 6 only) | 10% or 10 seats (whichever is more) |
Sainik School Reservation Criteria Details
To apply for 67% of seats available under home state reservation, students must possess a domicile of the state where the school is located.

SC, ST, OBC reservation will be provided under the home state/ UT and other states/ UT quota, the reservation will be given as follows.

For availing SC, ST, OBC reservation of 15 %, 7.5%, and 27% respectively, one must submit a caste certificate along with the application form and bring the same for claiming the seat.

After filling the home state seats, the rest of the 33% seats are allotted to boys from other states and union territories.

In case some of the above mentioned 33% seats are left unfilled, candidates from the home state will be allotted those seats.

25% of seats in Sainik Schools are reserved for children of defence personnel and ex-servicemen, which also includes ex-servicemen.

In Class VI of each Sainik School, 10% of the total vacancies or 10 seats, whichever is more, are reserved for girls.
Sainik School 2021 Selection Criteria
The above Sainik School reservation system will be implemented at every step of the selection process. The selection of students will be made on the basis of their eligibility and the performance in written followed by a medical exam.
Eligible students who fulfil all the Sainik School eligibility 2021 and submit the application form will be able to sit in the AISSEE 2021 exam.

Based on the performance of students in AISSEE 2021, three times of the total seats i.e. 270 students will be shortlisted for the medical exam.

After the medical exam, a merit list of a total of 90 students will be issued for final admission. Sainik School reservation 2021 criteria will be implemented to shortlist the final students.
Sainik School Reservation 2021 – Important Points
Candidates applying for admission under reservation must mention their category while filling the Sainik School application form.

Before applying for Sainik School seat reservation, candidates must verify that they fulfil other eligibility criteria mentioned by the admission authority.

Students will have to provide valid documents in support of their claim of the reservation during the admission process such as proof of category, domicile, etc.

In case a candidate cannot provide valid proof of category, they will not be granted admission under Sainik School reservation 2021.
About Sainik School Admission 2021
All India Sainik School Entrance Exam (AISSEE) has been conducted on February 7, 2021, for admission to class 6th and 9th in 33 Sainik Schools situated all over India. Sainik Schools are all-boys residential schools run by Sainik Schools Society under the Ministry of Defence. The admission authority selects the students on the basis of their performance in the written test and medical exam.
State-Wise Sainik School Admission 2021
Frequently Asked Question (FAQs) - Sainik School Reservation 2021 - Know Sainik School Reservation System
Question: How many seats are reserved for SC students?
Answer:
15% of total seats are reserved for SC students in every Sainik School.
Question: Can SC/ST students be selected in general quota?
Answer:
Yes, if any SC/ST student comes in general merit, then he would be admitted against general seat.
Question: How many seats are reserved for home state students out of 100 seats?
Answer:
A total of 67 seats are reserved for home state students.
Questions related to AISSEE
Showing 124 out of 124 Questions