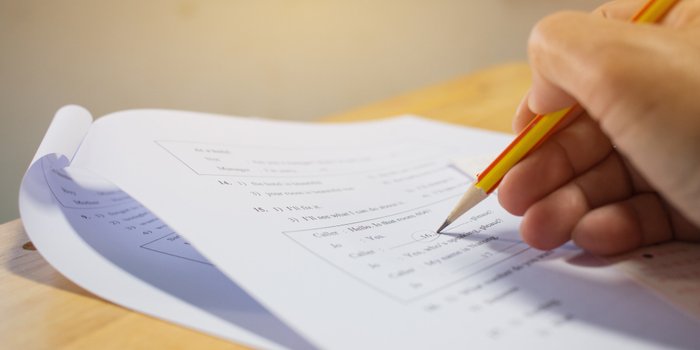 CBSE Class 10 Sample Papers – Central Board of Secondary Education (CBSE) conducts CBSE 10th or All India Senior Secondary Examination (AISSE) every year in the month of March/ April. Students who are preparing for the exam must practise CBSE 10th sample papers released by the Board after covering the entire syllabus. This will not only help them enhance their preparation level for the exam, but will also acquaint them with the exam pattern of AISSE. The practice of sample papers will also give them an idea about the difficulty level of CBSE 10th question paper, apart from familiarising them with type of questions asked in the exam. CBSE class 10 sample papers are available online, free of cost. The official sample papers by CBSE have been made available on this page itself. Students can download the same by clicking on the link provided here, and with regular practice of these question papers, can ace their CBSE 10th Board examination. Scroll down to download CBSE class 10 sample papers and for other important information.
CBSE Class 10 Sample Papers: Steps to download
Candidates can download CBSE 10th sample papers in four easy steps. The step-wise procedure to download the same has been given below:
Step 1: Click on the link for the CBSE Class 10 Sample Paper that you want to download
Step 2: Register yourself, and if already done, login user ID and password
Step 3: After successful registration/ login, click on 'Download'
Step 4: Go through the sample papers and start solving them 
CBSE class 10 sample paper: Subjects included
CBSE uploads sample papers of AISSE every year on the Board's website. To make it easier for students, Careers360 has provided official CBSE 10th sample papers of the last three years for the following subjects. Click on the links to download the same.
S.No.

 

AISSE/ CBSE class 10 Sample papers – Subjects

 

Years

2015

2016

2017

1

English (Communicative and Language & Literature)

2

Hindi (A and B)

3

Science

4

Social Science

5

Mathematics

6

Computer Science
How are CBSE Class 10 Sample Papers useful?
Instead of spending money on several books and sample papers available in the market, students can download CBSE sample papers of class 10 which are available for free. The benefits of CBSE class 10 sample papers have been given below:
Candidates can save their money and time since AISSE sample papers are available free of cost online.

CBSE sample papers will help candidates acquaint themselves with the paper pattern and difficulty level of the exam.

By the time students are done solving the sample papers of CBSE class 10, they will get a fair idea of the type of questions asked in CBSE 10th Board.

While practising the sample papers, students can identify their weak areas and work on the same.
CBSE 10th Board Syllabus and Exam Pattern
Before practising AISSE sample papers, candidates must familiarise themselves with the syllabus of 10th Board and cover all the topics prescribed. CBSE 10th syllabus is available online on the official website and covers subjects such as English, Hindi, Social Sciences, Science, Mathematics, Computer Science and so on. There are different language papers (state-wise) which candidates can choose from. Each paper is held for 100 marks and subjects with practical carry 70 marks for theory and 30 marks for the practical. CBSE 10th Board exam is held for total 500 marks.
About CBSE
CBSE was formed in 1921 as UP Board of High School and Intermediate Education. The current name, i.e., Central Board of Secondary Education was given to it in 1952. The Board was finally reconstituted in 1962 and merged with what was earlier called the Delhi Board of Secondary Education. Currently, 19316 schools in India and 211 schools in 25 foreign countries are affiliated to CBSE. Regional offices of the Board have been set up in Allahabad, Ajmer, Bhubaneshwar, Chennai, Dehradun, Delhi, Guwahati, Panchkula, Patna and Trivanthapurm. The regional office located at Delhi looks after the schools located outside India. CBSE takes care of all matters related to affiliated institutions including exam operations, setting the syllabus, prescribing books and so on.
More like CBSE Class 10th
Questions related to CBSE Class 10th