Career as a Fashion Photographer
Career as a Fashion Photographer – Having a camera, model and the costume doesn't make one a fashion photographer. One requires the vision, thought and creativity to take the best shot and to emerge as a fashion photographer. Although there is no formal academic path to become a fashion photographer, bachelors and masters programme in photography will provide you the basic and advanced knowledge of cameras, apertures etc. to become a fashion photographer. One has to spend years in experimenting first, and then create his/her own sensibility. Though most with fashion photography career make good money, it is hard work and the number of years spent in this field that establishes one in the top bracket. This article shares the step by step guide to making a career as a fashion photographer. Read the complete article to know more.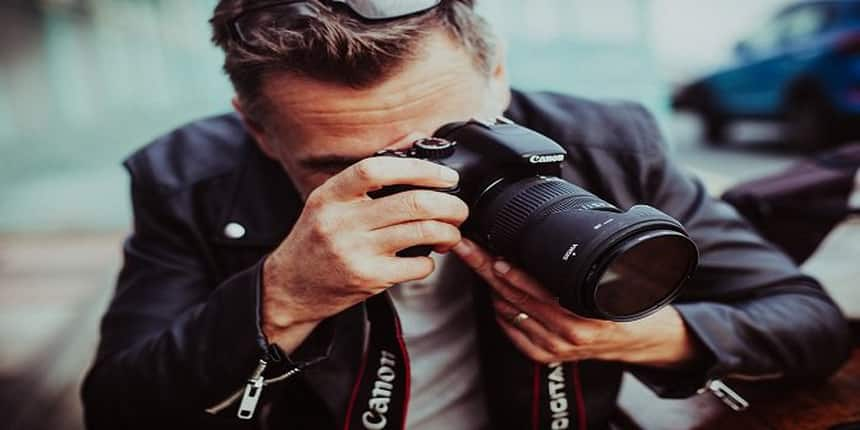 Skills needed to be a Fashion Photographer
A career in fashion photography requires knowledge of technical elements of photography, including lighting, sharpness and composition, and an awareness of fashion and photographic trends. Fashion photographers must be able to translate their artistic visions into photographs. They also must have strong interpersonal skills because fashion photographers often lead teams of stylists, make-up artists and other fashion professionals. Active Listening is another important skill for a person with a career as a fashion photographer. Giving full attention to what other people are saying, taking time to understand the points being made, asking appropriate questions are very important. 
Career as a Fashion Photographer: What after 12th
Since there is no specific academic requirement for making a career in fashion photography, a student can choose any academic stream from Science, Commerce and Humanities in class 11th and 12th. Along with studies, students must keep themselves updated with fashion photography news and other updates with the help of internet and magazines.
An undergraduate degree isn't required for a career as a fashion photographer because the necessary skills can be gained through an apprenticeship with an established photographer. The most important asset for a successful career in fashion photography is a portfolio of work that emphasizes both technical photographic skills and a unique, artistic perspective.
However, to learn basic and advanced skills in photography, after completing their school candidates can go on to pursue a bachelors degree or a diploma in photography. Listed below are the colleges from where you can pursue your degree or diploma in Fashion photography.
Colleges/Institutes for Fashion Photography
College
The Indian Institute of Digital Art and Animation, Kolkata
Delhi College of Photography, New Delhi
Light and Life Academy, Ooty
Jawaharlal Nehru Architecture and Fine Arts University, Hyderabad
AJ Kidwai Mass Communication Research Centre, New Delhi
Asian Academy of Film and Television, Noida
National Institute of Photography, Mumbai
Sir JJ Institute of Applied Arts, Mumbai
National Institute of Design, Ahmedabad
Osmania University, Hyderabad
Career Opportunities and Salary as a Fashion Designer
As a Fashion Photographer, one's job is technically to take pictures of clothing and accessories. But in fact a Fashion Photographer's job goes far beyond that. Through his/her pictures one creates an aura, and sells an image. One works for magazines, Fashion Designers, stores and advertisers to define beauty and style.
According to the U.S. Bureau of Labor Statistics (BLS, www.bls.gov), jobs in photography were expected to increase 3% from 2014-2024, which was an average compared to all occupations. The competition for careers in fashion photography is fierce owing to a large numbers of job seekers and relatively few vacancies. In 2015, the median yearly salary for photographers was $31,710.
With the increase usage of media, magazines and internet, demand for fashion photography is bound to rise manifold in the coming years. Thus, many people have been seeing opting for a career as a fashion photographer. The alternate career options for a fashion photographer are given below:
Camera operators use film and video cameras to record television news and programs, motion pictures, or live, on-site work. Camera operators typically work with directors and film or video editors on camera angles, content, and related concepts. A camera operator usually has a bachelor's degree in broadcasting, film or a related field. New hires are generally trained on the job too.
Reporter gathers information about a news story and delivers that information to an audience, whether it's through a newspaper, television news program, radio program or other medium. They conduct research and interviews and then write their stories (for newspapers or online reporting) or scripts (for filmed or recorded reporting). 
Here is a list of other career options after +2 that you can choose from:
| | |
| --- | --- |
| Career as a Social Worker | |
| Career as a Chef | |
| Career as a Wildlife Photographer  | |
| Career as a Game Designer | |
| Career as a Content writer | |
| Career as a Banker | |
| Career as a Social Worker | |
| Career as an Interior Designer | |