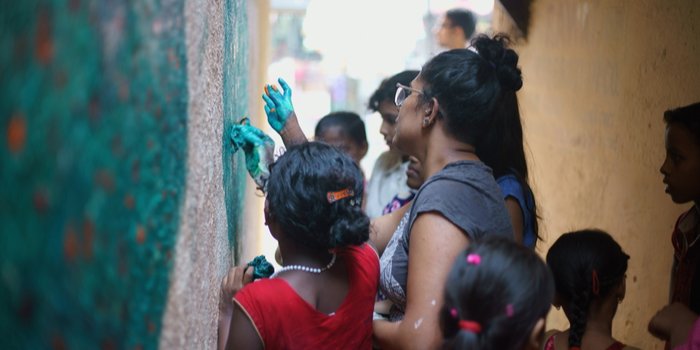 Ipshita Sarmah, 05 Jun 2018
Career as a Social Worker – A career in social work requires a huge amount of focus to serve not just the needy, but the society at large. If you are passionate about helping people and making a difference, social work is the best option to turn your passion into a career. Given the range of areas that one can work upon such as poverty, health, mental health, community organising etc., career as a social worker turns out to be a very flexible one rather than just being about serving the vulnerable population. The job of a social worker ensues identifying the ones who need help, analysing the issues, causes and planning a proper strategy to cope with or eliminate the problem. A Master degree in Social Work (MSW) can serve as a proper guide for a student in building a very bright career in the field of social work by building the required skill set. Currently, various organisations are offering courses in social work with specialisations in areas such as counselling, public health, child and human rights to name a few. Various Non-Government Organisations (NGOs) and social welfare agencies hire people holding an MSW and once proven efficient, there is a lot of scope in this field. Keep reading below for exhaustive details on a career as a social worker, scope, qualification required and roles of a social worker. 
What does a Social Worker do?
The services of a social worker include clinical and case management services. These services may be given directly to individuals clients, couples, families or even other social groups. Social workers work towards dealing with a variety of challenges that a society or an individual goes through such as poverty, physical or mental health issues, addiction and substance abuse, family issues, discrimination faced by a certain social group and so on. The services involved in career as a social worker may be clinical which involves therapy or counselling. On the other hand, a social worker may also work towards the community, making them aware and helping them understand and deal with challenges. Again, instead of serving clients directly, certain social workers work in community and government organisations as well as advocacy groups, where the level of service is large scale and aims at solving an issue faced by society at an alleviated level. Legislative advocacy, community organising and policy analysis are examples of such a reform driving career in Social Work. Given below is a list of things that social workers do:
1. Identifying people who need help is the first thing that a social worker has to do. A social worker identifies the vulnerable such as children and old people struggling for a place in the society, people suffering from addiction or mental illness and so on. 
2. Career as a social worker requires one to analyse the needs, strengths and weaknesses of a client and develop a proper strategy in order to support them in working towards their goals. 
3. Counselling clients in managing the challenges that they face such as loss, unemployment, illness, family problems and so on. Apart from counselling, a social worker also introduces clients to community resources that help people cope with such challenges. 
4. Working towards helping people to meet their basic needs such as food, health care, child care, education and so on. 
5. Making people aware of issues and policies that the government has already introduced to eradicate such problems. Social workers also deal with crisis situations like spousal/ child abuse, drug abuse and mental health issues among others.
How to become a Social Worker: What after 10?
A very common question among students who wish to pursue a career as a social worker is "How can I become a social worker"? A career in social work can be taken up by students studying in up any stream, be it Humanities, Commerce or Science in their 11th and 12th classes. However, many students aspiring to become social workers prefer the Humanities stream in their Higher Secondary (HS). Taking up subjects like Psychology, Sociology and Political Science in classes 11 and 12 proves to be helpful in familiarising students with the areas that social work deals with.
How to become a Social Worker: What after 12?
Students having a Bachelor degree in Social Work (BSW) can become a social worker. Some organisations look for students with MSW. To apply for MSW, a student must have a Bachelor degree (BA or BSW) and must appear for the entrance test held by the institution applied for. Students having a background in Social Work, Social Sciences, Psychology or Sociology are given preference over other candidates. If selected in the entrance, candidates will have to attend the Group Discussion and Personal Interview (GD & PI) sessions that follow. Studying Social Work develops the skills required to be a Social Worker through its curriculum which includes field works, visits to socially backward areas and enacting street plays to spread awareness, to name a few. Most importantly, a Social Worker needs compassion towards the needy and dedication towards making reforms for the better.
Career as a Social Worker - Places offering Jobs to Social Workers
Social work aspirants might have questions as to why have a career in social work and what are the places that offer jobs to social workers. After completing the course on social work, you can apply for a job in a Non-Government Organisation (NGO). NGOs are non-profit organisations that operate without the interference of a government with the aim of addressing social or political issues that hamper the growth of a society. Apart from NGOs, given below are a handful of places which will offer jobs to students of social work: 
Hospitals, nursing homes and medical clinics

Mental health agencies and substance abuse clinics

Child welfare agencies, departments of health and human services and other state and local governments agencies

Organisations that work towards serving schools and youth

Veterans affairs clinics and Military bases 
Career as a Social Worker - Institutions offering social work courses
Details on the top institutes offering a degree in social work and their entrance tests are given below: 
| | | |
| --- | --- | --- |
| Name of the Institution | Name of entrance test | When is it conducted |
| | Aligarh Muslim University (AMU) MSW Admission Test | In the month of June |
| | JMI M.A. (Social Work) Admission Entrance Test | In the month of April |
| | Sree Sankaracharya University (SSUS) MSW Entrance Examination | In the month of May |
| | TISS Entrance Exam | In the month of January |
Specialisations in Social Work
Jobs profiles/roles of a Social Worker
A social worker does not necessarily need to work in an organisation. They can have their own clinic and practise in private, given that they have the required qualification and dedication. They can open up their own NGO and work towards social welfare. For those who wish to take up a career as a social worker, here are a few job options available for them:
1. School Counsellor 
The role of a school counsellor is dealing with children in educational establishments. They work towards maintaining and improving the mental health and overall well being of students. A school counsellor gets to work closely with children living in abusive households or those with with social or developmental delays. 
2. Teaching Social Work 
To be a professor of social work, one needs to hold a Ph.D. or at least an M.Phil in the field initially. Training to become a teacher in this field take a huge amount of time and investment. However, this is one of the most well paid jobs that a social worker might consider.  
3. The Healthcare Social Worker 
A Healthcare social worker is required to help individuals or groups deal with psychological and social aspects of diseases and illnesses. They provide psychological support to people dealing with chronic and acute diseases and their roles include advising family care givers, providing counselling and education for preventing diseases and promoting health. 
4. The Medical Social Worker 
Working as a medical social worker is another option available in a career as a social worker. This job is different from that of a healthcare social worker. Their role is to collaborate between community services such as rehab facilities, homeless shelters etc., and their clients. A medical social worker is employed in emergency rooms or discharge wards and has different jobs such as patient advocacy which requires them to stand up for the rights of a patient, accessing a patient's mental well being, educating patients and helping them deal with the psychological aspects of recovery. 
5. The Clinical Social Worker 
One can become a clinical social worker after a great degree of training and clearing various exams. They work in different fields and agencies. The job involves assessment, diagnosis, treatment, and prevention of mental, emotional, and other behavioural issues by providing individual, group or family therapy. 
6. Community Program Administrator 
Those interested in management through community program administration may opt for this area in their career as a social worker. Their role is to organise and lead social service programs or non government organisations that focus on serving specific population groups. A community Program Administrator develops strategies, creates awareness, raises funds, directs a staff in achieving the goals and controls the budget.
Career as a Social Worker - Salary
The salary of social worker depends on the organization in which they work as well as their qualification. Also, government and non government sectors offer different scales of pay. Some salary are given in the table below: 
| | |
| --- | --- |
| Career as a Social Worker - Job Title | Pay Range |
| Patient Counsellor | Rs.16,600-28,500 |
| Project Coordinator- Corporate Social Responsibility (CSR) | Rs.20,500-45,800 |
| Social Worker | Rs.18,000-25,000 |
| Junior Social Worker | Rs.12,000-16,500 |
| Coordinator- Community Impact | Rs.30,000 – 45,000 |
| Project Coordinator-Skill Development | Rs.28,000-38,000 |
| Assistant Manager- Institutional Partnership | Rs.36,000-45,800 |
| Fund Raising Executive | Rs.20,000-33,000 |
| CSR Manager | Rs.40,000-75,000 |
| School Counsellor | Rs.17,550-24,000 |
| Family Counsellor | Rs.11,500-14,500 |
| Community Welfare Worker | Rs.9,000-13,500 |
| Knowledge and Impact Associate | Rs.28,900-38,500 |
| Child Safety Specialist | Rs.28,000-38,000 |
Career as a Social Worker – Scope Abroad
There are various organisations operating worldwide that hire employees on an international level. A few of them have been mentioned below:
1. United Nations 
The United Nations, established in 1945 works towards international peace and human rights in 193 member countries. They hire social workers for political, humanitarian, emergency relief, or peacekeeping missions. 
2. World Health Organization 
WHO has its headquarters in Geneva, Switzerland and aims at helping global citizens attain the highest possible level of health. WHO works in over 147 countries and offer jobs in clinical social work, mental health, disability rehabilitation and emergency relief. 
3. Save the Children 
Save the Children works in 120 nations for the welfare of over 55 million youth annually. Social workers working here can work full-time as child protection managers, migration advisers, nutrition advocates, and so on. 
4. International Justice Mission 
International Justice Mission is a non-profit human rights organization and employs more than 600 full-time staff at 18 field offices located at Guatemala to Rwanda. The organisation addresses global issues like sex trafficking, slavery, and assault. 
5. Women for Women International
Initially founded to support female survivors of the war, Women for Women International has eight field offices located across Nigeria and Afghanistan to Bosnia and Herzegovina. They work towards empowering the marginalized women of the Middle East and employs advocacy coordinators and change agents holding a bachelor's degree in social sciences.