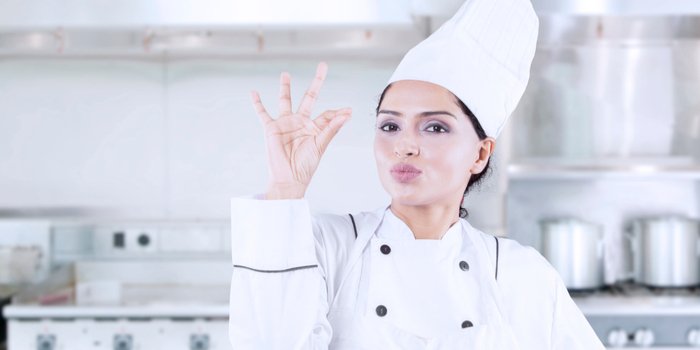 Khushboo Verma, 28 Jun 2018
Career as a chef: Do the online videos of colourful recipes entice you to roll up something of your own? If you love spending your time creating new recipes (A la Butter pizza!)and are glued to the cookery channels 24/7, a career as a chef is definitely the one made for you. But it does not just stop in at passion. The culinary world is a competitive one and one needs to choose the area one wants to be an expert in. So, whether you want to be a pastry chef or a Sous chef, their is a programme that you can pursue. This article on career as a chef, will answer your questions to how to become a chef, the types of chefs, best programmes, institutes and skills required among others. 
Who is a Chef?
A career in a chef mainly revolves around hotels and restaurants. Chefs are skilled professionals cook who work in setups like hotels, resorts and restaurants. Chefs' task, however, is not confined to food preparation as they also take care of the functioning of the entire kitchen in hotels and restaurants. Chefs are chief cooks and their roles are akin to that of a manager. They ensure that there is a great coordination among the team members such as waiters, cook and other staff. Here are some of the common tasks performed by a chef – 
Planning and creating menu

Prepare food as per clients' orders

Ensure inter-department coordination

Arrange materials required for cooking (oil, fruits, vegetables, dairy products, grains etc)

Store material at appropriate places

Interact with patrons

Manage staff

Supervise food presentation 
Career as a Chef-Skills required to become a world-class chef
Those who are fond of cooking can have bright future in the culinary career. A chef must have an experimental bent of mind and keep abreast of new cooking technologies and methods, not only in India but globally. Also, they should be polite, amiable and have the ability to work as a team. A chef's profession is more than a cook, coupled with multi-tasking. Chefs, for example, research, experiment, and innovate ingredients to come up with exotic food. The following traits are must if you are looking for a career as a chef. 
Passion for cooking

Zeal to innovate and experiment with ingredients

Good communication skills

Good management skills

Confidence

Creativity (especially when it comes to food presentation)

Time management skills

Ability to multitask

Eye for detail

Stamina and ability to work for long hours in a kitchen

Desire to learn and develop

Must possess good organizational skill

Prepared to work under pressure

Have the thick skin to bear criticism 
How to become a chef: What after 10th?
Post 10th class, students have to decide among three streams-arts, commerce and science. You can go for any stream in your 10+2 if you want to become a chef. Career as a chef doesn't restrict you to any stream in your higher secondary education. You, however, can opt for a bit easier stream such as, commerce. Or else you can pick any stream you have interest. After your 12th class, you can opt for culinary course to become a chef.
How to become a chef: what after 12th?
After 12th, there are myriad of courses students can opt. But if you want to become a chef, you have to choose a specific course. Aspirants have to pursue three-year course in cuisine technology or hotel management to kick-start a career in reputable restaurants or hotels. They can also go for diploma or certificate course to pursue career as a chef. On completion of the course, majority of chefs work with full-service restaurants, hotels and special food services industry. A candidate, moreover, has to undergo training in a job. It takes years of experience to get success in this arena. The pay scale of chefs may vary with their designation and area of employment.
Career as a chef-Who is eligible to apply? 
Candidates should have finished 12th class or equivalent to apply for hotel management or related courses. Students who had done their intermediates from any stream can apply for the course. They, however, should have studied 10+2 from a recognized board to get admissions in reputed hotel management institutes. 
How to become a chef-Important Highlights
Complete 10+2 or its equivalent

Enrol for the Diploma in Chef Management program.

Or pursue graduation program in Hotel management and Catering Technology.

Undergo job training under the supervision of an expert Chef.

Seek for a career in international hotels or any other public or private sector food industries. 
Career as a chef-Relevant courses available to become a chef
In India, there are mainly three courses available for aspirants who want to opt career as a chef
1. Bachelor's Degree
2. Diploma courses
3. Certificate courses 
Among the three courses mentioned above, Bachelor's Degree and Diploma courses are mostly recommended to candidates who want to go for a career as a chef. Below are given the details regarding each course: 
Bachelor's Degree Courses: BA in Culinary Arts, Bachelor of Hotel Management (BHM), Bachelor of Catering Technology and Culinary Arts (BCT & CA), B.Sc. in Catering and Culinary Arts, Bachelor of Hotel Management and Catering Technology, B.Sc. in Hotel Management and Catering Technology. 
Diploma Courses: Diploma in Culinary Arts, Diploma in Food Production, Diploma in Catering Technology, Diploma in Food and Beverage Science, Diploma in Bakery and Confectionery. 
Certificate Courses: Chef Certification Course, Certificate in Food Production, Certificate in Catering Technology, Certificate in Food Production, Certificate in Food and Beverages.
Career as a chef-What are the hierarchy of a chef? 
Executive Chef – A chef in this designation usually controls everything inside the kitchen, including menu creation, personal management and business aspects.

Sous Chef – The role is of assistant chef and the professional looks after menu-planning, costing and ordering.

Expeditor – Here, a chef ensures that the food is plated in time for the waiters to fulfil orders.

Cooks and Assistants – A chef is assigned specific duties inside the kitchen. A professional usually begins from Commi3, then Commi 2, Commi 1, Demi-chef-de -partie and Chef-de-partie. As Chef-de-partie, a person is usually made in charge of one section, it can be anything from Chinese, French, Italian, Continental, Banquet, Pastry etc.
Career as a chef- Job Prospects 
After completion of the course, one can join a hotel as an intern. A trained chef can get job opportunities in various places, such as hotels/restaurants, air catering, food processing companies, catering in confectioneries, cruise liner and corporate catering all require chefs. One can get into food writing or can choose to become an entrepreneur by setting up own food chains.
Career as a chef- Pay Package
After graduating, one become trainees, who are paid around Rs.7,000 - Rs.10,000. Pay increases with experience and the lifestyle in this field is worth living. Once you get a break in a good restaurant or hotel, you can earn as much as Rs.50, 000 per month.
Career as a chef-Colleges for pursuing culinary courses
Most of the IHMs in India offer culinary courses , most notably IHM, Pusa, New Delhi & IHM Aurangabad (4 Year BA Honours Culinary Arts). The ideal way to go about becoming chef is to pursue a BHM course, which would train you in all 4 aspects of hospitality management. Subsequently, opt for a good quality culinary arts course like famous chef Vikas Khanna did. 
Institute of Hotel Management (IHM)

Pusa, New Delhi

Institute of Hotel Management, Catering Technology and Applied Nutrition

 

Mumbai

 

The Welcomgroup Graduate School of Hotel Administration

Manipal

Banarsidas Chandiwala Institute of Hotel Management & Catering Technology

 

New Delhi

Culinary Academy of India (CAI) (Affiliated to Osmania University)

Hyderabad

Institute of Hotel Management

Ahmedabad

NSHM School of Hotel Management

Durgapur

Institute of Hotel Management, Catering Technology and Applied Nutrition

Chennai

Institute Of Hotel Management

Aurangabad
Here is a list of other career options after +2 that you can choose from:
| | |
| --- | --- |
| Career as a Social Worker | |
| Career as a Blogger | |
| Career as a Wildlife Photographer  | |
| Career as a Game Designer | |
| Career as a Content writer | |
| Career as a Banker | |
| Career as a Social Worker | |
| Career as a Lawyer | |
| Career as Interior Designer | |