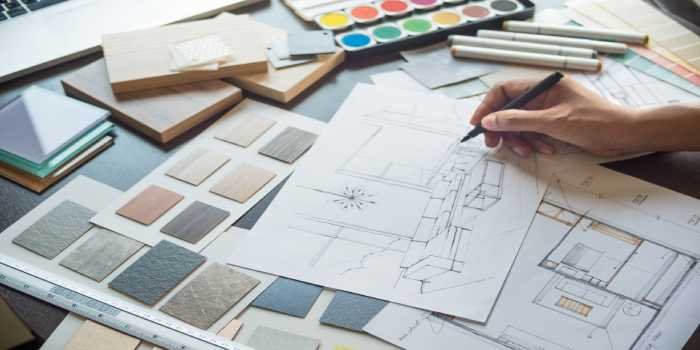 Khushboo Verma, 27 Jun 2018
Career as an Interior Designer: Owing to the increased standard of living in India, making a career in interior designing has emerged as one of the sought after professions. Planning the design of living and work places, a career as an interior designer lets you make the most of the available space in an efficient manner. You might be excellent with colors, textures, selection and placement of home decors and receiving accolades for your interior decoration skills but these skills simply are not enough to become an interior designer. Before you make a life-altering career choice, you should acquaint yourself with the design world. Here is everything you need to know about a career as an interior designer with comprehensive details.
To begin with, let us take a look at who is an interior designer is, how to become an interior designer, the skills required to become an interior designer, qualification needed and much more. 
Who is an interior designer?
Interior designers plan the layout of interiors for optimum utilization of area. They also plan colour schemes, furniture, furnishings, decorations and arrangements. The professionals serve as a mentor to clients and provide them tips and ideas for better utilizing the space within their homes or offices. Interior Designers work closely with the clients to understand their needs within their homes and help them to fulfill their requirements. Also, those with a career as an interior designer have specialized education in building codes, environmental sustainability, technological design and other physical design considerations. The following represents the tasks of an interior designer to help you decide how to breathe life into the existing space. Let's read them to know more about a career as an interior decorator.
Whether it is dinning room, drawing room or study room, decide the focus of the space. Install an item or decor in that space, it could be an accent pillow, piece of art, or a family heirloom that is being used for generations.

It is not important that every color, texture, and style to match within the room. When it does, it looks more formal and less tailored. To get the best out of the living space, mix the styles of lampshades, pictures, frame styles, and pillows.

Many people choose furniture that is too big and accessories that are too small. Interior decorators think about the size of items and realize that smaller furniture can make the room appear big.
Skills needed to become an interior designer
To become an interior designer, one must possess certain skills. They should be proficient in verbal, written and visual communication to express their ideas. Interior designer should have an eye for detail, strong organizational skills and they should hold knowledge in computer aided drafting. Interior designers must be able to read building blueprints as well. They should also keep themselves ahead of the latest trends and tertiary education in interior design. Pursuing an interior designer course, however, will make one well-versed in working with space, color, lighting, different fabrics and finishes, such as flooring, carpeting, and tiles among many others.
Qualification needed to become an interior designer
Becoming an interior designer requires a college degree. One can opt for an associate or bachelor's degree in applied science with a concentration in interior design. Courses in interior design covers design elements, color theory, drafting skills, computer applications, business and residential design and marketing. A college education will offer you in-depth knowledge and you can create a portfolio, which in turn will help you grab a job after graduation.
How to become an Interior designer: What after 10th?
The interior design course can only be pursued after completing your 12th class. Students, therefore, can choose any stream (Arts, Science and Commerce). 10+2 is the minimum qualification needed to pursue interior design courses. Many institutes offer diploma courses to students who have passed 10th to make a career as an interior designer. The best way, however, is to complete 12th class and then pursue interior designing course from a recognized college.
How to become an Interior designer: What after 12th?
Students who aspire to become an interior designer after 12th have to pass the entrance test conducted by various institutes. The entrance exam is conducted to assess the drawing and designing ability of a candidate. Candidates those who have passed the 12th exam from any of the recognized boards are eligible to apply for the entrance test conducted by the various institutes.
Some of the top interior design institutes and courses they offer are given in the table. Candidates who wish to pursue interior designer as a career can select from one of these colleges given below:
Colleges

Courses offered

National Institute of Design, Ahmedabad

1) Product Design

2) Furniture and interior design

3) Textile design

4) Animation film design

CEPT University, Gujarat

1) Bachelor of interior design

2) Master of interior architecture & design

3) International master of interior architectural design

Arch Academy of Design, Jaipur

1) Research Project, Building Services-2, Light Metals in Art & Design

2) AutoCad- 2, Furniture Design-2, Advanced Construction Techniques

3) Estimation & Costing-1, 3Ds Max Software, Landscape Design

4) Design Project (Commercial)

JJ School of Arts, Mumbai

1) BFA Sculpture

2) BFA Metal Work

3) BFA Ceramics

4) BFA Textile Design

College of Architecture, Nashik

1) BArch

2) BDes Interior Design

3) BDes Set Design

4) BDes Product Design

Exterior Interiors Pvt. Ltd., Kolkata

1) Interior Design

2) Vaastu

3) Fashion Design

4) Fashion Technician

Pearl Academy, Delhi, Noida, Mumbai, Jaipur

1) BA (Hons) Fashion Design

2) BA (Hons) Fashion Styling & Image Design

3) BA (Hons) Fashion Media Communication

4) BA (Hons) Interior Architecture and Design

Vogue Institute of Fashion Technology, Bangalore

1) Interior designing

2) Fashion Designing

3) Jewellery Designing

4) Animation and Multimedia

Sai School of Interior Design, New Delhi

1) Fashion Designing

2) Interior Designing

 

3) Hardware & Networking

4) CAD
How to become an Interior designer: Post Graduation in Interior Designing
After completing their bachelors in interior designing, candidates can pursue the following courses in their post graduation.
Post graduate diploma in interior design and styling

Master of interior architecture and design

Interior design and management-MBA

Post graduate diploma in luxury brands

Post graduate diploma in fashion business-Marketing and merchandising

Master in interior design

Master's degree in product and space design

Master degree in architecture-interior design and for autonomy
Career as an interior designer-Other careers related to Interior Designing
Architects
Architects plan and design houses, factories, office buildings, and other structures.
Art Directors
Art directors take care of the visual style and images in magazines, newspapers, product packaging, and movie and television productions. They are responsible for creating overall design of a project and guide other team members in developing artwork and layouts.
Craft and Fine Artists
Use a variety of materials and techniques, craft and fine artists create art for sale and exhibition. Craft artists develop handmade objects, such as pottery, glassware, and textiles that are meant to be functional. Fine artists create original works of art for their aesthetic value, which is not a functional one.
Floral Designers
Floral designers cut and arrange live, dried, and silk flowers to make decorative items. They also assist customers choose flowers, containers, ribbons, and other accessories.
Graphic Designers
Graphic designer's job is to develop visual concepts, using computer software or manually to communicate their ideas vividly to their consumers. They create the entire layout and production design for advertisements, brochures, magazines, and corporate reports.
Industrial Designers
Industrial designers are involved in developing the concepts for manufactured products, such as cars, home appliances, and toys. They use their skill to create products used by people every day. Industrial designers take into account function, production costs, and usability of products when establishing new product concepts.
Landscape Architects
Landscape architects are into creating parks and the outdoor spaces of campuses, recreational facilities, businesses, private homes, and other open areas.
Steps to become an interior designer
To sum up, those interested in making a successful career as an interior designer must follow the steps given below:
1) Pursue a course in interior designing
Holding a bachelor's degree is a must if one wants to work in interior design firm. While a degree in interior designing is mandatory, one pursuing something else is acceptable as long as it is accompanied by coursework in interior design, such as drawing and computer-aided design (CAD).
2) Pass the National Council for interior Design Qualification exam
The licensure for Interior designers is not required in every state. Several states, however, prohibit unlicensed designers from practicing. Others permit both licensed and unlicensed designers to work, but only allow licensed professionals to use the title of "interior designer."
3) Do some projects free of charge
Beginners who take career as an interior designer find it difficult to get a job due to lack of work experience. Of course, it is unfeasible to get work experience without working. To beat this challenge, many designers take unpaid projects. Or designer can offer their services to their friends, relatives or volunteer to non-profit organizations. The idea is to develop the skills needed in a paying job.
4) Build a portfolio
Do not miss to take photos of all your work and make a portfolio when you are pursuing interior designing as a career. A high-quality portfolio will help you grab work from clients. The portfolio will not only showcase your skill, but also you can boast your ability to present your idea in a professional and organized manner.
5) Look for certification course
Continuous learning is necessary when you want to take career as an interior designer and outperform in the field. Designers, therefore, must go for certification course to stay updated on the latest technology and changes. They should also attend interior design conferences to keep themselves informed. Many institutions host events and offer certificate courses that designers must attend.
Here is a list of other career options after +2 that you can choose from:
| | |
| --- | --- |
| Career as a Social Worker | |
| Career as a Blogger | |
| Career as a Wildlife Photographer  | |
| Career as a Game Designer | |
| Career as a Content writer | |
| Career as a Banker | |
| Career as a Social Worker | |
| Career as a Lawyer | |