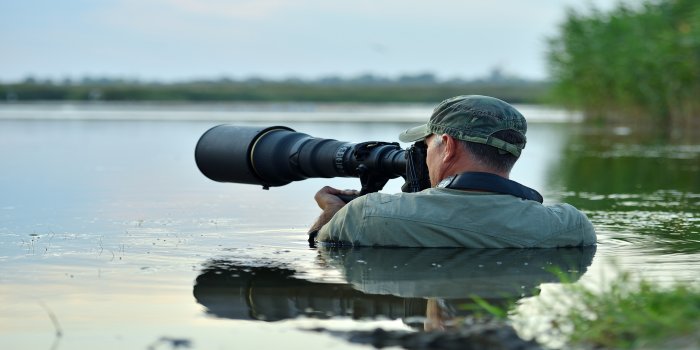 Ipshita Sarmah, 19 Jun 2018
Career as a Wildlife Photographer – Wildlife photography as a profession requires patience and knowledge about animals, their behaviour and the natural environment, apart from being skilled in photography and other technicalities. Since wildlife photographers shoot photographs of animals in their natural habitat, it constantly requires them to travel to locations where wildlife exists. In fact, it becomes more of an adventure because the travels include hiking, canoeing or kayaking (also carrying the equipments along) to remote areas. As such, physical fitness becomes a crucial requisite for a career as a wildlife photographer. Another sine qua non for a career in wildlife photography is patience – there will be shots that will take weeks or even months to capture, and one does not even have to mention the harsh, uncomfortable environments and weather conditions. If this kind of adventure incites you more than scares you, wildlife photography as a profession is the right kind of career for you.
There are various institutes in India that will help you get acquainted with the equipments, polish your skills and guide you with the ethics that wildlife photography demands. They offer certificate as well as diploma courses on nature, wildlife and travel photography, besides basic, advanced and commercial photography courses. What does a wildlife photographer do? What are the skills and characteristics you require to become one? What kind of opportunities does a career as a wildlife photographer fetch? Let us go into the details now. 
Career as a Wildlife Photographer - What does a Wildlife Photographer do?
Wildlife photographers convey nature and the untamed, recreating them in an enhanced manner. With use of the tools, techniques, lights and lenses, a wildlife photographer produces powerful illustrations of the wild and their natural realm. In a way, a wildlife photographer presents the stories of the wild to the human world. Here is a list of things that a career as a wildlife photographer requires one to do: 
A wildlife photographer captures pictures of wildlife without disturbing their natural habitat. For the one who photographs the wild, nature and the photographed must come first, and photography second. Thus, a career in wildlife photography necessitates one to leave the routine and space of the animals undisturbed. 
Career as a wildlife photographer entails one to spread the message of wildlife conservation to mankind. This is the first and most salient motive behind wildlife photography that the photographer tries to accomplish. 
Wildlife photographers alter, utilise and manipulate lights and focus to produce enhanced forms of the animals and settings they are photographing. They also use other digital technologies to get this purpose served. 
Prospective wildlife photographers sometimes work as assistants under other already established photographers as a part of the on-job-training process. 
Many works as freelance wildlife photographers. A number of organisations, magazines and other publications that work for wildlife, hire and source freelancers.
How to become a Wildlife Photographer: What after 10th?
Students who have completed their 10th exams from, Boards such as CBSE, ICSE or any other Board, and wish to pursue a career in wildlife photography can take up any stream for their 11th and 12th. Those studying in any stream - Humanities, Commerce or Science can take up a career as a wildlife photographer later. Some students who aspire to become wildlife photographers might prefer taking up subjects like Zoology and Biology in their +2 to understand the animal world better. Others might prefer taking up Humanities and take up subjects like Geography, Environmental Science to have a better knowledge about the cultural context, geography, history and customs of the natural settings. However, the Stream does not really make a difference in one's career as a wildlife photographer as long as one is determined and passionate about the profession.
How to become a Wildlife Photographer: What after 12th? 
After completing your 12th from CBSE and any other Board, or even at a later stage, you might choose from a variety of courses on photography that will help you in enhancing your skills as a wildlife photographer. Some of the courses have been mentioned below. 
Certificate course in Advanced Photography

Certificate course in Basic Photography

Certificate course in Commercial Photography

Certificate course in Digital Photography

Certificate course in Nature and Wildlife Photography

Certificate course in Photography

Certificate course in Wildlife and Travel Photography

Diploma in Photography

Diploma in Professional Photography

Post Graduate diploma in Advanced Wildlife Management

Certificate course in Wildlife Management
Career as a Wildlife Photographer – Jobs, Employment
There are various employment opportunities available for one aspiring to pursue wildlife photography as a profession. A handful of them have been listed below:
Freelancing

Travel and tourism magazines

Wildlife NGOs

Wildlife channels

Photo stock websites

Publishing houses
Career as a Wildlife Photographer – Equipments required
The equipments of wildlife photography are not just necessities; they become companions of the photographers throughout their career in this field. Listed below are a number of equipments that a wildlife photographer needs to deal with on a regular basis. 
Binoculars /monocular

Headlamp/torch

Telephoto lens

Bean bag – lens coat, lens sack

Tripod

Gimbal

Camera bag capable of holding long lenses

Long lens rain cover

Teleconverter

Gimbal head

Long-lens camera bag

Photo blind

Camera trap

Gear camo

Camera holster 
Career as a Wildlife Photographer – Institutions offering courses in photography
The names of a few top institutes offering courses related to wildlife photography and photography in general have been listed below: 
| | | |
| --- | --- | --- |
| S.No. | Name of institute offering courses in Photography | Location |
| 1 | Delhi College of Photography | New Delhi |
| 2 | Light and Life Academy | Ooty |
| 3 | | Hyderabad |
| 4 | AJ Kidwai Mass Communication Research Center | New Delhi |
| 5 | | Noida |
| 6 | | Hyderabad |
| 7 | | Ahmedabad |
| 8 | | Mumbai |
| 9 | National Institute of Photography | Mumbai |
| 10 | The Indian Institute of Digital Art and Animation | Kolkata |
Career as a Wildlife Photographer - Role of a Wildlife Photographer
Apart from serving its artistic value, wildlife photography also comes with scientific values. With the diminishing number of the wild due to human encroachment, a wildlife photographer plays a very important role in wildlife conservation. The job of a wildlife photographer is of value to science, education, and several other industries. A wildlife photographer, in a way, acts as a connection between the wild and the human world, spreading the message of harmony as well as duty of mankind towards the conservation of these animals and their home.
Career as a Wildlife Photographer – Salary
The salary of a wildlife photographer in India differs at various levels. There is no exact, or in that case, approximate figure on what a wildlife photographer really earns. However, as per payscale.com, a photographer in India earns an average salary of Rs. 345,727 per year. Freelancers get different scales of pay every time depending on the project. Prominent magazines and media houses pay a good amount along with other facilities and expenses required to get the job done. An intern might start at Rs. 15,000 a month or much more. The pay-scale of wildlife photographers improve as they grow in the particular field. For this, they need to build a good portfolio. Being active on social media and showcasing your work will help you a great deal in building your career as a wildlife photographer. You can also sell your pictures to photo stock websites which pay well for the same.
Career as a Wildlife Photographer – Scope abroad
If you aspire to explore the best of a career in wildlife photography, and if you prove yourself (this would take a lot of hard work), you might get to work with one of these: 
BBC Wildlife magazine.

Wildlife Trust of India.

WWF

Lonely Planet magazine.

Epsilon Systems solution.

National Geographic.

Discovery 
If this is not interesting, what is? 
Here is a list of other career options after +2 that you can choose from:
| | |
| --- | --- |
| Career as a Social Worker | |
| Career as a Blogger | |
| Career as a Game Designer | |
| Career as a Content writer | |
| Career as a Banker | |
| Career as a Social Worker | |
| Career as a Lawyer | |