Career as a Lawyer- Know how to become a lawyer
Career as a lawyer: What is the one thing that comes to your mind when you hear the word 'lawyer'? A common guess is black robes. Some would also imagine a person standing in a court of justice fighting for her clients. But who exactly is a lawyer? What does a lawyer do? What does a career as a lawyer entail, and more importantly, how to become a lawyer? In this article on career as a lawyer, we will take you through all specific pointers of how to become a lawyer in India as well as abroad. We will also discuss the scope of lawyers in terms of career growth and the skills required to be one.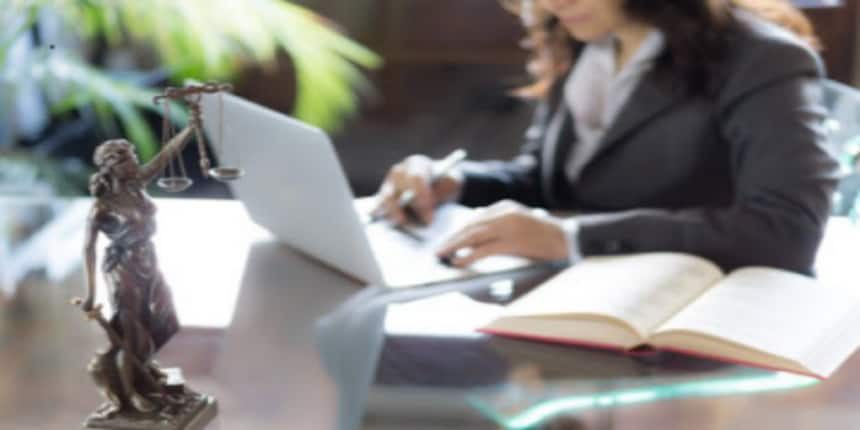 Who is a lawyer?
Let us start by defining who is a lawyer. In simple terms, a lawyer is a person who practices and studies law. Essentially, a lawyer's profession requires her to represent clients at a court or otherwise and advise them on legal matters. A lawyer may also be a representative of his/ her client at meetings or other matters pertaining to law. Interestingly, a lawyer may be called by different names- legal representative, attorney, barristers, solicitor, counsel and legal practitioner among others. While, they all fall under the same banner of law, there can be distinctions with regards to the place or specific work area of the lawyer.
Types of lawyers in India
As discussed above, there are various types of careers in law that aspiring lawyers practice. Students can explore a field as per their interest. To assist in the same, here is a list of different law practices that students can join:
| | |
| --- | --- |
| Serial No. | Types of Lawyers |
| 1 | Corporate law |
| 2 | Criminal law |
| 3 | Property law |
| 4 | Intellectual property Lawyer |
| 5 | Family lawyer |
| 6 | Immigration Lawyer |
| 7 | Employment lawyer |
| 8 | Tax lawyer |
| 9 | Civil litigation lawyer |
| 10 | Bankruptcy lawyer |
| 11 | Digital media and Internet lawyer |
| 12 | Entertainment lawyer |
Career as a lawyer: Skill and Scope
Before we discuss how to become a lawyer, you should know about the scope of this field. The areas that a lawyer can explore are huge. Traditionally, lawyers went for just court litigation (hearings at courts), but with time, the scope of the practice has widened. Today, one can explore fields like Corporate Law, Criminal law, Property law, Administrative Law and International Law among others. You can practice at courts, join private companies as legal advisers and even work with Knowledge Process Outsourcing (KPO) as a lawyer.
Given the lucrative career options, many students are opting for Corporate law these days. Remember, the field of law you take up falls within your area of interest. "The ability to read, understand and interpret is imperative as well as to have a flair for writing is a must for aspiring lawyers," says Satyajit Gupta, a corporate lawyer with Advaita Legal.
Also, as a lawyer, a lot of your work would involve research. You have to pour hours in proofreading, researching and studying to help your case.
How to become a lawyer
Once you have decided that you want to become a lawyer, the first step is to ensure that you take the right career path. To start a career as a lawyer, you need to have Legum Baccalaures or Bachelor in law degree, simply put as LLB. Good news is that, unlike professions like Medicine or Engineering, a career as a lawyer does not require you to select any specific stream after 10th. You can opt for law irrespective of whether you choose Science, Arts or Commerce. It is only after 10+2 (or 12th) that you can map your path towards a career as a lawyer. There are two types of courses offered in India for studying law: the five-year integrated LLB programme that can be pursued right after 12th and the three-year LLB programme to be pursued after an undergraduate programme.
How to become a lawyer: Career in law after 12th?
As discussed above, after 12th students can pursue the integrated law programme which is of 5 years (2+3). For this, they have to appear for entrance exams for admission to specific colleges. Some of the most important law entrance exams with their respective eligibility have been discussed below:
How to become a lawyer: Entrance tests
CLAT UG: The Common Law Admission Test (CLAT) is conducted by the National Law Universities (NLU) across India for admission to undergraduate law programmes at 19 NLUs and other private as well state law colleges. As per its eligibility criteria, students should have qualified 12th standard with at least 45% marks in aggregate. The exam analyses a students ability in Legal Aptitude, Logical Reasoning, English, General Knowledge and Elementary Mathematics. Usually, there are 200 multiple choice questions in the paper with 1 mark per question. The annual exam is generally held in mid May and the results are out by the end of the same month. Through CLAT PG students can go for postgraduate law programmes and explore a career as a lawyer.
AILET: The All India Law Entrance Test (AILET) is administered by the National Law University, Delhi. It facilitates admission to five-year integrated programmes through the UG entrance test. The exam is conducted in the first week of May and tests a student's capability in English, General Knowledge, Legal Aptitude, Reasoning and Mathematics. To be eligible for AILET, students should have cleared class 12 with minimum 50% marks.
DU LLB: This entrance test is conducted by the Delhi university for admission to the three-year law programmes at the Faculty of Law. To appear for the test, students should have a bachelors degree with 50% marks. The exam is generally held in the first week of July.
Besides the above mentioned programmes, there are other entrance tests like IPU CET LLB, BHU UET LLB, Christ University Law etc.
LSAT India: The Law School Admission Test (LSAT) India test is conducted by Pearson Vue for admission to five-year integrated law programmes in over 85 law schools in India. The standardized test has 100 questions and analyses a candidates reading and reasoning skills. The entrance test is held in mid May. To appear students just need to qualify 12th. However, the admission law schools depend on the specific criteria for qualifying marks in 12th.
Click here to get the complete list of exams and their details.
How to become a lawyer abroad
Students also have the option of exploring a career as a lawyer abroad. In fact, many students study abroad to gain an international perspective of the domain in the global arena. "The faculty of foreign law schools, as well as exposure that could be gained by studying in an international environment were factors that increased my desire to study abroad," says Manu Thadikkaran, who pursued LLM from the Graduate Institute of International and Development Studies, Geneva. However, the degrees offered abroad are different from those given in India. Although, many top law colleges abroad allow students to study law as an integrated course of five years after clearing 12 years of education i.e., after 12th. So, if you have the Juris Doctors (JD) in USA, you have the BS in Jurisprudence in UK. To study law in USA, students have to clear the Law School Admission Test (which is also offered for Indian law colleges through LSAT India).
How to become a Lawyer: Practicing law in India
Students who wish to practice law in India have to clear the All Indian Bar Examination (AIBE) conducted by the Bar Council of India. The exam is held twice a year and is open to students of both five-year integrated LLB programmes as well as three-year LLB programmes. Only students who get the 'Certificate of Practice' after clearing the test can practice law in Indian courts.
Top law colleges in India:
| | | |
| --- | --- | --- |
| Ranking | Law college | Entrance test |
| 1 | National Law School of India University, Bangalore | CLAT |
| 2 | National Law University, New Delhi | AILET |
| 3 | Rajiv Gandhi School of Intellectual Property Law, Indian Institute of Technology, Kharagpur | LSAT India |
| 4 | NALSAR University of Law, Hyderabad | CLAT |
| 5 | National Law University, Jodhpur | CLAT |
| 6 | WB National University of Juridical Sciences, Kolkata | CLAT |
| 7 | Jindal Global Law School, Sonipat | LSAT India |
| 8 | Gujarat National Law University, Gandhinagar | CLAT |
| 9 | Faculty of Law, University of Delhi, Delhi | DU LLB |
| 10 | National Law Institute University, Bhopal | CLAT |
Click here for the complete list of top law schools in India.