NIOS 10th Registration 2023-24 - The National Institute of Open Schooling conducts class 10th registration dates for block 1 and 2 for the academic year 2023-24 on the official website: sdmis.nios.ac.in. As per the latest notice, the last date to apply for the NIOS admission for stream 2 has been extended till August 7, 2023. from July 31, 2023. Earlier, the last date to fill NIOS 10th online admission was January 31, 2023, without late fees and was March 15, 2023, with late fee charges.
NIOS Stream 2 October 2023 registration extension notice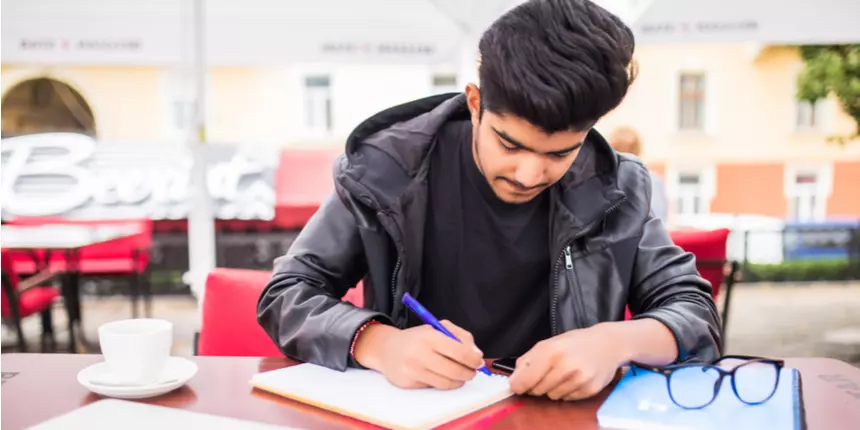 NIOS 10th Registration 2023 - Fill NIOS Class 10 Admission Form Here
NIOS 10th registration 2023-24 is a completely online process, no form is accepted in offline mode. Even the NIOS class 10 admission fee is only taken online. Currently, students can fill NIOS class 10 registration form for the October NIOS 10th exams.
After receiving the application, the management of NIOS verifies all the documents and forms, then NIOS class 10 admission is confirmed. Generally, they take 2 months to confirm NIOS 10th registration 2023, but in some cases, they can take some more time for the same.
After the NIOS registration, students will have to pay the examination fee to submit the exam form. The validity of NIOS 10th registration 2023 is 5 years from the date of NIOS admissions. Go through the entire article to know more about NIOS class 10 registration 2023 and other all aspects pertaining to it.
NIOS 10th Registration 2023-24 Dates
Refer to the following table to keep track of all the upcoming events related to NIOS class 10 admission and last date for registration, etc.
NIOS Class 10 Registration Dates
| | | |
| --- | --- | --- |
| Particular | Block-1 (April/May 2023) | Block-II (October/November 2023) Dates |
| Date for NIOS 10th registration with normal fee | March 16 to July 31, 2022 | September 16, 2022, to January 31, 2023 |
| The dates to register with late fee of Rs. 200/- | August 1 to 15, 2022 | February 1 to 15, 2023 |
| The dates to register with late fee of Rs. 400/- | August 16 to 31, 2022 | February 16 to 28, 2023 |
| The dates to register with late fee of Rs. 700/- | September 1 to 15, 2022 | March 1 to 31, 2023 (Revised) |
Also, check NIOS 10th date sheet 2023
Who is Eligible for NIOS 10th Registration 2023?
Students who fulfil the following conditions can apply for NIOS class 10 registration.
The student's age should be at least 14 years as on January 31, 2023.

He/she should have passed class 8 from a recognized board.

A student who is giving a declaration that he/she has studied enough to be able to sit for the class 10 exam can also apply for NIOS 10th registration.

Students who have studied Class 10 from any board can also opt for NIOS admission to improve their performance.
Things to Keep Ready Before Starting NIOS 10th Registration 2023
Before filling out the NIOS class 10 admission form, a student must have an active email address, a mobile phone number, and all necessary documentation. Documents must be kept in scanned or soft copy form (jpg/jpeg files).
When applying for NIOS 10th registration, the following documents must be uploaded.
Recent colour passport photograph.

Identity verification (like Aadhaar Card or Passport or Ration card or etc.).

Signature (preferably in Black Ink).

Valid proof of birth date (like Aadhaar Card, Birth Certificate etc.)

Aadhaar Card/Water Bill/Electricity Bill/Voter ID/Ration Card/Indian Passport/Statement of Operational Bank Account/Rented Agreement as proof of address.

8th grade mark sheet

Certificate of social category/caste (if the student belongs to the SC/ST/OBC social group).

Ex-serviceman certificate (in case he/she is an Ex-serviceman)

Disability certificate (if he or she is disabled in any way)

Previous Board's Failed Marks (in case of Transfer of Credit)
These documents must be submitted while filing an application for NIOS class 10 admission. If NIOS finds a discrepancy in the documents provided online, they may request that the individual send a hard copy of the documents, together with the NIOS 10th registration form and a photograph, through email or SMS.
Also, read NIOS Books for Class 10 Science
How to Register for NIOS 10th Class 2023-2024?
Go to the official website at sdmis.nios.ac.in or use the link provided above. It will take you to the NIOS registration Home page, as seen below.

Tap on the 'Click here to Register' button. It will take you to the NIOS class 10 registration page.

Enter the identification number after selecting the state/UT, identity type, and course. To proceed, click the submit tab. It will open the NIOS 10th online admission basic details window.

Enter your basic information, such as your name, father's name, gender, phone number, and address. To confirm your information, go to the create OTP tab. To progress, click on the next button.

Fill up and submit the NIOS 10th registration form with any additional information requested.

Furthermore, students must pick subjects, NIOS exam centre choices, and provide relevant documentation.

Examine the NIOS class 10 admission form thoroughly before submitting it.

Then, proceed to pay fees, which may be done online.

Print the fee payment receipt and the NIOS 10th application form for future reference.
Procedure for NIOS 10th Registration 2023-2024 in Steps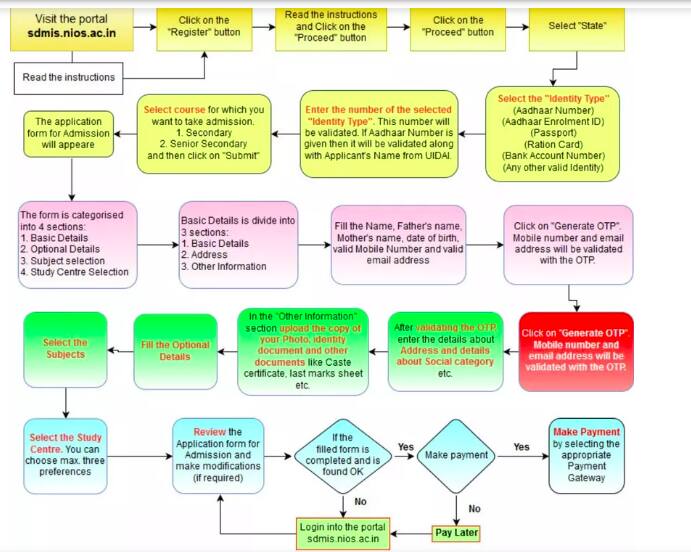 NIOS 10th Registration Fee 2023-2024
| | | |
| --- | --- | --- |
| Category | For 5 subjects | For each additional subject |
| General Category Male | Rs. 1800/ | Rs. 720/ |
| Female General Category | Rs. 1450/ | Rs. 720/ |
| SC/ST, Ex-Servicemen, and Disabled People (PWD) | Rs. 1200/ | Rs. 720/ |
Note: In addition to the above fees, the cost of the online NIOS Application Form for all Streams will be Rs. 50/- (Rs. Fifty Only) (Stream 1, 2, 3 and 4).
Check NIOS Syllabus for Class 10 & 12 for all subjects.
How Do I Pay the NIOS Class 10 Admission Fee?
Students will able to pay the NIOS 10th registration or admission fees in online mode only through Credit Card /Debit Card/Net Banking. If NIOS class 10 registration is done at Common Services Centres then the fee can be paid via Electronic Wallet of CSCs.
The fee structure for NIOS class 10 admission is given in the above table. Apart from this fee, they will have to pay NIOS exam fee and submit the exam form.
What happens after the NIOS 10th registration in 2023- 2024?
After completing the online NIOS class 10 admission form, students should begin studying for the exams.

They should look over the NIOS 10th syllabus 2023 to plan up a strategy for covering all of the topics.

They should also keep checking their NIOS admission status to see if their NIOS 10th registration has been verified. In the event of a discrepancy, they must respond to officials.

After NIOS 10th online admission is confirmed, students will get their enrollment number through SMS and email. Take note of this enrolment number and keep it secure in order to get the NIOS 10th admit card 2023.

Using the NIOS Login window, they will be able to download their Identity card.

They should study the complete syllabus before the NIOS class 10 time table is released so that they have plenty of time to revisit the topics and practise with sample papers.

In addition to practising with sample papers, students should solve previous NIOS exam papers to evaluate their level of preparation.
Other Useful Links of NIOS