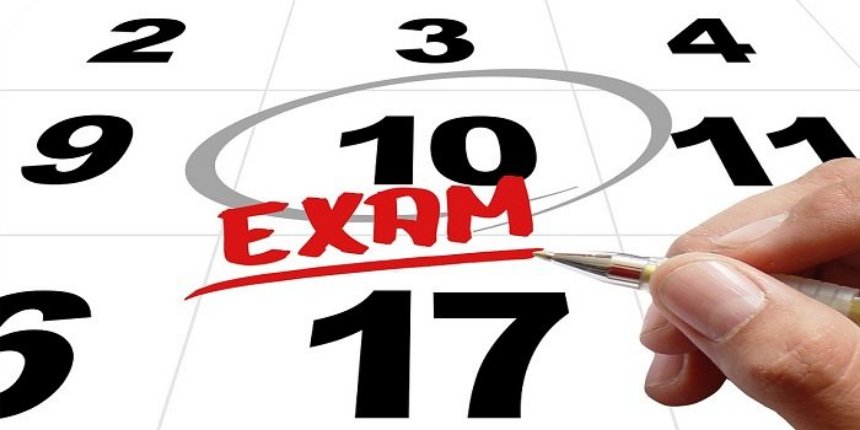 CBSE Class 12 Date Sheet 2019 - Central Board of Secondary Education will release the CBSE 12th 2019 date sheet in the first week of January, 2019 in the online mode. The date sheet of CBSE class 12 2019 mentions the exam schedule for CBSE class 12 examinations. Students can plan their preparation for the exams by referring the CBSE class 12 date sheet 2019 which will be updated below. The CBSE class 12 2019 date sheet will include all the subjects covered in the class along with the dates on which the exams are scheduled. As per the reports and notification released by CBSE the board exams for class 12th will be held in February and March for Vocational and core subjects. CBSE will conduct the practical exams for class 12th in the month of January 2019. Students can check the list of subjects along with subject codes as released by CBSE here. Last year, according to the CBSE class 12 date sheet, the Class 12 exams were conducted from March 5 to April 14, 2018.Read the entire article below to know more about date sheet of CBSE class 12 2019 including the important dates, syllabus, sample papers, important preparation tips and more.
Check CBSE class 10th Date Sheet 2019
Click here to check CBSE class 12th question papers
CBSE Class 12 Date Sheet 2019
The table below provides the tentative date sheet along with the list of subject and subject code. The exam duration for core subjects is 3 hours. 
Class 12 date sheet 
SUBJECT CODE

SUBJECT NAME

Dates (Tentative)

1

ENGLISH ELECTIVE-N

Third week of February 2019

101

ENGLISH ELECTIVE-C

301

ENGLISH CORE

56

DANCE-KATHAK

Fourth week of February 2019

57

DANCE-BHARATNATYAM

59

DANCE-ODISSI

69

CR WRTNG TR Study

609

TYPOGRAPHY &CA HIN

662

MICROBIOLOGY (MLT)

668

RADIOGRAPHY II

730

FIRST AID & EMERGENCY MEDICAL CARE

731

CHILD HEALTH NURSING

742

CLINICAL BIOCHEMISTRY AND MICROBIOLOGY II

744

RETAIL SERVICES II

748

INFORMATION STORAGE AND RETRIEVAL

749

INT. TRANS.OPER

756

INTRODUCTION TO HOSPITALITY MGMT

768

MUSIC AESTHETICS II

776

GARMENT CONSTRCTN

777

TRADITIONAL INDIAN TEXTILE

784

SALESMANSHIP

787

ELECTRICAL MACHINE

793

CAPITAL MARKET OPERATIONS

42

PHYSICS

First week of March 2019

658

OPTICS

661

CLNCL BIOCHEM(MLT)

733

HEALTH CENTRE MGMT

753

FRONT OFFICE OPERATIONS

769

MUSIC PRODUCTION

53

FASHION STUDIES

First week of March 2019

604

OFFICE PROC.& PRAC.

625

APPLIED PHYSICS

657

BIO-OPHTHALMIC

663

FUND OF NURSING II

666

RADIATION PHYSICS

737

FOOD & BEVERAGE COST AND CONTROL

Second week of March 2019

750

LGSTCS,OPER & SUP.CH.MGMT

751

BAKERY

762

BASIC HORTICULTURE

781

COST ACCOUNTING

800

SECURITY

54

BUSINESS STUDIES

Second week of March 2019

765

FLORICULTURE

67

MULTIMEDIA & WEB T

76

NAT. CADET CORPS

606

OFF. COMMUNICATION

Third week of March 2019

745

BEAUTY & HAIR

31

CARNATIC MUSIC VOC

32

CAR.MUSIC INS(MEL)

34

HIND.MUSIC VOCAL

Third week of March 2019

35

HIND.MUSIC MEL.INS

36

HIND MUSIC.INS.PER

664

COMM.Health NUR II

729

BASIC CONCEPTS OF HEALTH & DISEASE

Fourth week of March 2019

43

CHEMISTRY

49

PAINTING

Fourth week of March 2019

50

GRAPHICS

51

SCULPTURE

52

APP/COMMERCIAL ART

Fourth week of March 2019

55

ACCOUNTANCY
Students can find the CBSE 12th Date Sheet 2018, Click here
CBSE class 12 Exam Pattern 2019
The 12th board exams of CBSE will commence at 10:30 am. Students need to obtain a score of at least 33% in the theory and practicals combined to clear the subject as a whole. The theoretical papers will carry a total of 100 marks while those which have a practical element will have the theory paper for 70 marks and practicals for 30 marks. Students must remember to finish off with their syllabusbefore the release of CBSE class 12 2019 timetable and focus on solving sample papers thereafter.
CBSE prescribes the syllabus for CBSE class 12 which mentions the topics to be covered along with weightage of marks. Every paper is of 100 marks wherein the subjects with practical exam have a theory paper of 70 marks. A student must download these in the form of pdf and start preparing for 12th board exams. Once the CBSE 12th class date sheet is out students should start revision and practice the sample papers or previous year question papers to enhance their chances for scoring well.
Students preparing to appear for CBSE 12th 2019 must solve and practice as many sample papers of CBSE 12th as possible for better preparation. These sample papers will familiarize students with the exam pattern and marking scheme followed in the exam. Students must also follow the time limit of the exam and solve the paper within the stipulated time. Students may solve the CBSE 12th previous year question papers of different subjects as in the order listed in the date sheet of CBSE class 12 2019. 
CBSE 12th Preparation Tips
CBSE Class 12 is the stepping stone in students' higher academic life. Thus, one must put in his/her best effort to perform well. Here are a few tips and tricks to give your best in the board examination-
You must thoroughly revise the NCERT books. While preparing, make notes of important points and write them down separately so that you can refer them before the exam.

Get your doubts cleared by teachers/friends as and when they arise as clearing of concepts is very important. Make a study schedule and stick to it. One can refer the CBSE 12th date sheet 2019 for it.

Practice as many sample papers as possible.

Eat and sleep well.

Exercise regularly to keep yourself rejuvenated. 
For more subject related preparation tips articles, visit the links below: 
Central Board of Secondary Education (CBSE) will announce the CBSE result for class 12 in the last week of May, 2019 in the online mode. Students will be able to check their result by entering their roll number, school number and centre number on the login window. CBSE result for class 12th will be announced for all subjects including academics, electives and vocational, theory and practical marks for the respective subjects. 
CBSE Class 12 board examination statistics
| | | | |
| --- | --- | --- | --- |
| CBSE Class 12 Board Elements | 2018 | 2017 | 2016 |
| Total number of students | 11,86,000 | 10,98,420 | 10,65,179 |
| Total number of centres | 4138 | 3503 | 3757 |
| Total number of schools | - | 10677 | 10093 |
More like CBSE Class 12th
Questions related to CBSE Class 12th