NIOS 12th Registration 2023 - Check Eligibility, Registration Fee & Dates
NIOS 12th Registration 2023: The NIOS registration for October 2022 is still going on and the last date with the late fee to fill out the form is March 15, 2023. The NIOS Class 12th registrations 2023 is open to all Class 10 passed students. To apply for NIOS 12th registration, students must be at least 15 years old. All NIOS class 12 registration 2023 will take place online.
Latest Updates for NIOS Class 12
Stay up-to date with NIOS Class 12 News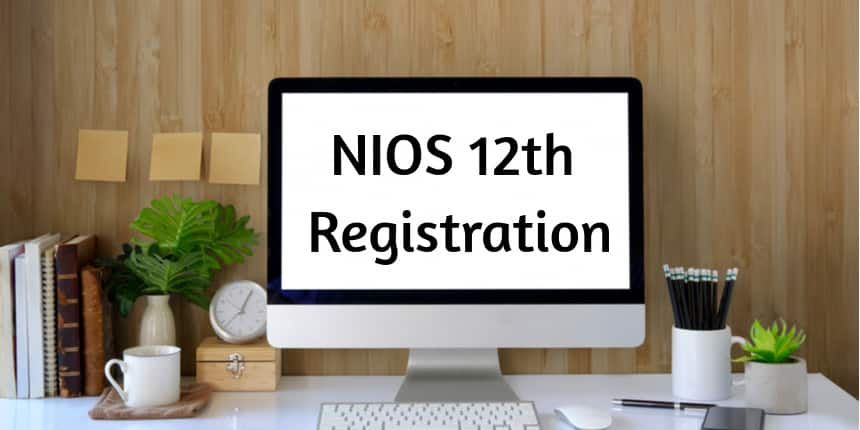 As soon as students register, they must pay the NIOS admission fee. The NIOS 12th exams
will be conducted in an offline mode. The block I registration will take place from March 16, 2023 to September 15, 2023. Read this article to learn more about the dates, requirements, fees, and other information for the NIOS 12th registration 2023.
NIOS Registration Dates for Block-II (October/November 2023)
| | |
| --- | --- |
| Event | Dates |
| Submit NIOS application without late fee until | September 16, 2022 to January 31, 2023 |
| Fill NIOS registration form with late fee of Rs 200 | February 1 to 15, 2023 |
| Register for NIOS with late fee of Rs 400 | February 16 to 28, 2023 |
| Fill NIOS form with late fee of Rs 700 | March 1 to 15, 2023 |
NIOS Registration Dates 2023 for Block-1 (April/May 2024)
| | |
| --- | --- |
| Event | Dates (tentative) |
| Submit NIOS application without late fee until | March 16 to July 31, 2023 |
| Fill NIOS registration form with late fee of Rs 200 | August 1 to 15, 2023 |
| Register for NIOS with late fee of Rs 400 | August 16 to 31,2023 |
| Fill NIOS form with late fee of Rs 700 | September1 to 15, 2023 |
Also, check NIOS 12th exam date 2023
NIOS 12th Registration 2023 - Eligibility Criteria
Students must check their eligibility for NIOS 12th admission. For further information on the subject, read this section.
The applicant must be 15 years as of July 31, 2023.

Students must have passed the secondary exam from an accredited board.

Senior secondary school pass students may also apply in this category to improve their scores or finish the course.

Students who meet the aforementioned requirements can register for the NIOS 12th registration 2023.
NIOS Class 12th Registration Fee structure 2023
Course

General Category

Exempted Category*




Male

Female

SC/ST, Ex-Servicemen,

Persons with Disabilities(PWD)

(i) for 5 subjects

Rs. 2000/-

Rs. 1650/-

Rs. 1300/-

(ii) for each additional subject

Rs. 720/-

Rs. 720/-

Rs. 720/-
Fee for Dual Enrolment/Part Admission/TOC (Stream -1)
| | | |
| --- | --- | --- |
| S.No | Course | Fees (in rupees) |
| 1 | Registration fee (Per subject) | Rs. 480/- |
| 2 | Cost of Course Material for each Subject | Rs. 400/- |
NIOS Fee for 2, 3 and 4, TOC and change of subject
| | |
| --- | --- |
| Particulars | Fee |
| Registration fee (Stream 2,3 and 4) | Rs. 480/- (per subject) |
| Transfer of Credit (TOC) Fee for all Streams | Rs. 180/- (per subject) |
| Fees for Change of subject / additional subject | Rs. 720/- (per subject) |
NIOS 12th registration 2023 Documents required for filling the online form
Before beginning the online NIOS 12th registration process, it is essential that students have their documents ready in the jpg and jpeg formats. They must remember that the registration process won't be completed if these documents aren't uploaded.
The following documents need to be ready before the NIOS 12th registration process ● NIOS 12th grade students.
Valid identity proof

Recent Passport size colour Photograph

Signature in black ink

Address proof

Valid proof of Date of Birth

A valid proof of Residence

Social category/Caste certificate (in case of SC/ST/OBC Candidates)

Ex-serviceman certificate (if he/she is an Ex-serviceman)

Passport/Statement of Operational Bank Account/Appointment Letter from the Employer on Printed Letterhead

Disability certificate

Class 10th mark sheet

Fail Mark sheet of previous Board, failing which Transfer of Credit (TOC) marks will not be updated in NIOS result 2023. If TOC Board marked with (*Other) is selected, then the result should be available on the Concerned Board Website, or Learner has to submit a result verification letter from Concerned Board as per NIOS norms.
Note: Students are instructed only to upload their documents online. NIOS does not accept any offline submission of documents without a significant discrepancy. To submit a hard copy of the same, students must notify the appropriate authority via SMS or email.
How to do NIOS 12th registration 2023?
Students can read this section to learn the step-by-step NIOS 12th Registration 2023 process. The students can see a brief NIOS registration process overview in the snapshot below. Keep reading to learn the whole step-by-step process for NIOS 12th registration.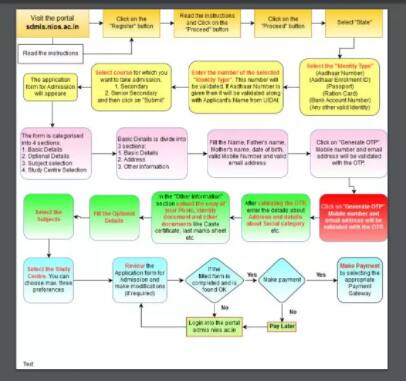 Step 1: Click the link above or Go to the NIOS registration official website - nios.ac.in. The link will take you to the NIOS student portal home page, which will appear as represented here: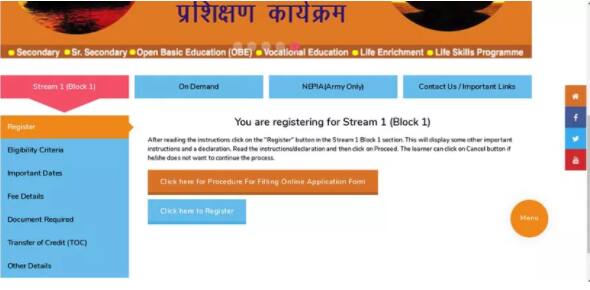 Step 2: Choose the "Click here to Register" button, which is blue in colour. On the screen will now appear the NIOS application form, as shown below.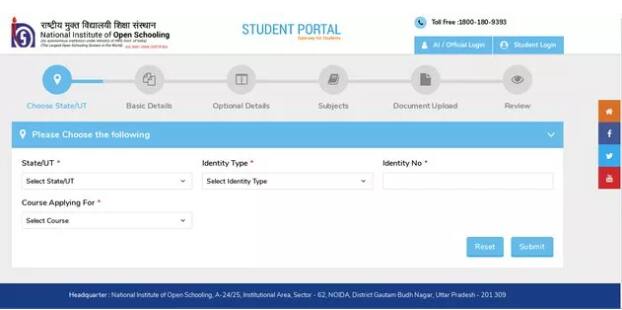 Step 3: Choose the state or UT, identification type, course, and identity number at this step. To continue, select the submit tab.
Step 4: Before final submission, thoroughly check all the details. Fill in the candidate's basic information, including name, father's name, gender, phone number, and address. To verify the information, click the "create OTP" tab. The next step is for the candidate to fill out any additional information, choose a subject, and provide supporting documentation.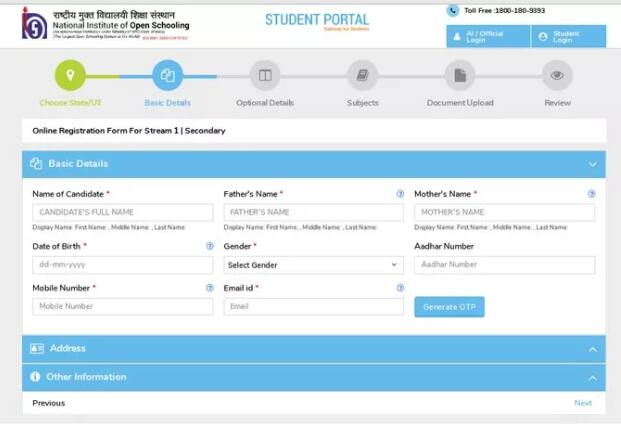 Step 5: Proceed with the fee payment. Fill out the application form and print the receipt for the fee payment. Keep this safe for future reference.
How to Pay Fees?
Students have the option of paying registration or admission fees offline or online. For online cases, payments can be paid via credit card, debit card, or net banking; however, for offline cases, candidates must fill out the form at a Common Services Centre and pay fees using the CSCs' electronic wallets.
Note: Besides the fee mentioned above, Rs. 50/- (Rs. Fifty Only) will be added as the cost of the online Application Form for all Streams (Stream 1, 2, 3 and 4). Any other fee payment form, such as a bank draft, demand draft, cash, or check, is not accepted.
How to check NIOS admission status?
As soon as the registration process is complete and the admission fee has been paid, students should regularly check their NIOS admission status to stay up to date on any registration-related developments. NIOS has the right to reject any admission if there is inaccurate information. Thus, students can use their reference number to verify the progress of their NIOS 12th admission online.
What after registration?
A student admitted to senior secondary courses under NIOS must complete the examination form for their session and submit the NIOS exam fee to sit for the exam the following year.
One should begin studying for the exam immediately after finishing the NIOS 12th enrollment process and filling out the exam form or earlier.

Students are advised to read through the NIOS syllabus, which contains the topics and units required to prepare for the exam, for the same.

Additionally, it aids students in understanding key concepts, exam pattern, and the marking scheme of the exam.
The NIOS releases the hall tickets for the theory and practical exams.

The NIOS admit card 2023 can be downloaded by entering the 11/12-digit enrollment number.

Without NIOS admit card, students cannot enter the exam hall.

Candidates' basic information, exam centre information, and other related information are included in this document.

Additionally, it contains exam instructions and guidelines.
Within 30-40 days of the completion of the exams, the NIOS publishes the results online.

The block I and II exams' results will be announced in July and December, respectively.

Using their enrollment number, students can check their results online.
Other NIOS Useful Links:
Frequently Asked Question (FAQs) - NIOS 12th Registration 2023 - Check Eligibility, Registration Fee & Dates
Question: What study medium instruction does NIOS offer?
Answer:
The mediums of instruction at NIOS class 12 are English, Hindi, Odia, Bengali, Gujarati and Urdu.
Question: When registering for NIOS, am I allowed to change my chosen subject?
Answer:
Sure, students can change one or more subjects; however, up to seven subjects can be changed simultaneously. No changes can be made to already cleared subjects.
Question: Does Nios accept direct admission for Class 12?
Answer:
Upon completing the class 10th examination, NIOS gives direct admission to class 12.
Explore More School Courses
Explore Top Universities Across Globe