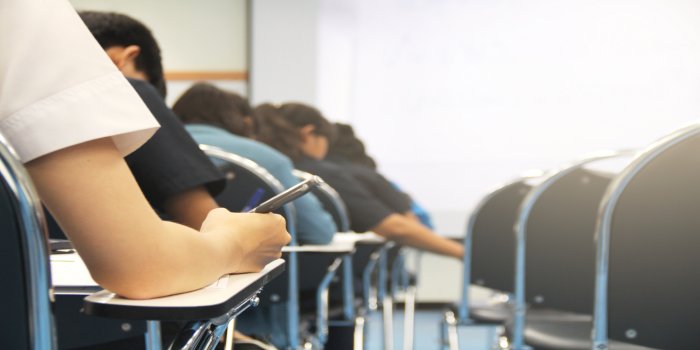 NTSE 2019 - The National Council of Education and Research Training (NCERT) conducts NTSE for class 10 students in two stages. Stage 1 of NTSE 2019 has been conducted at state level by SCERT of all States and UTs on November 3, 4, 18 and 25. Selected students will qualify to sit for NTSE stage 2 exam which will be conducted by NCERT at the national level on May 12. The NTSE result 2019 for stage 1 is declared from January to March 2019 individually by the States and UTs while NTSE stage 2 result 2019 will be out in the second week of September online.
National Talent Search Scholarships is also known as NTSE scholarship will be awarded to candidates who qualify both the stages. Candidates who qualify the second stage of NTSE 2019 will be awarded scholarships in science and social science up to the doctoral level; medicine and engineering courses up to second-degree level.
JEE Main Sample Paper
Download Free Sample Paper For JEE Main
Download Now
States and UTs have started to release the NTSE 2019 result for stage 1. The first state to release the result of NTSE 2019 was Karnataka followed by Chhattisgarh, Uttarakhand, Haryana, Punjab, Odisha, Jammu and Kashmir, Puducherry, Himachal Pradesh, Kerala, Telangana and Rajasthan. Others will also release it by March 2019. The answer key of NTSE 2019 for stage 1 had been announced by all states and UTs.     
Read the complete article to know more about NTSE 2019 - the important dates, admit card, answer key, result, qualifying criteria, reservation and selection criteria. 
What's New in NTSE 2019?
This year, NCERT has introduced a few changes in the exam as mentioned below:
1. No Language Paper - Till last year, NTSE included a language paper, the marks of which were not really counted while calculating the total score. From 2019, the language paper has been abolished.
2. New Reservation - NTSE 2019 has added an extra reservation of 27% for OBC (Non-creamy Layer) apart from the existing 15%, 7.5% and 4% for SC, ST and physically handicapped. The income limit currently is 8 Lakh per annum for OBC NCL.
3. Timing - The duration of the exam has been increased to 4 hours from 3 hours. Duration for MAT and SAT is 2 hours each.
4.  Marks - The total marks this year have increased from 150 to 200.
NTSE 2019 - Exam Overview
Exam Name

NTSE stage 1

NTSE stage 2

Level of examination

State level

National level

Conducting body

States/UTs

National Council of Educational Research and Training (NCERT)

Purpose of NTSE Exam

1000 Scholarships to pursue Sr. Secondary and higher studies in Science and Social Sciences

Selection procedure

Mental Ability Test and Scholastic Aptitude Test

Mental Ability Test and Scholastic Aptitude Test

Exam mode

Pen and paper

Pen and paper

Medium of language

 Assamese, Bangla, English, Gujarati, Hindi, Kannada, Marathi, Malayalam, Odia, Punjabi, Tamil, Telugu and Urdu

Negative Marking

No Negative Marking

No Negative Marking
| | |
| --- | --- |
| Events - Stage 1 | Important dates |
| Notification | Last week of July 2018 |
| Application begins | August 2018 |
| Last date of NTSE application form | Announced separately by each state/UT |
| Admit card of NTSE stage 1 | Second week of October 2018 |
| NTSE stage 1 (for Nagaland, Mizoram, Meghalaya and Andaman & Nicobar islands) | November 3, 2018 |
| NTSE stage 1 exam (for all other states and UTs except West Bengal and Kerala) | November 4, 2018 |
| NTSE stage 1 exam (for West Bengal and Kerala) | November 18, 2018 |
| NTSE stage 1 exam (Jammu & Kashmir) | November 25, 2018 |
| NTSE Result 2019 stage 1 | January-March 2019 |
| NTSE 2019 stage 2 exam | May 12, 2019 |
| NTSE stage 2 result 2019 | Second week of September 2019 |
NTSE result for stage 1 is announced separately by each conducting state/UT. Some states have declared the result for their states whereas others will release the result by March 2019. Candidates can check their NTSE Result 2019 for stage 1 exam by downloading the pdf released by the respective states. To check the NTSE 2019 result, candidates have to check for their registration number or roll number and name in the merit list. Only candidates who qualify stage 1 will find their name listed in the pdf released by the state SCERTs. Such candidates can appear for NTSE stage 2 exam 2019. 
NTSE 2019 Stage 2 will be conducted on May 12 and the result will be announced tentatively in September in the online mode. Candidates must log in using their roll number and date of birth to access their individual scores in stage 2 of NTSE 2019. Candidates will also be able to check the cutoff for NTSE stage 2 that will be released along with the NTSE stage 2 result 2019.
NTSE Rechecking of Result 
Candidates should know that no request for re-evaluation or rechecking of the result is entertained. Candidates can have access to their scanned OMR sheets, which will be uploaded on the NCERT website along with final scoring key so that they can calculate their own score.
Some states have released the cutoff for stage 1 exam for their state. In order to qualify NTSE 2019, candidates need to obtain the minimum cutoff marks as specified by the exam conducting bodies for both NTSE stage 1 and NTSE stage 2. The cutoff announced are the minimum marks that are used to shortlist candidates for the NTSE 2019 stage 2. Click on the link given above to know the cutoff for your state. The following is the qualifying cutoff for NTSE 2019.
Qualifying Cutoff for NTSE stage 1 & 2 exam
| | | |
| --- | --- | --- |
| Category | MAT (%) | SAT (%) |
| General/OBC | 40 | 40 |
| SC/ST | 32 | 32 |
NTSE stage 1 cutoff 2019 as released by states
| | | | | |
| --- | --- | --- | --- | --- |
| States/UTs | General | OBC | SC | ST |
| Odisha | 159 | 127 | 126 | 116 |
| Haryana | 166 | 159 | 137 | - |
| Karnataka | 151 | 131 | 110 | 108 |
| Himachal Pradesh | 135 | 89 | 109 | 115 |
| Kerala | 154 | 136 | 112 | 96 |
| Rajasthan | 178 | 161 | 151 | 156 |
| Telangana | 172 | 161 | 156 | 159 |
NTSE 2019 stage 2 Cutoff
NCERT will announce the cutoff for stage 2 of NTSE 2019 along with the result. The final cutoff for each category will be announced. Candidates can use the previous year cutoff marks to get a better idea of the marks required to qualify for the scholarships. 
Candidates can go through the cutoff marks given below for NTSE stage 2 2018
Category-wise NTSE cutoff 2018 
Category

Total score of MAT & SAT

Maximum marks out of 197

Total score of MAT and SAT.

Cutoff

General

186

150

General- PHl

144

111

General - PH2

124

78

General- PH3

131

101

SC

149

122

SC-PH-1

113

71

SC- PH-2

87

87

ST

145

113

ST-PH-1

93

90

ST-PH-2

81

81
However, candidates must note that the NTSE 2019 cutoff is bound to show variations this year due to the changes introduced in the exam pattern.
Around 1000 scholarships are awarded to candidates based on NTSE. Go through the table below to know the scholarships that are provided to candidates in different stages of education.
| | |
| --- | --- |
| Level of Education | Scholarship amount for the year 2018 (in INR) |
| Class XI to Class XII | Rs.1250 pm |
| Undergraduate and postgraduate level | Rs. 2000 pm |
| Ph.D. level | As per UGC norms |
Frequently asked questions related to NTSE 2019
Q. When will NTSE stage 1 result 2019 get announced?
A. NTSE stage 1 is being announced separately by each State and UT between January-March, 2019. The result will release online in the form of merit list and you will have to search for your name and roll number in the list.
Q. If, according to my calculation using the answer key, I achieve the qualifying score in MAT and SAT, will I qualify for stage 2?
A. Scoring 40% (general/OBC) and 32% (SC/ST) separately in MAT and SAT is the qualifying cut off of NTSE 2019. However, getting selected for the second stage of NTSE 2019 entirely depends on the cutoff released by SCERT of each state. You will have to wait until it gets announced along with the result.
Q. Do I need to apply again for stage 2 of NTSE?
A. No, candidates need not apply again for stage 2 of NTSE. Application is done only for stage 1.
Q. I'm am reappearing for my class 10 exams this year. Can I apply for NTSE?
A. No, you can apply for NTSE scholarship exam only while appearing for class 10 for the first time.
Application form for NTSE stage 1 2019 was released by State/UTs in August. Candidates had to fill and submit the application forms before the last date as stipulated by their respective State/UTs. Candidates need to pay the application fee for NTSE stage 1 if mentioned by the state. Candidates appearing for NTSE stage 2 will neither have to submit an application form to NCERT nor any fee.
NTSE Reservation Criteria
| | |
| --- | --- |
| Category | Reservation Criteria |
| Scheduled Caste | 15% |
| Scheduled Tribes | 7.5% |
| Physically Handicapped | 4% |
| Other Backward Class | 27% |
Out of 4 % for physically challenged students, one percent shall be reserved for persons with benchmark disabilities under clauses:
a) Blindness and low vision
b) Deaf and hard of hearing
c) Locomotor disability including cerebral palsy, leprosy cured, dwarfism, acid attack victims and muscular dystrophy.
1% for persons with benchmark disabilities under clauses:
Autism, intellectual disability, specific learning disability, and mental illness.

Multiple disabilities amongst persons under clauses (a) to (d) including deaf-blindness in the posts identified for each disability  
Candidates appearing for NTSE 2019 stage 1 and stage 2 have to satisfy the following eligibility criteria set by each state and NCERT. Read below to know the eligibility criteria for the NTSE exam.
Students studying in class 10 in recognized schools are eligible to appear for NTSE 2019 stage 1 exam. There is no domicile restriction.

Candidates studying under open school or distance learning are also eligible to apply provided they do not cross 18 years of age as on 1st July of that year.

One should not be employed.

Candidates must be appearing in class 10 exam for the first time.

Some states require candidates to score minimum marks in class 9 to apply for NTSE 2019. This is mentioned separately by States on their official website.

Students who clear NTSE stage 1 only can appear for stage 2 national level exam.

Indian students studying abroad in Class 10 or equivalent class can directly apply for NTSE 2019 stage 2. They must obtain at least 60 percent marks (in aggregate) in class 9th.
The questions of NTSE stage 1 and 2 exams are based on class 9 and class 10 level. Candidates can also refer to the official booklet - 'Learn about the Test' that contains sample papers for both the Tests- MAT and SAT. It is available in print as well as on the official website of NCERT.
The exam pattern for both the stages of NTSE is given below. Candidates must refer to the NTSE 2019 exam pattern as it makes us familiar with respect to the number of questions, marking scheme, the time allotted and much more.
Exam pattern for NTSE 2019
There will be two papers held for stage 1 and 2 as mentioned below. Unlike previous years, there will be no Language paper.
Candidates need to score 32% for SC, ST and PWD category and 40% for the General category in order to qualify the exam.
The selection criteria for stage 2 of NTSE 2019 requires a candidate to qualify in both the papers separately. Selection of the awardees will be made on the basis of total Marks scored in MAT & SAT based on merit. 
Each question in both the tests carries one mark and there is no negative marking. 
NTSE 2019 Exam Pattern
| | | | | | |
| --- | --- | --- | --- | --- | --- |
| Papers | Test | No. of questions | Marks | Duration | Timings |
| Paper I | Mental Ability Test (MAT) | 100 | 100 | 120 minutes | 9:30 am to 11:30 am (till 12 noon for visually challenged candidates) |
| Paper II | Scholastic Ability Test (SAT) | 100 (Science40, Mathematics-20, Social Science40) | 100 | 120 minutes | 13:30 pm to 15:30 pm (till 16:00 pm for visually challenged candidates) |
Candidates who will be appearing for NTSE 2019 state level exam can download the sample papers for their respective state here. The sample papers of NTSE 2019 stage 1 are available for thorough practice. Candidates can download them as many times as they want and start practising. The sample paper of NTSE 2018-19 include the sample questions and options.
Click Here for NTSE Sample Papers 
Click Here for NTSE 2019 Best Books
Some states released the admit card online which candidates could download. Other States will provide the NTSE 2019 admit card offline. Candidates could collect the same from their respective school. The admit card of NTSE 2019 contains important information, such as the candidate's name, roll number, exam date, and timing and exam centre address. Candidates must remember that they will not be allowed to enter the NTSE examination hall without the admit card. 
Steps to obtain NTSE Admit Card 2019
NTSE admit card for stage 1 was released in the third week of October 2018. Candidates could either obtain it online or offline (depending on the state).

In case any candidate did not receive the admit card, he or she could visit the State Liaison Officer to obtain the same.

The admit card for NTSE Stage 2 will be available on the official NCERT website 21 days before the date of the exam.

Candidates are advised to download their respective hall tickets from the website.
NTSE 2019: Documents to carry along with NTSE Admit Card
Along with the admit card of NTSE 2019, candidates have to carry a photo ID card. Valid photo ID in original and a photocopy of the same will be accepted. Candidates, otherwise, will not be allowed to enter the examination centre.
The NTSE answer key for stage 1 has been published by different SCERTs on the respective official websites. Candidates can check the answer key for the following papers -MAT and SAT papers to verify their answers and calculate a probable score. The answer key for stage 1 includes the correct options as well as marking scheme for each paper. Students can also check the answer key released by various coaching centres that were released after the conduction of the exam. For NTSE stage 2, the answer key of stage 2 will be released by NCERT in online mode only.
NTSE 2019 Change of Exam Centre
Change of centre is entertained upon written request only in exceptional cases under special circumstances, such as the transfer of parents of candidates. Candidates have to send the written request to NCERT within 15 days of the download of the E-admit card prior to at least 21 days of examination. Candidates, however, must note that in such cases they can take the exam only in English medium. For information on NTSE 2019 State Liaison Officers, refer below. 
List of Liaison Officers for NTSE Form 2018-2019
Candidates can check below the list of officers as appointed by the NCERT for NTSE application form related queries -
| | | | |
| --- | --- | --- | --- |
| S. No. | Name of the State/UT | Name of the State/UT Liaison Officer & Addresses | Website |
| 1 | | Mr. Gania Leij Dy. Director, Directorate of Secondary Education Govt. of Arunachal Pradesh, Naharlagun, Itanagar- 791111, Arunachal Pradesh. | https://www.arunachalpradesh.gov.in |
| 2 | | Mr. Khabir Uddin Ahmed Dy. Director Office of the Director of Secondary Education, Kahilipara, Assam, Guwahati-781019 (Assam) | www.madyamik.in |
| 3 | Manipur | Sh. R.K. Tenedy Singh Vigyan Mandir Officer Directorate of Education (Schools), Lamphelpat, Imphal (Manipur)-795004 | www.manipur.gov.in/dert/index.html |
| 4 | | Smt. Margarette C. Blah Selection Grade Lecturer Directorate of Educational Research And Training ((DERT), Laitmukhrah Nongrimmaw, Shillong- 793011 (Meghalaya) | www.megeducation.gov.in |
| 5 | Mizoram | Mrs. Zothanmawii Deputy Director, S.C.E.R.T., Chaltlang, Aizawl, Mizoram-796012 | https://dietaizawal.weebly.com/notice- boardnews.html |
| 6 | Nagaland | Mr. Shilu A O Joint Director, SCERT, Nagaland, Kohima-798621. | https://scertnagaland.org/default.aspx |
| 7 | Sikkim | Mr. Bilal Prabhakar Deputy Director (Scholarship) Human Resource Development, Department of Education, Govt. of Sikkim, Tashiling Secretariat Gangtok-737101 (Sikkim) | https://sikkimhrdd.org/ |
| 8 | | Smt. Kuheli Debbarma Deputy Director, Tripura State Council of Educational Research and Training, Abhoy Nagar, Agartala, Tripura (West)-799005. | https://www.scerttripura.com |
| 9 | Andaman & Nicobar Islands | Shri Mammen Thomas Principal, State Institute of Education Siksha Sadan, Link Road Port Blair-744101, (A&N Islands) | https://www.education.andman.gov.in |
| 10 | | Dr. Sanjiwan Sinha Director, S.C.E.R.T. Mahendru Post Office, Patna-800006 (Bihar) | https://www.educationbihar/ |
| 11 | | Dr. Arbind Pd. Singh Chairman , Jharkhand Academic Council Ranchi, Gyandeep Campus, Bargawan Namkum, Ranchi- 834010. | www.Jac.nic.in. |
| 12 | | Dr. Puspanjali Pani Assistant Director, Directorate of TE & S.C.E.R.T. Unit IV, Bhubaneswar-751001, Orissa | https://www.scertorissa.org |
| 13 | | Dr. Syed Nurus Salam Deputy Director of School Education (Basic) Directorate of School Education Bikas Bhawan, 7th Floor, East Block, Salt Lake City Kolkata-700091 (West Bengal) | www.wbsed.gov.in |
| 14 | Chandigarh | Mrs. Mamta Sharma Assistant Professor State Council of Educational Research & Training (SCERT) Sector-32C, Chandigarh (U.T.) 160031. | www.siechd.nic.in |
| 15 | | Ms. Usha Chaturvedi Deputy Director, Directorate of Education Science & TV Branch Behind Lady Shri Ram College, Lajpat Nagar-IV, New Delhi-110024. | www.edudel.nic.in |
| 16 | | Dr. Farooq Ahmad Peer Director Academics, Liaison Officer (NTS) J&K State Board of School, Education, New Campus Lal Mandi, Bemina, Srinagar (J&K)-190018. | https://jkbose.co.in/ |
| 17 | | Sh. Sunil Vashishta Lecturer Commerce, S.C.E.R.T., Sohna Road, Opp. Panchayat Bhawan, Gurugram-122001 (Haryana). | https://scertharyana.in |
| 18 | | Mrs. Rajni Sankhyan Associate Professor S.C.E.R.T., RABON Solan-173211, (Himachal Pradesh). | www.himachal.nic.in |
| 19 | | Mrs. Rumkeet Kaur Lecturer in Math State Institute of Science Education, PSEB Complex, Block-E, 6th Floor, Phase-8, Ajitgarh, SAS Nagar (Mohali), Punjab. | www.epunjabschool.gov.in |
| 20 | | Mr. Rajendra Kumar Saxena Assistant Director Exam, Board of Secondary Education , Ajmer, Rajasthan-305001. | www.rajeduboard.nic.in |
| 21 | | Mrs.Usha Chandra Director, Bureau of Psychology SCERT, 2 Lowther Road Allahabad-211001 (UP) | www.scertup.org |
| 22 | | Dr. Vinod Prakash Semwal Lecturer State Council of Educational Research and Training, Rajeev Gandhi Navodaya Vidyalaya, I.T Campus, Nanurkhera, Dehradun, Uttarakhand | www.schooleducation.uk.gov.in |
| 23 | | Dr. Prasoon Sarkar Professor, State Council of Educational Research & Training (SCERT), DIET Campus, Shankar Nagar, Raipur, Chattishgarh-492001. | www.scert.cg.gov.in |
| 24 | Daman & Diu | Sh. Rajesh J Halpati Head Master Government High School Nani Daman Vaniyawad Opposite Custom House Daman & Diu -396210 | www.daman.nic.in directorate_of_education.aspx |
| 25 | Dadra and Nagar Haveli | Sh. Salim Dinganker State Liaison Officer, NTS/NMMS Directorate of Education 1st Floor, Building No.5 PWD Campus, Above Animal Husbandry, Silvassa-396230 UT of Dadra and Nagar Haveli | https://www.dnh.nic.in/ departments/education.aspx |
| 26 | | Sh. Jaywant Waman Naik Vocational Education Officer, Directorate of Education State Council of Educational Research and Training Alto-Porvorim, Bardez-403521 (Goa). |   |
| 27 | | Sh. Dharmendra R Saradava Secretary, Gujarat State Examination Board, Opp. Government Library, Sector-21, Gandhinagar Gujarat-382021. | https://gujarat-education.gov.in |
| 28 | | Ms. Surbhi Parashar Assistant Manager, Rajya Shiksha Kendra Pustak Bhawan "B" Wing, Arera Hills, Bhopal-462011 (M.P.) | https://www.ssa.mp.gov.in/ |
| 29 | | Sh. Sukhdeo Hari Dere Commissioner, Maharashtra State Council of Examinations 17-Dr. Ambedkar Road, Pune-411001 (Maharashtra). | www.mscepune.in |
| 30 | | Sh. D. Ramachandra Murthy Deputy Commissioner Office of The Director of Govt. Examinations D.No. 20-124, Beside SPNRCH High School Opp. Andhra Hospitals, Gollapudi Vijaywada, A.P-521225 | https://bseap.org |
| 31 | | Sh. Jaya Kumar H.S. Senior Assistant Director DSERT, No.4, 100 feet Ring Road, Banashankari, 3rd Stage, Bangalore-560085 (Karnataka) | https://www.dsert.kar.nic.in/ |
| 32 | | Dr. Meena. S Assistant Professor, S.C.E.R.T., Vidhya Bhavan Poojappura (P.O.)Thiruvananthapuram-695012, | https://www.scert.kerala.gov.in/ |
| 33 | Lakshadweep | Mr. Chandrashekhar Principal Govt. Senior Secondary School, Kavaratti, UT of Lakshadweep-682555. | https://www.schoolspedia.com/website/gov- sr-sec-school-kavaratti-lakshadweep |
| 34 | | Dr. J.Krishna Raju Joint Director Directorate of School Education, Perunthalaivar Kamarajarcent.Edu. Complex, Anna Nagar Puducherry-605005. | https://schooledn.puduchery.gov.in |
| 35 | | Ms. D. Vasundra Devi Director Directorate of Govt. Examinations, College Road, Nungambakkam, Chennai-600006. | https://dge.tn.gov.in/ |
| 36 | | Sh. D. Chalapathi Rao Deputy Commissioner Director of Govt. Examinations Chapel Road, Hyderabad Telangana-500001. | https://bseap.org./index.aspx NTSE |
Questions related to NTSE