NTSE Important Dates 2021 - Check Exam Dates Here
NTSE Important Dates 2021 - NCERT will release the NTSE 2021 dates for Stage 1 & Stage 2 tentatively in the month of July 2020. The important dates of NTSE 2021 include application dates, admit card date, result date, and more. National Talent Search Examination (NTSE) will be held in two stages, namely Stage-1 and 2. NTSE 2021 Stage 1 exams will tentatively be held in offline mode in November 2020 while stage 2 will take place in May 2021. Stage 1 will be held at the state level while the stage 2 NTSE exam 2021 will be conducted at the national level. NTSE 2021 registration is a one-time application process. All applicants can download the NTSE admit card from October 2020. The stage 1 result will be announced from January to March 2021. On the basis of the results, meritorious students will be awarded certain scholarships. Read the article to know NTSE 2021 important dates.
Latest: NTSE 2020 stage 2 exam has been rescheduled. Know complete details.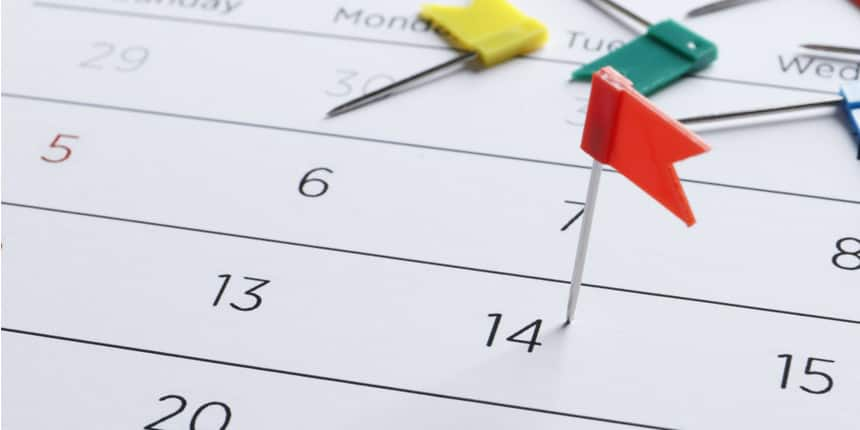 NTSE Important Dates 2021 (Stage 1 & 2)
Students should keep track of the important dates of NTSE 2021 to avoid missing any important event. Read the article for more information on NTSE important dates 2021. Refer to the table below to know the NTSE exam dates.
NTSE Important Dates
| | |
| --- | --- |
| Event | NTSE 2021 Dates (Tentative) |
| Start Date of NTSE 2021 Registration form | Last week of July 2020 |
| NTSE Application Last Date | August/ September 2020 |
| NTSE Stage 1 Admit Card Release Date | October 15 to November 15, 2020 |
| NTSE Stage 1 for Nagaland, Mizoram, Meghalaya and Andaman & Nicobar islands | November 2, 2020 |
| NTSE Stage 1 Exam Date 2020 (for all other states and UTs except above-mentioned states) | November 3, 2020 |
| NTSE Stage 1 Exam Date 2020 for Karnataka, West Bengal, Kerala, Jammu & Kashmir, Delhi, Jharkhand & Bihar | November 15, 2020 |
| Stage- 1 Result | Jan - April 2021 |
| NTS Stage- II Admit Card 2020 | April 2021 |
| NTSE Stage 2 Exam Date | May 9, 2021 |
| NTSE Final Results | September 2021 |
NTSE Important Dates 2021 Highlights
The NCERT organizes the National Talent Search Examination for students studying in Class X with the objective to bring up the ability of students. This exam is conducted every year at two levels; Stage-1, which is conducted at the state level and Stage-2, at the national level. The NTSE important dates 2021 have been avowed by NCERT in its announcement for the aspiring and eligible candidates.
NTSE 2021 Registration Dates- The dates to submit the NTSE 2021 Application have been concluded. The last date to submit the application form differs for each state.
NTSE Exam Dates 2021 - The Stage- 1 of NTSE 2021 will take place in November 2020 while Stage -2 is scheduled to be held in May 2021.
NTSE Admit Card 2021 Dates - SCERTs or Education departments will tentatively issue the stage 1 admit card in October 2020 while the stage 2 admit card will be issued by NCERT in the month of April 2021. Students can either download the admit card online or can collect the same in offline mode from their schools or from the State Liaison Officer. The NTSE admit card for stage 2 is only allotted to the ones who are shortlisted for the Stage-1 exam.
NTSE Result 2021 Dates- The results of NTS exam will be uploaded by SCERT on their official websites in online mode. The stage 1 results will be released within January-March 2021 while stage 2 results will be announced in September 2021.
Reservations in NTSE Exam :
Across the country, around 2000 students are awarded scholarships with reservation policy for SC with 15 per cent, ST with 7.5 per cent.
The reservation policy is also open for candidates who have benchmark disabilities.
Some changes are made in the policies of NTSE examination 2020, thereupon OBC students will be provided 27 per cent of extra reservation.
Students of Class 10th from any of the recognized schools like - Sainik school, Kendriya Vidyalaya etc. are eligible to give the NTSE exam.
The NTSE exam's eligibility criteria apply for the students who are appearing in Class 10th for the first time.
Candidates who are below 18 years of age and are not employed can apply.
Students who have opted for the Open and Distance learning (ODL) can also apply for the NTSE scholarship.
About NCERT
National Council of Educational Research and Training (NCERT) came into light in 1961. It was established by the Government of India in order to improve the quality of the education system of the schools. NCERT took several steps to give many booming opportunities to bright and aspiring students. Many programs were initiated for the same purpose, one of them is the National Talent Search Examination (NTSE).
Read more -
Frequently Asked Question (FAQs) - NTSE Important Dates 2021 - Check Exam Dates Here
Question: What is the date of the NTSE stage 1 exam 2021?
Answer:
NTSE stage 1 2021 will be held in November 2020, tentatively.
Question: Is there any fee for the NTSE stage 2 exam?
Answer:
No, there are no fees for the stage 2 exam.
Question: Is there any negative marking in NTSE?
Answer:
No, there is no provision of negative marking.
Question: Can Class 12 students appear for NTSE exam?
Answer:
No, the NTSE exam is for the students of class 10.
Questions related to NTSE
Showing 1979 out of 1979 Questions