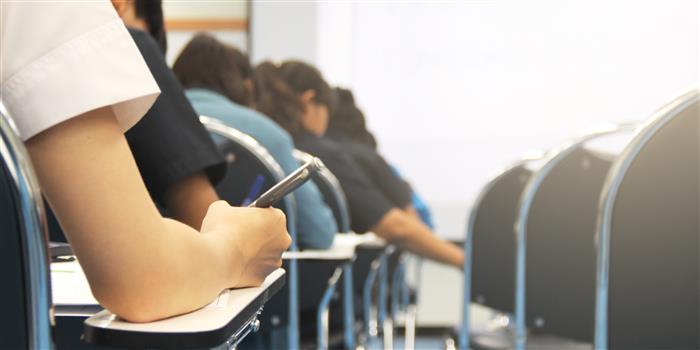 NTSE West Bengal 2019 - Directorate of School Education, West Bengal will conduct National Talent Search Examination stage 1 for West on November 18, 2018. NTSE West Bengal 2019 is for class 10 students from the state. Application process of NTSE West Bengal 2019 has been closed. The last date to submit the completely filled application form was September 9, 2018. Candidates who's forms are rejected with unlock can edit and finalize their applications by September 16, 2018. Those who qualify NTSE West Bengal 2019 will succeed to stage 2 of the talent search exam. NTSE stage 2, 2019 will be conducted by National Council of Educational Research and Training (NCERT) on May 12, 2019. Read further for eligibility criteria, application process and more on NTSE West Bengal 2019.
NTSE West Bengal Exam 2019 - Overview
Name of the examination

National Talent Search Examination Stage 1

Abbreviation used

NTSE Stage 1

Level of the exam

State/UT

Date of exam

November 18, 2018

Conducted by

Directorate of School Education, West Bengal

Official Website for NTSE

scholarships.wbsed.gov.in

State/UT Liaison Officer &

Addresses

 

Dr. Syed Nurus Salam

Deputy Director of School Education Directorate of School Education Bikas Bhawan, 7thFloor East Block,

Salt Lake City

Kolkata-700091 (West Bengal)

 

Eligibility Criteria

For class 10 students.

Mode of examination

Pen and paper

Mode of Application

Offline

Frequency of Exam

Once each year.
NTSE West Bengal Exam 2019 Important Dates and Events
| | |
| --- | --- |
| Events | Dates |
| Application begins | August 1, 2018 |
| Application concludes  | September 9, 2018 |
| Last date to edit application | September 16, 2018 |
| NTSE West Bengal 2019 exam | November 18, 2018 |
| NTSE West Bengal Results | Last week of January 2019 |
| NTSE 2019, Stage 2 | May 12, 2019 |
NTSE West Bengal Exam 2019 Eligibility Criteria

Students currently studying in class 10 from any school recognized underW.B.B.S.E./ W.B.B.M.E./ I.C.S.E./ C.B.S.E in West Bengal can apply for stage 1 of West Bengal NTSE exam, 2019. The eligibility criteria state the following criteria to be met to be eligible for exam-
General category students who have scored at least 50% marks in class 9 are eligible to apply for NTSE West Bengal exam 2019.

For reserved categories, SC, ST, PH, and OBC students who have scored at least 40% in class 9 are eligible to apply.

Open or distance learning students can also apply for NTSE Karnataka 2019 given that candidate's age doesn't exceed 18 years, and isn't employed. 
NTSE West Bengal 2019 Important Instructions
Students aspiring to apply for NTSE West Bengal 2019 must go through the following instructions laid down by DGE, West Bengal before starting the online application process.
For OBC Candidates  Candidates applying under OBC reservation should meet the following conditions to avail reservation benefits.
The caste/ class the applicant belongs to should be listed in the 'Central List of OBCs' by NCBC (National Council of Backward Classes. To find your caste/ community in the Central List of OBCs click here.
Only those OBC applicants who come under 'Non-Creamy Layer' income group will be able to avail the reservation benefits. Creamy layer OBC applicants will not be granted any reservation.
Examination Districts - While filling the application form of NTSE West Bengal 2019 students must choose the educational district they reside in. There are two educational districts applicants can choose from, the Barrackpore Educational District comprising of Sub-Divisions: Barrackpore and Bidhannagar, and Siliguri Educational District comprising of Siliguri Sub-Division only.
Latest: Candidates with 'Rejected with unlock' forms can edit and finalize till Septembet 16, 2018. Application process over!! Click Here to Apply for NTSE West Bengal Application Form. 
How to Apply Online for NTSE West Bengal 2019?

The application process for West Bengal NTSE 2019 is over. To apply for NTSE West Bengal exam 2019, candidates could follow these basic steps:

Step 1- Online Registration
Click on the official link given above.

Next, you will be directed to 'Instruction Page'. Read the instructions thoroughly and click on 'PROCEED TO REGISTER'

You will be asked for a mobile number and email Id, and your personal details for registration. Fill in the details and press register.

On the next window you will find the options to download the registration details, and to login and fill the application form.

Download the registration details and click on login; you will be redirected to the scholarship portal of DSE, West Bengal. 
Step-2 Log in and filling the form
Once on the scholarship web portal of DSE, West Bengal, find the option to log in to your account by using the registration number and password given during registration and login to your account.

After logging in you will be directed to your dashboard. At the top of the window, you will find an option titled 'Application', click on it and then click on 'Form Fill UP'

Upload a scanned copy of a recent passport sized photograph. Image size should be in '.jpg' format and should not exceed 20kb.

Fill the rest of the required details and press save. 
Step 3- Getting the application form, and the verification certificate attested by the head of the institution (Principal).
Download a copy of your application form, along with the verification form to be filled by the school Principal.

Both application and verification form is required to be attested by the Head of Institution/ School Principal.

Upload the attested certificate onto the registered ID created during registration.

Candidates who belong to SC/ ST/ OBC categories are required to submit scanned copies of their caste certificate certified by relevant authorities.

Candidates applying under PH category will be required to upload a scanned copy of their disability certificate, certified by a competent Medical Board of State Govt./ Central Govt.
NTSE West Bengal Exam Admit Card 2019
Students participating in West Bengal NTSE exam 2019 can download the admit card/ hall pass from the official website of DGE, West Bengal. NTSE West Bengal 2019 admit cards will be available for download in the last week of October 2018.

The answer key of NTSE West Bengal 2019 will be made available to students by the following weeks of the exam date. DGE, West Bengal will release the official NTSE West Bengal answer key 2019 by the last week of November 2018. The answer key will contain correct answers for questions asked in MAT, and SAT tests.
How to Prepare for NTSE West Bengal 2019?

To prepare for NTSE West Bengal 2019 students must cover the exam pattern, syllabus, previous years' question papers, and sample papers. Students who frequently practice with these materials will find it easy to understand the exam question and exam pattern. Following sections cover all of these preparation materials to help you with your preparation.
NTSE West Bengal Syllabus 2019
Neither NCERT nor SCERT prescribes any syllabus for NTSE stage 1 examinations. However, NTSE stage syllabus is prepared by various coaching institutes such as FIIT-JEE for their coaching classes.
Mental Ability Test

Series -

Inserting the Missing Character

Blood Relations

Alphabet Test

Averages

Speed, Distance & Time

Arithmetic Reasoning

Coding Decoding

Direction Sense Test

Time & Work.

 

Number, Ranking & Time Sequence Test -

Clock

Data Sufficiency

Equation, Ratio, Proportion & Variation

Calendar

Logical Venn Diagram

Syllogism

Counting number of Figures

Input Output

Statement , Assumption & Conclusion

 

Puzzles -

Data Interpretation

Basics of Number System

Figure Series, Analogy & Classification

Paper Folding, Unfolding, Cutting & Dot Situation

Mirror & Water Images

Figure Matrix.

 

Classification -

Analogy

Percentages

Profit, Loss & Discount

Alligations or Mixtures

Simple and Compound Interest

Cubes and Dice

Fundamental Principle of Counting; Data Inequality.

Scholastic Ability Test

Physics -

Current Electricity

Motion

Magnetic Effects of Current

Sources of Energy

Laws of motion

Light, Reflection & Refraction

Work, Energy & Power Eye

Gravitation

Fluid

Waves and Sound.

 

Chemistry -

Chemical Reactions & Equations

Acids, Base & Salts

Is Matter Around Us Pure?

Metals & Non Metals

Alkaline Earth Metals

Atoms & Molecules and Mole Concept.

Carbon & Its Compound; Structure of Atom

Matter in our surroundings

Periodic properties

 

 

Biology -

Nutrition

Respiration

Transportation

Excretion

Cell

Improvement in Food Resources

Tissue

Control & Coordination

DLO

Natural Resources

Reproduction in Plants and Animals

Heredity and Evolution

Environment

Diseases

 

Mathematics -

Number System, Real Numbers

Polynomials, Factor & Remainder Theorem

Surds, Indices &Exponents.

Triangles

Quadrilaterals

Area of Parallelograms and Triangles

Heron's Formula

Linear Equations in Two Variables

Quadratic Equations

Arithmetic Progression

Trigonometry

Application of Trigonometry

Circles

Areas related to Circles

Surface Area and Volume

Probability

Statistics

Co-ordinate geometry

  

Social Sciences -

 

History -

The French Revolution

Russian Revolution

Nazism and the Rise of Hitler

Forest

Society and Colonialism

The Making of the Global World

Age of Industrialization

Print Culture and the Modern World

Novels, Society and History

Resources and Development;

Natural Vegetation

Water Resource

Pastoralists in the Modern World

Clothing: A Social History

Work, Life and Leisure

The Story of Cricket

 Geography -

India, Size and Location

Physical Features of India

Drainage.

Political Science

Democracy in the Contemporary World

What is Democracy

Why Democracy?

Resources and Development

Natural Vegetation

Water Resources

Climate

Mineral and Energy Resources;

Agriculture

Population

Manufacturing Industries 

Economics -

Story of Village Palampur

People as Resource

Development

Sectors of the Indian Economy

Poverty as a Challenge facing India

Money and Credit

Consumer Rights

Globalization and the Indian Economy

Food Security
NTSE West Bengal Exam Pattern 2019

As per the new changes, at the examination for NTSE West Bengal 2019 only Mental Ability Test, and Scholastic Ability Test will be conducted. The language test is no longer a part of the exam, as mentioned earlier. The exam will be conducted for a duration of 4 hours, and for 200 marks. See the following table for NTSE West Bengal 2019 exam pattern.

NTSE West Bengal Exam pattern
Section

Type of Questions

Number of questions

Time Duration

Mental Ability Test (MAT)

Multiple choices, Objective type.

100

120 minutes.

Scholastic Aptitude Test (SAT)

Multiple choices, Objective type.

100 questions worth 1 mark each.

 

Science-40

Mathematics- 20

Social Science - 40

120 minutes
NTSE West Bengal Sample and Question Paper 2019

The sample papers and previous years' question papers of NTSE West Bengal are one of the key preparation materials for the exam. Practising with the question papers and sample papers will help students develop a familiarity with the kind of questions that appear in the exam, and also the time duration.

Students should expect the cut off of NTSE West Bengal to be released along with the results by the last week of January 2019. NTSE West Bengal cut off 2019 will be declared for general, SC, ST, OBC, and PH categories. The cut off will contain minimum score required to be met by a candidate to qualify NTSE West Bengal as per his/her category.
NTSE West Bengal Result 2019

Students can check for NTSE West Bengal result 2019 by the last week of January 2019. A merit list of students selected for NTSE stage 2 will be released by DSE, West Bengal. NTSE West Bengal result 2019 will contain MAT, SAT, and overall merit scores of the participants. Those who qualify NTSE West Bengal 2019 will proceed to the second stage of the talent search.
NTSE Scholarship

Students selected from NTSE West Bengal exam 2018 will compete for merit-based scholarships at stage 2 NTSE 2019. Under the National Talent Search Examination scheme, 1000 scholarships are distributed to top ranking students.

NTSE Scholarship amount
| | |
| --- | --- |
| Education level | Scholarship Amount |
| Classes 11th to 12th | Rs. 1,250 per month |
| Undergraduate | Rs. 2,000 per month |
| Post-graduate | Rs. 2,000 per month |
| PhD | As per UGC norm. |
NTSE Scholarship Reservation Criteria - There is a reservation of 26.5% out of the 1000 scholarships offered under NTSE programme. To check reservation percentage for SC, ST and PH (Physically Handicapped) students, refer to the table below:
| | |
| --- | --- |
| Category | Reservation percentage |
| Scheduled caste | 15% |
| Scheduled tribes | 7.5% |
| Physically handicapped | 4% |
| OBC | 27% |
Conducted by

Directorate of School Education, West Bengal
Address-
Bikas Bhawan,
7thFloor East Block, Salt Lake City,
Kolkata-700091 (West Bengal)
Website- wbdse.com
Questions related to NTSE