CBSE syllabus for class 8 Maths 2023-24 - Most of the CBSE schools refer the NCERT books which are published as per NCERT Class 8th Maths syllabus. The syllabus of Maths class 8 is available online on ncert.nic.in. So we are providing NCERT Class 8 maths syllabus as CBSE class 8 Maths syllabus in this article. CBSE Class 8th syllabus 2023-24 for Maths contains all chapters and topics included in the NCERT books.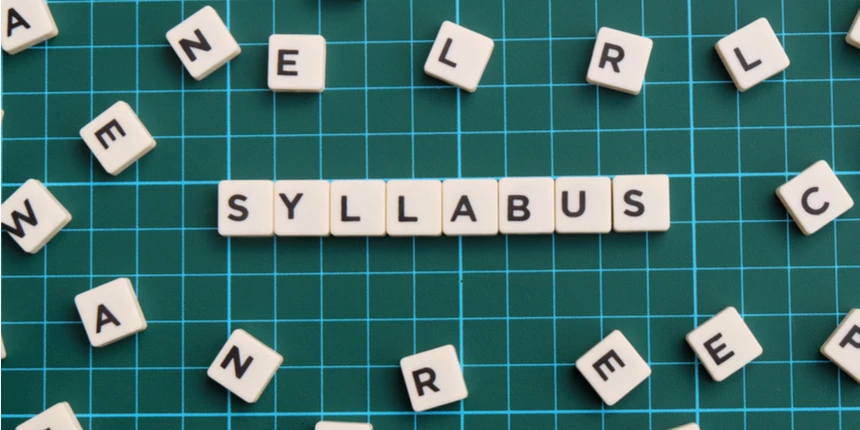 CBSE Syllabus for Class 8 Maths 2023-24 - Download PDF
Knowing class 8 Maths syllabus CBSE 2023-24 thoroughly will help in making proper strategy for the preparation of the exam. The 8th Class Maths CBSE syllabus comprises various topics, subtopics, concepts, and exercises. This is a standard syllabus followed by all CBSE affiliated schools.
Students can download CBSE class 8 Maths syllabus PDF, it will also help them in knowing the marking scheme. Read the entire article to know more on CBSE syllabus for class 8 Maths.
Also, check NCERT Solutions for Class 8
CBSE syllabus for class 8 Maths 2023-24
Below we have designed a table of Maths syllabus for class 8 CBSE NCERT for major topics.
CBSE syllabus for class 8 Maths
Chapter Name

Topics

Properties of Rational Numbers

Commutativity

Associativity

Negative of a number

Reciprocal

Distributivity of multiplication over addition for rational numbers

Representation of Rational Numbers on the Number Line

Rational Numbers between Two Rational Numbers

Solving Equations which have Linear Expressions on one Side and Numbers on the Other Side

Solving Equations having the Variable on both Sides

Applications

Reducing Equations to Simpler Form

Equations Reducible to the Linear Form

Data Handling

Squares and Square Roots

Properties of Square Numbers

Finding the Square of a Number

Pythagorean triplets

Square Roots

Finding square root through prime factorisation

Square Roots of Decimals

Estimating Square Root

Cubes and Cube Roots

Cubes

Cubes roots

Cubes roots of a number

Comparing Quantities

Ratios and Percentages

Finding the Increase or Decrease percent

Finding Discounts

Prices Related to Buying and Selling (Profit and Loss)

Sales Tax/Value Added Tax/Goods and Services Tax

Compound Interest

Deducing a Formula for Compound Interest

Rate Compounded Annually or Half Yearly (Semi-Annually)

Applications of Compound Interest Formula

Algebraic Expressions and Identities

Terms

Factors and Coefficients

Monomials

Binomials and Polynomials

Like and Unlike Terms

Addition and Subtraction of Algebraic Expressions

Multiplication of Algebraic Expressions

What is an Identity

Standard Identities

Applying Identities

Mensuration




Area of trapezium

Area of general quadrilateral

Area of polygons

Solid shapes, Cuboid, Cube, Cylinders, Volume of Cube, Cuboid and Cylinder, Volume and Capacity

Exponents and Powers

Powers with Negative Exponents

Laws of Exponents

Use of Exponents to Express Small Numbers in Standard Form

Direct and Inverse Proportions

Direct proportion

Inverse proportion

Factorisation

Introduction

What is factorisation?

Division of algebraic expressions

Division of algebraic expressions continued (Polynomial/ Polynomial)

Introduction to Graphs
Prescribed books for Maths Syllabus for Class 8 CBSE
To score well in the examination, students should practice from the books prescribed by the CBSE for Maths. They have a complete CBSE Class 8th Maths Syllabus, every topic is explained in an easy way. Students should complete these books first and then start solving sample and previous year papers.
Exam Preparation Tips for Class 8 Maths Syllabus CBSE
The very first step to prepare for the exam is to get familiar with the syllabus of class 8 Maths CBSE.
After knowing the class 8 Class Maths CBSE syllabus, make a proper study timetable.

Practice a number of questions from different sources like sample papers, previous year papers, and reference books.

Clear all your doubts, concepts, and seek advice from teachers regarding preparation and syllabus of class 8 Maths CBSE.
Check Chapterwise Solutions of Class 8 Maths