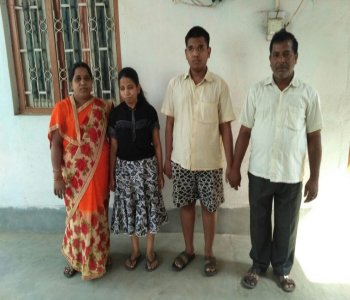 CBSE Class 12 topper interview: When the CBSE board results were declared on May 26, Pooja Kumari of Model High School for the Visually Challenged, Dehradun could not believe it that she had scored 489 out of 500 (97.8%). Not just that, the visually challenged girl from Bihar has scored a perfect 100 in three subjects- Hindi, History and Political Science. Speaking to Careers360 over phone, the topper talks about how the effective learning methods in her school combined with an unending support from her family encouraged her to give her best for the examinations. She also discusses the struggle she and her family has endured to make sure all her dreams comes true.
Here is the full interview with CBSE 12 topper Pooja Kumari:
Careers360: Congratulations Pooja! You scored a massive 489 out of 500. How do you feel?
Pooja: Thank you so much. I cannot believe I scored 97.8%. I am so excited. I cannot thank my teachers and family enough.
Careers360: Great! Did you get score a perfect 100 in any of the subjects?
Pooja: Yes. I scored 100 in Hindi, History and Political Science. I was confident about these subjects, too. I am just sad that I missed 100 by a couple of marks in a few subjects. For me English was the toughest subject, but I still managed to score 93.
Careers360: Pooja can you tell us what was the most challenging part of your preparation for the Board exams?
Pooja: I faced a lot of problems while preparing for English. I would keep forgetting the word meanings and would get nervous because of that. Also, I would forget what I studied the previous night in the class discussions. I was really worried about that. But as the time for the exams came near I developed my confidence, thanks to the frequent discussions in my school.
Careers360: How did your school help you in your preparation?
Pooja: My teachers have been of the most help during my preparation. They guided me in my every step. Our school has a very good system wherein there are constant discussions on the lessons that we study. My teachers have encouraged me to understand difficult chapters by asking questions and discussing. We follow that even among our friends. I was scared of scoring low marks in English but my teachers, especially our Principal, Kamal sir kept encouraging me to do better.
Careers360: Pooja it looks like you have not let your challenge to discourage you. What is the role that your parents have played in this regard?
Pooja: I want to take this opportunity to thank my parents because without them I would not have been able to study in the first place. My parents have encouraged me in every step. I am from Bihar but I have lived in hostels all throughout my school life as my parents wanted me to study in the best schools that cater to my requirement. It is not easy to have a quality education in India in a special situation like mine. But my parents did not let that deter them. I studied in Bangalore till the second standard. Thereafter, I moved to AICB school in Gurgaon. But since they only offer classes till 8th standard, I shifted to Model High School for Visually Challenged in Dehradun and cleared my 12th from there. My parents and my little brother stood with me all throughout and kept encouraging me even when I was down. There was a lot of struggle involved and I missed my parents all throughout my school life, but they made sure I never gave up. My papa has a lot of plans for me. I pray to God that I can fulfill all their wishes.
Careers360: So, what is next for you? Is there any specific subject you want to study for your Bachelors?
Pooja: I want to pursue my Bachelors from Delhi University. This much I am sure. But my problem is that I am equally interested in History and Political Science. I am taking inputs from my teachers and parents as to which one I should pick for future studies.
Careers360: What about your future plans? What do you aspire to be?
Pooja: First, I want to be a teacher. I want to help visually challenged students like me, in the same way that my teachers helped me. I want to tell these students that everything is possible in this world. After that I want to join the Civil Services. I believe I can do a lot for the community and show everyone that your challenges cannot restrict you from doing anything. Besides, my papa also wants me to join Civil Services. I hope I can fulfill his wish and make him proud.
Careers360: So, Pooja tell us what do you do when you are not making future plans? Do you have any favorite hobby?
Pooja: Yes! I love reading books and listening to songs. My favorite book is the Mahabharata. I love Arjun's character. I believe he is brave and I am brave just like him. Besides that I love listening to old hindi songs. I like to listen to Lata Mangeshkar's songs. I also like to play a lot of indoor games with my friends. 
To check CBSE Board 12th Result - Click here