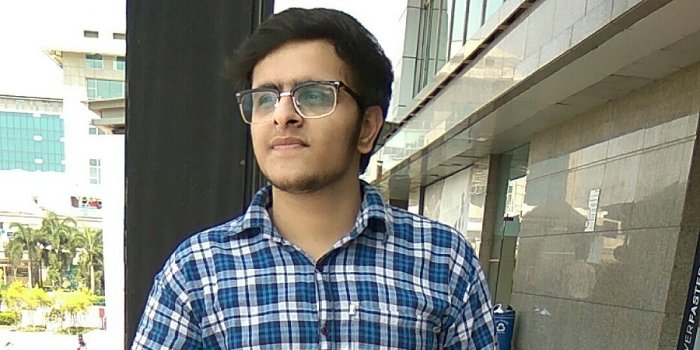 Ipshita Sarmah, 30 May 2018
CBSE class 12 topper interview: It is not every day that an engineering aspirant wants to write a bestseller. But, Bhavay Wadhwa, who scored 96% (480 out of 500) in CBSE class 12, has a mark sheet to prove he can do both. The Delhi boy scored above 90 in English as well as Mathematics and Chemistry. In a conversation with Careers360, the Science student from DPS Vasant Kunj, who is also preparing for IIT JEE, shares how he went about his preparation for both class 12 and JEE Main. He also tells us why he prefers to study in IIIT-Delhi over any of the IITs.
Read the full interview with the CBSE class 12 topper below:
Careers360: Congratulations on your performance in CBSE 12th Board. Are you excited about your performance?
Bhavay Wadhwa: Thanks a lot. I am happy because everyone, including my family and teachers, are happy with my performance. However, I am not very excited because I expected much more, to be honest. I expected somewhere around 97-98%.
Careers360: What is your total score and subject-wise scores?
Bhavay Wadhwa: I scored above 95 in all the subjects. 95 in English, 95 in Physics, 96 in Mathematics, and 98 in Chemistry. My total score is 480 out of 500, which is a 96%.
Careers360: How did you prepare for the exam? Did you make a time-table?
Bhavay Wadhwa: I studied 8 to 10 hours a day. I also had to take out some 2 to 3 hours in a day for my JEE coaching. I was confident enough about the preparation and had allotted specific times to each subject. I did not follow any timetable but I had my targets. After I was done with the preparation, I allotted 4 days to revise for Chemistry, the next 4 days were kept aside for Physics, two days for Computer Science and four days for Maths and so on.
Careers360: That is great. So, many students tell us that they face challenges like they keep forgetting what they have already studied. What was the most challenging part of your preparation?
Bhavay Wadhwa: The most challenging part for me was Physics. The paper was really difficult and I did not do very well in this particular paper in my pre-boards. I expected somewhere around 90 in my Boards in Physics, but surprisingly, I scored 95.
Careers360: Which is your favourite subject and why?
Bhavay Wadhwa: It would be Chemistry, in which I scored 98 out of 100. I received very good guidance for my Chemistry paper from my teachers as well as in Coaching. My concepts were very clear and I enjoy solving the questions. Most importantly, I enjoy Chemistry.
Careers360: Did you take tuitions for your preparation?
Bhavay Wadhwa: I did not take tuitions for the 12th Board. I went for Vidya Mandir Classes, which is basically coaching. Many of my friends took up tuitions separately but I thought that it would consume a lot of my study time. The guidance that I got from my classes at VMC was more than enough, after which I also got fair amount of time to study for the 12th exams.
Careers360: Tell us about the kind of role that your teachers played in your success.
Bhavay Wadhwa: My school teachers had a very important role to play in my CBSE 12th result as well as my performance in JEE. They have helped me out a lot. They were ready for any guidance I went to them for. They made sure that our concepts were very clear and also played a massive role in motivating us. For my Physics paper, I was completely dependent on my school teacher.
Careers360: Your family too, must have played an immense role in this. Would you like to tell us about it?
Bhavay Wadhwa: It would not have been possible without their support. There was a phase in the beginning of my 12th class where I was very much demotivated. At that point, my parents were the ones I looked up to. Besides investing a huge amount of money on my education, my elder sister and parents stood by me throughout and were quite confident about me. I also took to some spiritual resorts, which eventually helped me gain back my confidence.
Careers360: Almost every student talks about facing peer pressure these days. Can you tell us about your experience?
Bhavay Wadhwa: Peer pressure is a real thing and it has affected many students including me. Before the exam, there was a lot of pressure to perform well in the exam. You are in constant competition. Also, there were a lot of expectations. Our parents as well as teachers expected a lot from us and we felt this moral obligation to stand up to them.
Careers360: So, what do you plan to do after 12th?
Bhavay Wadhwa: I want to get into Engineering and Research. I aspire to get into IIIT- Delhi because as compared to IITs and other Engineering colleges, the curriculum in IIIT is much more pragmatic. I have heard a lot of positive feedback on IIIT. Also, a majority of the tech giants hire from these premier institutions. And I guess I would be able to get a seat there.
Careers360: Do you have any hobbies?
Bhavay Wadhwa: I write. I like writing motivational stuff. Currently, I am collaborating with my friends and writing stories. I also read books, but I haven't read one in the last 6 to 7 months as I was under a lot of peer pressure.
Careers360: Besides writing, do you have any other interests?
Bhavay Wadhwa: Yes, definitely. I love watching Cricket and follow the matches very closely. My favourite cricketer is AB de Villiers. I was very upset when he announced that he was retiring as I wouldn't see him again.
Careers360: Do you yourself play cricket or go for any other outdoor activities?
Bhavay Wadhwa: I don't play a lot of outdoor games. Sometimes when friends come over, we do go out to play Cricket or Badminton. Otherwise, I play games on my mobile sometimes.
Careers360: Do you also watch movies?
Bhavay Wadhwa: I am not really a movie freak and maybe I watch just a movie in two to three months. In my free time, I prefer writing to watching movies.