Aakash ANTHE Registration 2023- Aakash ANTHE Registration 2023 will be opened soon. The registration link will be posted on the Aakash Institute's official website: anthe.aakash.ac.in. The Aakash ANTHE test is a national level scholarship exam held every year for students in grades 7 to 12 who wish to pursue higher education along with scholarships. This article will provide all of the pertinent information on the Aakash ANTHE Registration 2023. We'll go through the registration process, essential dates, eligibility requirements, and so on.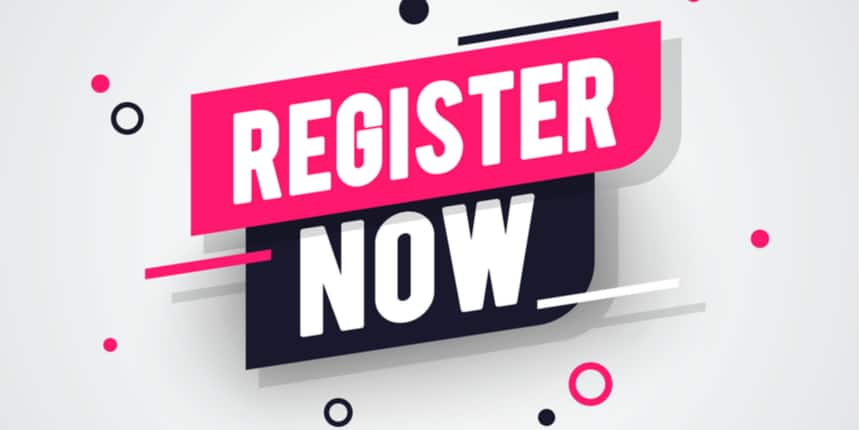 Aakash ANTHE Registration 2023 - Check Eligibility, Dates, Admission Process Here
Aakash ANTHE 2023 Registration - Exam Dates (Expected)
The following table provides a comprehensive breakdown of the ANTHE 2023 tentative dates:
Events

Tentative Dates

Registration process begins

November 2023

Last date for application submission

3 days before exam (for online mode)

7 days before exam (for offline mode)

Last date for application submission with late fee

-

Admit card release

One or two weeks prior to the date of the exam

November 2023 (online mode)

November 2023 (offline mode)

ANTHE 2023 result date

November 2023 - for classes 10, 11, and 12

November 2023 - for classes 7, 8, and 9
Aakash ANTHE Registration 2023 - Application Form
The Aakash ANTHE Scholarship exam 2023 application process will begin soon. Those interested in applying for Aakash ANTHE Registration 2023 can do so either online or offline. Students in classes 7, 8, 9, 10, 11, and 12 are eligible to take this exam. Students can submit the application in both online and offline format by following the step-by-step instructions.
Aakash ANTHE 2023 Online Registration
To register for Aakash ANTHE, go to anthe.aakash.ac.in/home.

Enter your phone number to register.

Fill up the blanks with information like your name, phone number, class, stream, exam mode, and so on.

From the drop-down box, choose "Select Exam Date."

Complete the fields for Exam Date, Current City and State, and School Name.

After completing the form, click "submit" and finish the registration.
Aakash ANTHE 2023 Offline Registration
Visit any Aakash centre in your area.

Ask for the ANTHE registration form. You can also get it from aakash.ac.in/download-admission-forms.

Fill out the form completely and accurately, making sure to include all required information.

Bring the completely filled form to the charging counter.
Sample of Aakash ANTHE Offline Application Form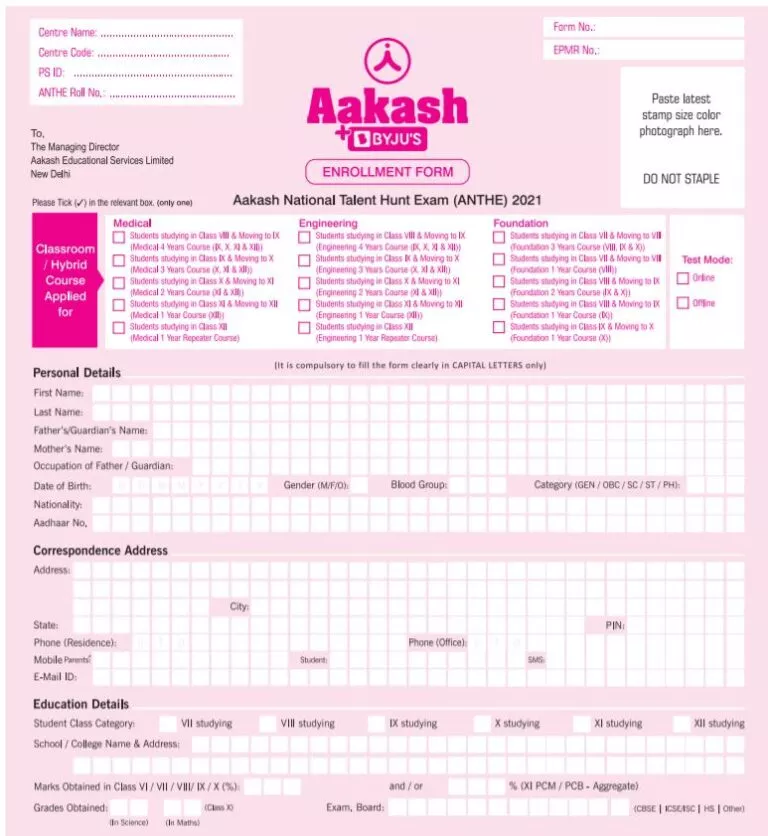 Details to be checked before filling Aakash ANTHE Registration Process
Before continuing with your registration for Aakash ANTHE 2023 Scholarship exam, you need to double-check a few details.
The following are the directions for your checklist:
In the case of online enrollment, provide the student's/father's/correct guardian's name, phone number, and e-mail address, as well as any pertinent information.

For offline registrations, fill out the registration form with all relevant information and sign it.

Only correct and accurate information of student's/father's/guardian's/parent to be provided.

Bring a self-attested copy of the previous semester's grade sheet.

Two colour passport photos taken recently.
Benefits of the Aakash ANTHE 2023
The following benefits of ANTHE scholarship will help various students for better higher education:
Scholarships of up to 100%.

5 students will be awarded an all-expenses-paid trip to NASA*.

Exam Analysis in Depth.

Examines your preparation and performance on a national level.

Rank-wise cash prizes.

Meritnation School Booster Course.
For more information, check out the links below: