CBSE 10th toppers 2022 interview: This year, the CBSE board had conducted the exams in two terms, and announced the result by combining them. The Board has neither announced any toppers name nor released any merit list. The decision was taken to avoid the unhealthy competition amongst the students.
However, the board did not announce CBSE 10th toppers details, but many students have been identified as school-level toppers. Viraj Uday Singh, a student of class 10 at DPS, Vasant Kunj, New Delhi has scored 99.6% in CBSE 10th Board Examination. He secured a perfect score of 498 marks, out of total 500. He wants to pursue computer science in further studies. In this board exam, he has shown a very impressive performance. Here in CBSE class 10 topper interview Viraj has shared his thoughts, preparation strategy, and plan to score the best possible score in board exams.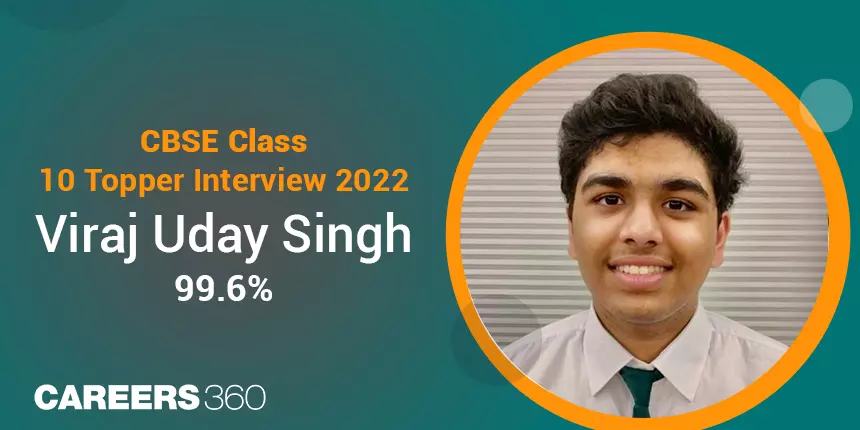 CBSE Board 10th Toppers Interview - Check CBSE 10th Toppers Interview Here
CBSE Class 10 topper interview with Viraj Uday Singh
Read the CBSE topper interview Class 10th to know Viraj Singh's preparation strategy:
Careers360: First of all, congratulations on your performance in the CBSE board exams. How was your reaction after seeing the result?
Viraj Uday Singh: Thank you so much, I was definitely not expecting 99.6%, I prepared a lot, completed the syllabus on time, consistently devoting 2-3 hours a day for my studies. I was expecting around 98.5%-99%, the result surprised me. My exams went well, all this is subjective, as it also depends on the mood of the examiners.
Careers360: How's your experience with board exams, tell us something about that.
Viraj Uday Singh: I would say this year was relatively easy because we had two terms. The term 1 was based on MCQs, so we didn't have to memorise a lot. I also read the NCERT thoroughly, and also took help from some reference books. However term 2 was subjective, and I changed my preparation strategy as per the need of the exam. Paying attention in Classes, attending regular classes, reading books thoroughly, solving previous year CBSE papers to get an idea of the exam helped a lot.
Careers360: What is your take on term 1 and term 2 pattern, the previous year pattern was better than termwise pattern?
Viraj Uday Singh: Both have their advantages, in two terms, the problem was dates were in clashing with some olympiad exams. But, the preparation was easy as the syllabus was half along with the 30% deletion. I think this advantage really outways the clash because if you are regular with your preparation, you will be able to find time. Also, with terms it was good, we didn't have to memorise the whole CBSE 10th syllabus in one go.
Careers360: Which is your favourite subject?
Viraj Uday Singh: I like both Maths and Science, but if I have to choose one, I would say Maths.
Careers360: What was your daily schedule for study or preparation strategy?
Viraj Uday Singh: Ok, it varied according to time. Initially, when we have a lot of time before the exams. I was regularly in touch with what my teachers were teaching on a daily basis for 1-2 hours a day. Then before one or two months of the exams, I devote all my time to exams. I was revising the syllabus, reading books, making sure that I have no doubts left, referring to some other books such as Xam Idea, Oswal, etc. I'm a very good visual learner so, I also took help from videos to understand the topics clearly.
Careers360: Which stream have you chosen or will be choosing for 11th class?
Viraj Uday Singh: Yes, I have chosen PCMCs ( Physics , Chemistry , Mathematics & Computer Science).
Careers360: Are you planning to appear for any entrance or competitive exams?
Viraj Uday Singh: So, I'm not planning for JEE, I would like to build my academic and co-curricular strength and gain international exposure, study abroad in some reputed university.
Careers360: What are your future goals?
Viraj Uday Singh: Yes, I think I'm pretty clear that I want to do Computer Science.
Careers360: Any message or advice for future CBSE 10th board students?
Viraj Uday Singh: Yes, I think that they study creatively and find aspects of each subject that they enjoy. Ensure academics are not tedious rather fun for them. I say, they should definitely pay attention in class, and when the exams are very near try to not to miss any class, teachers are very helpful, they tell you new things, new ways to approach a problem. Finally, devote 1-2 hour daily to your studies, it is very important.
Also read