CGBSE 12th Syllabus 2021-2022 - Download latest CGBSE Class 12 syllabus here
CGBSE 12th Syllabus 2021-2022 - Chhattisgarh Board of Secondary Education (CGBSE) has released the Class 12 syllabus for the academic year 2021-22. The latest CGBSE 12th syllabus 2021-22 is available to download on cgbse.nic.in. Students can also get the direct link to download CGBSE Class 12 syllabus 2021-22 PDF on this page. The syllabus of Chhattisgarh Board is available for all Science, Commerce and Arts streams.
Latest Updates for CGBSE 12th
Stay up-to date with CGBSE 12th News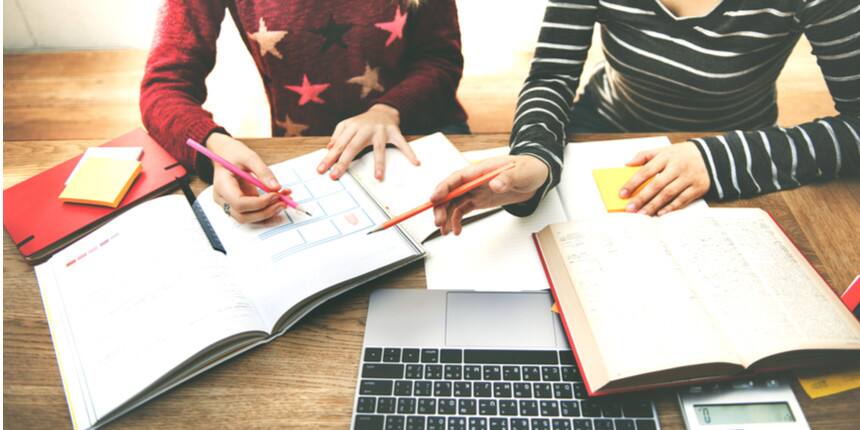 Students can check the CGBSE 12th Syllabus 2021-2022 to know the topics, marking scheme, and other important information required to prepare for the CGBSE 12th exams 2022. Knowing the CGBSE Class 12 syllabus will help for a better understanding of subjects and topics. Read further to know the complete CG board Class 12 syllabus 2021-22.
CGBSE 12th Syllabus 2021-2022
Chhattisgarh Board Class 12 syllabus 2022 PDF is available in the table below. Click on the links provided for stream wise CGBSE 12th syllabus 2021-22 pdf download.
CGBSE Class 12 syllabus 2021-22 PDF download
| | |
| --- | --- |
| Streams | PDF |
| Science stream | |
| Commerce stream | |
| Arts stream | |
CGBSE 12th Syllabus 2021-2022 - Subject wise
In the tables below, the subject syllabus for CG Board Class 12 is provided. This year, the board has released the topics which are to be covered in a particular month. Check the detailed syllabus below.
CG board 12th Maths syllabus 2021-22
Months

Unit name

August 2021

Relations and Functions

Inverse Trigonometric Functions

September 2021

Matrices

Determinants

October 2021

Continuity and Differentiability

Applications of derivatives

November 2021

Integral

Differential Equations

Applications of the Integrals

December 2021

Vectors

Three - dimensional Geometry

January 2022

Linear Programming

Probability
CG board 12th Physics syllabus 2021-22
Months

Chapters

August 2021

Electric Charges and Fields

Electrostatic Potential and Capacitance

September 2021

Current Electricity

Moving Charges and Magnetism

October 2021

Magnetism and Matter

Electromagnetic Induction

November 2021

Alternating Current

Electromagnetic Waves

Ray Optics and Optical Instruments

December 2021

Wave Optics

Dual Nature of Radiation and Matter

Atoms

January 2022

Nuclei

Electronic Devices

Communication System
CG board 12th Chemistry syllabus 2021-22
Months

Chapters

August 2021

Solid State

Solutions

Electrochemistry

September 2021

Chemical Kinematics

Surface Chemistry

October 2021

p-Block Elements

November 2021

d-f- Block Elements

Coordination Compounds

December 2021

Halo Alkenes and Halo arene

Alcohols, Phenols and Ethers

Aldehydes, Ketones, and Carboxylic acids

January 2022

Organic Compounds containing Nitrogen (Amines)

Biomolecules
CG board 12th Biology syllabus 2021-22
Months

Chapters

August 2021

Sexual Reproduction in Flowering Plants

Human Reproduction

September 2021

Reproductive Health

Principles of Inheritance and Variation

October 2021

Molecular Basis of Inheritance

Human Health and Diseases

November 2021

Microbes in Human Welfare

Biotechnology - Principles and processes

December 2021

Biotechnology and its Application

Ecosystem

January 2022

Biodiversity and its Conservation

Environmental Issues
CG board 12th English syllabus 2021-22
Months

Chapters

August 2021

Unit 1

The last Lesson

My Mother at sixty six

Unseen passage for comprehension questions

September 2021

Unit 2

Lost spring

An elementary school classroom in a slum.

Note making, summary

October 2021

Unit 3

Deep water

Keep quite

Notice/ Advertisement

Letter writing practice

November 2021

Unit 4

The rattrap

The third level

c. Composition - Article/Speech

December 2021

Unit 5

The tiger king

d. Grammar - Voice, Narration, types of clauses

January 2022

Letter writing practices

Grammar practice
Check exams after Class 12 in India
CG board 12th Hindi Syllabus 2021-22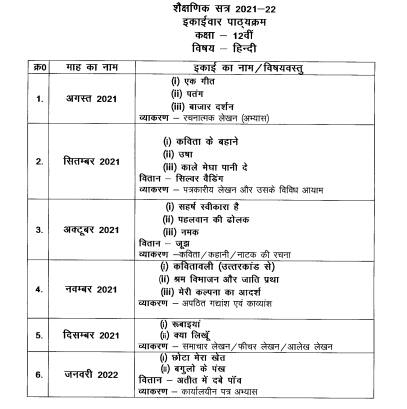 CGBSE 12th History Syllabus 2021-22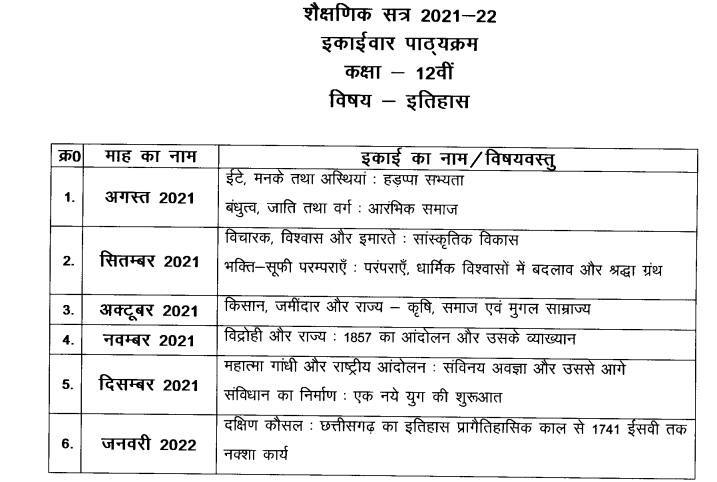 CGBSE 12th Exam Pattern 2021-22
Students can check the number of questions for different subjects, marking scheme, total marks and duration in the CG Board 12th exam pattern 2021-22.

The exam is held for 100 marks and the exam duration is three hours.

The subjects for which practical and projects are held are conducted for 70 marks and 30 marks are allotted for practice and projects.

Chhattisgarh class 12th exam is held in English, Hindi, Urdu, Bengali, Tamil, and Telugu to name a few.
Also, check
After completing the CGBSE 12th syllabus 2021-22, students are advised to solve the previous year's question papers and sample papers. Solving the last year's papers is the best practice as it helps in understanding the examination pattern, marking scheme and important topics of the CG Board 12th syllabus 2021-22. Practising regularly with the question papers will help in scoring well in the CGBSE 12th result 2022.
Also, check NCERT Exemplar
Frequently Asked Question (FAQs) - CGBSE 12th Syllabus 2021-2022 - Download latest CGBSE Class 12 syllabus here
Question: What are the CG Board 12th exams dates 2021-22?
Answer:
CGBSE 12th exams are expected to be conducted in March 2022. The CGBSE 12th time table 2022 will tentatively be released in January 2022.
Question: Which is the best way to write answers in CG Board 12th question papers 2021-22?
Answer:
Students should answer the question in points and highlight the important section to get good marks in CGBSE 12th exams.
Question: When will the CGBSE 12th admit card be released?
Answer:
Chhattisgarh Board will release the CGBSE 12th admit card in February 2022, tentatively.
Questions related to CGBSE 12th
Showing 3 out of 3 Questions
59 Views
is English language compulsory in CGBSE?
Hello Aspirant,
I don't know about this exactly. Since, most of the states consider english as an essential language.  I think in CGBSE also English language may be compulsory. Once go through the below link, you may get answers.
https://www.extramarks.com/syllabus/cbse-class-10
Hope this would help you
ALL THE BEST!!!!
157 Views
12th board exam ki tayari kaise kare
Greetings aspirant!
Preparation will be in your hand. I can only give you tips and tricks, it is you who need to work hard and be consistent.
Start preparing from now itself. It will give you less burden at the end.
Give equal time to each subject. Try making a time table.
practice as many questions you can.
Show teacher your answers, especially in English.
Solve previous year question papers.
talk to your seniors about their experience during board exam
At the end it is just an exam, no need to freak out. Start preparing from now itself, so that it doesn't give you burden and stress later.
all the best!