NSTSE Result 2020- Unified Council has declared the result of NSTSE 2020 on January 21, 2020. Students can access their NSTSE 2020 online by using their registered email ID, phone number and an 8-digit hall ticket number. The result will be uploaded on the official website, unifiedcouncil.com. NSTSE 2020 was held on December 4, 2019, for students who applied through schools and on December 15, 2019, for students who applied individually. Along with the NSTSE result 2020, students will also receive a participation certificate and a Student's Performance Report (SPR). Students will get the prize if they obtained 100% marks or highest in the test. After the NSTSE 2020 result declaration, a merit list of students will be created at city-level and national level to award the scholarship amount. Read the article for more details on result dates, the process to check, scholarships and so on.
Latest- Click Here to check NSTSE Result 2020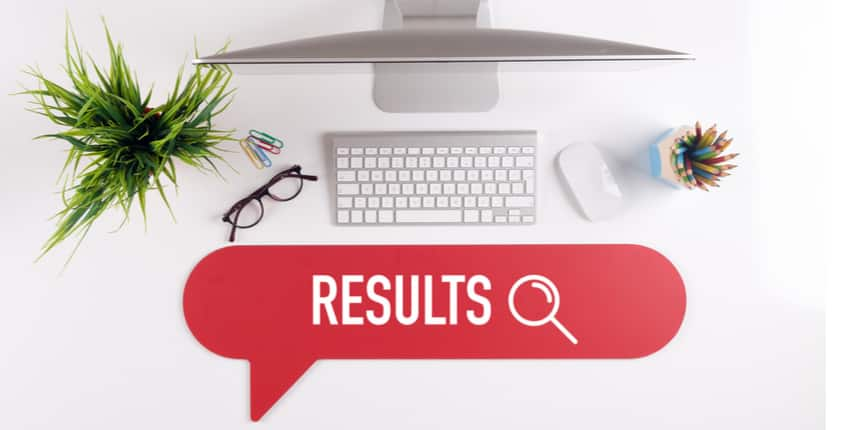 NSTSE Result 2020- Important Dates
Important dates to note down regarding Unified Council Results 2019 are given down below:
| | |
| --- | --- |
| Events | Dates |
| Last date to register | October 5, 2019 |
| NSTSE 2020 Exam Dates for Students Applying through Schools | December 4, 2019 |
| NSTSE 2020 Exam Dates for Students Applying Individually | December 15, 2019 |
| NSTSE Result 2020 | January 21, 2020 |
Also, check NSTSE Syllabus 2020
How to check NSTSE Result 2020?
Students will need to keep their hall ticket in handy in order to check the result of NSTSE 2020. They will need their email ID, mobile phone number and hall ticket number to access their results. Here is a step-by-step guide to accessing your NSTSE result 2020
Step 1: Click on the link - https://www.unifiedcouncil.com/nstse/index.aspx
Step 2: When the new page opens, enter your mobile number, email ID and 8 digit hall ticket number.
Step 3: Click on search button
Step 4: Your NSTSE result 2019 will load on the screen.
Step 5: Download and take printouts for further uses.
Check below how the login window of result looks like -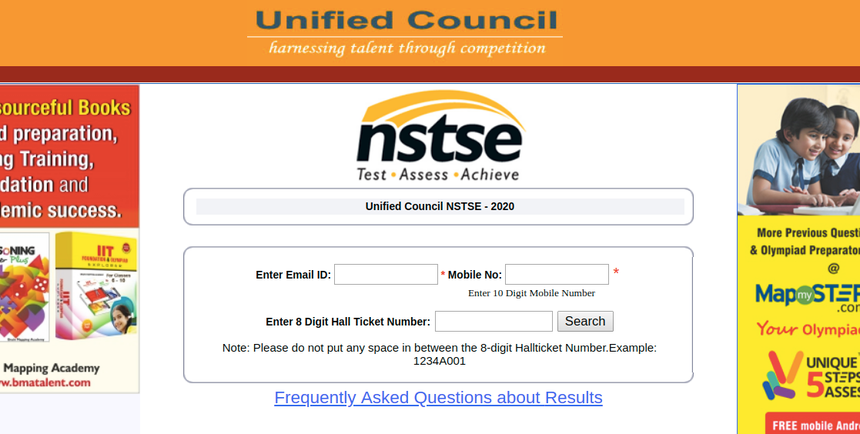 Details Mentioned in NSTSE 2020 Result
National Level Science Talent Search Examination result 2020 will mention the following details:
Name of the student.
Class in which he/she is studying.
Name of the school/centre from which he/she are appearing.
Total and section-wise marks obtained.
NSTSE 2020 Qualifying Status
What is the Student's Performance Report?
Along with the NSTSE 2020 result, you will also receive a certificate and a Student's Performance Report (SPR). The SPR is a comprehensive report which provides minute feedbacks and information on the performance of a particular student. Details mentioned in the SPR are:
Candidate's chosen answers for each question.
Correct answers for all questions.
Subject-wise marks.
Subject-wise ranking on the national level.
Overall ranking on the national level.
Average marks of the candidate in different subjects
Group Highest Marks.
Skill-wise analysis.
Question-wise analysis.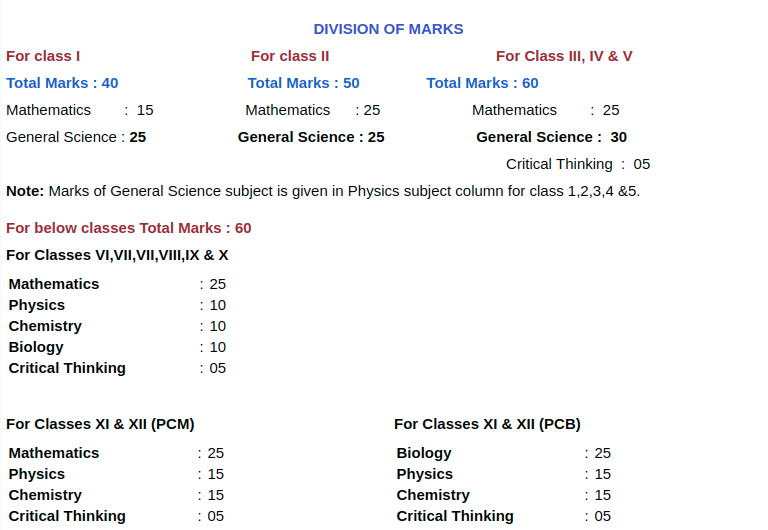 Awards and Scholarships offered through NSTSE Result 2020
Scholarships and awards are granted to students who rank in class, school, state and national level. Students from all class groups, from class I-XII, are awarded these scholarships. A detailed description of these awards can be found in the table given below:
NSTSE Rank

Award

National Achievers

NSTSE Topper (highest percentage of marks from all classes)

Rs. 2,00,000

Rank 1, 2, 3 (from each class)

Tablet PC, a memento and a medal

Rank 4 to 25 (from each class)

Rs. 1,000 each candidate

Rank 26 to 100 (from each class)

BMA's Talent Olympiad Exam Resource Book

All rank holders

Britannia Concise Encyclopedia and Planet Earth, medal and certificate of appreciation

State Toppers

Rank 1, 2, 3

Britannia Concise Encyclopedia and Planet Earth, medal and certificate of appreciation

Consolation Prizes

Top Ranker in each class

Britannia Concise Encyclopedia and Planet Earth, medal and certificate of appreciation

All candidates will receive a certificate of participation and an SPR.


NSTSE 2019 Topper
A student of any class who secures 100% marks is awarded a prize of Rs 2 lakhs. If no student achieves the same, then the student who achieves the highest percentage of marks among all the classes is awarded Rs 1 lakh. If more than one student achieves the same the prize money is distributed equally among them. Each topper gets either this prize or the regular prize.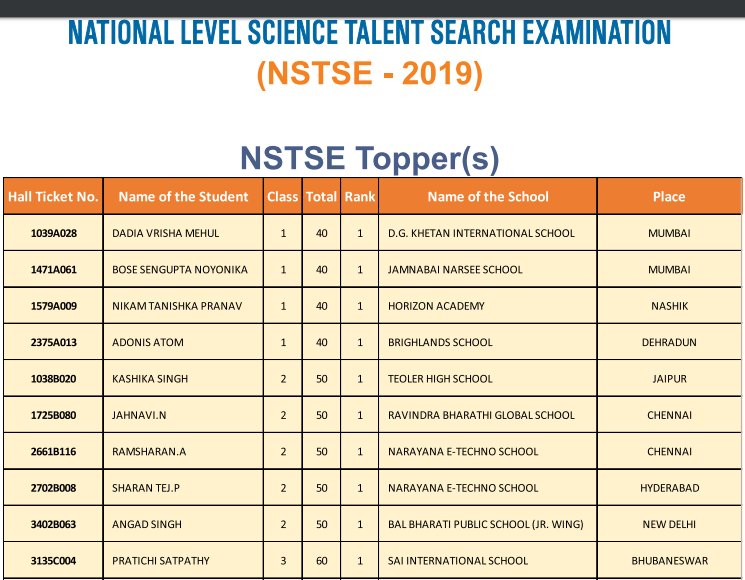 List of selected cities for NSTSE 2020
City-wise toppers will be declared from the following cities after the declaration of NSTSE 2020 result
| | |
| --- | --- |
| Bangalore | Bhubaneswar and Cuttack |
| Bareilly | Chandigarh, Mohali and Panchkula |
| Chennai | Faridabad |
| Gurgaon | Hyderabad |
| Indore | Jalandhar |
| Jaipur | Kolkata |
| Kanpur | Kota |
| Lucknow | Mumbai |
| Nagpur | Nasik |
| Varanasi | Yamuna Nagar, Karnal, Ambala and Kurukshetra |
| Noida and Ghaziabad | Pune |
| Vadodara | Visakhapatnam |
Frequently Asked Question (FAQs) - NSTSE Result 2020
Question: Will city-level ranks of NSTSE be declared?
Answer:
Please note that city rank for every class will be declared for the classes having minimum participation of 500 students in a particular city.
Question: When do we get the certificate of NSTSE exam?
Answer:
Certificates are sent to each student along with participation certificate and student's performance report.
Question: What is "--" in Rank column mean?
Answer:
It means the marks of a student who gets less than 30 percentage of marks are shown with this symbol.
Question: Why do students from the same class with similar type total marks have different national ranks?
Answer:
It happens when more than one student gets a same or equal score, then the priority for awarding ranks will be given according to marks secured in the given order of subjects - Maths, Physics, Chemistry, Biology, and critical thinking.
Questions related to NSTSE
Showing 20 out of 20 Questions