Indraprastha International School, Dwarka, Student Wins 'Top 50 Innovative AI-Solutions Award'
Indraprastha International School, Dwarka, student of class 9, Yuvan Chhikara recently won 'Top 50 Innovative AI-Solutions Award' for his project, 'Emotion Analysis System'. The project was submitted as a part of building AI-readiness among young innovators programme enrolled under the INSPIRE-awards MANAK scheme. The valedictory function for the grand showcase was held at Vigyan Bhawan, Delhi. Students were felicitated by the chief guest Jitendra Singh, Union Minister for State, Ministry of Science & Technology and Earth Sciences.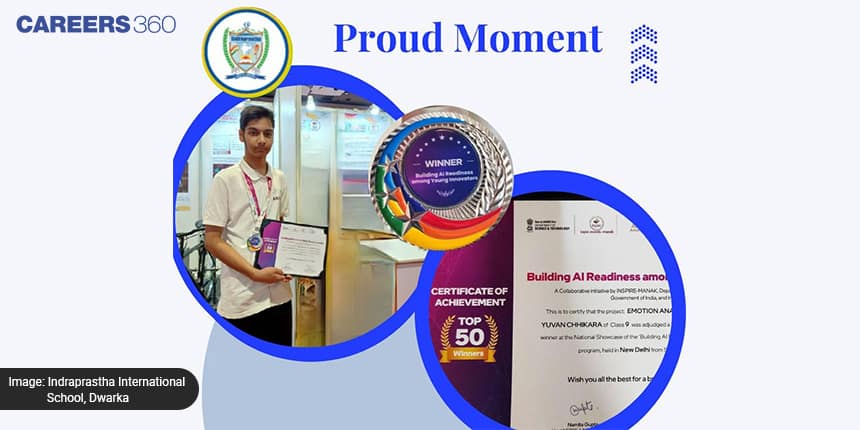 About Indraprastha International School, Dwarka
Indraprastha International School was established in 2003 and is affiliated to the Central Board of Secondary Education (CBSE). It is managed by Kanta Devi Charitable And Education Society. "The school strives to develop the next generation of leaders, provide students the tools they need to improve society, and prepare them to take on real-world problems after they graduate. Indraprastha International School gives them the ideal setting, along with professional direction and top-notch resources. The goal at Indraprastha is to make studying pleasurable through an integrated strategy that incorporates the ideal ratio of extracurricular, co-curricular, and sporting activities," says the school's website. The school is currently being led by principal Rajesh Hassija.
Also Read | ATL- Bal Bharati Public School, Pitampura Student Represents School At DIDAC India 2022
Indraprastha International School, Dwarka: Other Events
Indraprastha International School, EcoClub, placed an e-waste can in the school library in order to encourage students to dispose of their electronic waste in the bin during the first five working days of each month. The e-waste that has been disposed of is collected and donated to the Recycling Company (Threco Recycling LLP). The school has donated 45 kilos of e-waste, making a significant contribution to the preservation of the environment.
Also Check | Best Schools in Delhi 2022
We'd love to know what's happening in your campus - achievements, awards, camps, workshops, and the various competitions that your students and teachers may participate in. Send us the details on schoolevents@careers360.com
Indraprastha International School, Dwarka, Student Wins 'Top 50 Innovative AI-Solutions Award'