Gandhi Jayanti (October 2) - Celebration, Posters, National Holiday, Quotes
About Gandhi Jayanti: Why We Celebrate Gandhi Jayanti
Every year on October 2, Gandhi Jayanti is observed to commemorate the birth anniversary of Mohandas Karamchand Gandhi, also known as Mahatma Gandhi. Mahatma Gandhi was one of the most instrumental leaders in the Indian freedom struggle, and has been regarded as the 'Father of the Nation". At the Raj Ghat in New Delhi, prayer gatherings are performed in front of Gandhi's statue as an act of homage. The President and Prime Minister of India are present at Mahatma Gandhi's memorial to pay their respects. October 2 is observed as a national holiday to honour his contribution to the country.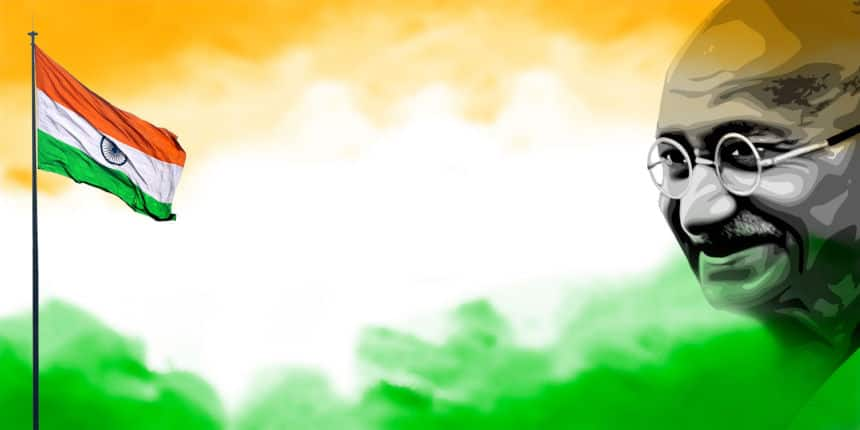 Also Read | Mahatma Gandhi Jayanti Celebration
Gandhi Jayanti Celebration: How Schools Plan To Celebrate
Schools across India host a variety of festivities commemorating Gandhi Jayanti to familiarise students about Gandhi's ideology and his unparalleled contribution in fostering peace. Most schools hold a special assembly where students perform songs and stage plays based on his message of truth and non-violence. They also reflect on Gandhi's philosophy by reciting poetry and slogans. Here is a glimpse of how schools across Delhi are planning to celebrate Gandhi Jayanti this year—
"Gandhi Jayanti is an important day to educate our students about the importance of our freedom and how our fighters strived hard to achieve it. Gandhi Ji has been a vital figure in our nation's history, and children must know about him and his way of life. We've decided that the theme of the celebration this year will be 'Inherit the values of Gandhi'. We shall organise a show where children would bring a quality of Gandhi Ji that they would adopt and recite a few lines on the same", remarks Sangeeta Hajela, principal, Delhi Public School (DPS), Indirapuram, Ghaziabad.
Read about gandhi jayanti quiz questions and answers
"Mahatma Gandhi has been exceptionally instrumental in the nation's struggle for freedom. We respect him deeply and encourage our students to learn about his life's principles. Our aim for this Gandhi Jayanti will be to inculcate Gandhiji's moral values among the students so that they follow a path of righteousness. Our theme will be 'Different Phases of Bapu's Life' through which children will portray various incidents and philosophy of his life", as per Pallavi Upadhyaya, principal, Delhi Public School (DPS), Raj Nagar Extension, Ghaziabad.
"At Modern Public School (MPS), this year our students, faculty and non-teaching staff will be celebrating Gandhi Jayanti at a grand level from 26 to 30 September. The special attraction of this year's celebration is that we will be organising a Hunar Mela intended to promote Skill India to commemorate Mahatma Gandhi's initiatives for inspiring youths towards nation-building. At the mela, the school will set up nine stalls where the experts will guide, enlighten, and train the students according to their interests in any particular area. The stalls will include wall painting, poetry, block printing, RJ choreography, etc. Prior to the start of Hunar Mela, students will be asked to fill up the form marking their area of interest. Subsequently, the tickets will be handed over to the students. Other activities scheduled during the week are poem recitation competition, presentations by students on Mahatma Gandhi's freedom movement and discussions on the Sustainable Development Goals (SDGs)", says Alka Kapur, principal, Modern Public School, Shalimar Bagh, New Delhi.
Also Read | Pacific World School, Greater Noida, Celebrates Gandhi Jayanti
"For our growing children in school, Gandhi is relevant and relatable even today. Very few figures in Human Civilization cut across boundaries of time and borders to ignite our hearts and minds in the way M K Gandhi does. We remain indebted to him for stirring millions in his inimitable, unique way to rise above the ordinary and build a nation on tenets of peace and service," says Shiv Nadar School, Faridabad principal, Anju Wal.
"At Shiv Nadar School, Gandhi Jayanti is not a single day in the year to be celebrated, it is a way of life that we have adopted. We are taking 'thrift' as a philosophy under the larger ambit of mindful consumption because as Gandhi says, "the world has enough for everyone's need but not enough for everyone's greed". The Re-Store at Shiv Nadar School has been created as a tangible space for the student, staff and parent fraternity to have a meaningful dialogue about mindful and conscious consumption with their wards, both in school and at home. We are also planning a 'shramdaan' around school - students are encouraged to keep their learning spaces clean and to go around cleaning the walls of comments and images created by others. We also plan on doing a reading circle around the idea of Satyagraha from Wednesday to Friday to mark the birth anniversary of the Mahatma," as per Anju Soni, principal, Shiv Nadar School, Noida.
Also Read | Mahatma Gandhi's hologram shares message on education, non-violence at United Nations
Gandhi Jayanti Quotes
Gandhi Jayanti quotes reflect the perspectives and thoughts of significant personalities on the occasion of the day. Here are some of the most motivational quotes about Gandhi Jayanti from historical and contemporary personalities.
"You must not lose faith in humanity. Humanity is like an ocean; if a few drops of the ocean are dirty, the ocean does not become dirty."— Mahatma Gandhi
"Far greater than all the warriors who led the armies to battle was this little man, the bravest, the most tried friend of all."—Sarojini Naidu, Indian political activist, feminist and poet.
"Resist to the very end', he said, 'but without violence'. Of violence the world is sick. Oh, India, dare to be worthy of your Gandhi."—Pearl S. Buck, American Novelist and Writer.
"I and others may be revolutionaries but we are disciples of Mahatma Gandhi, directly or indirectly, nothing more nothing less."— Ho Chi Minh, Vietnamese Communist revolutionary leader
"Gandhi resisted evil with as much vigor and power as the violent resistor, but he resisted with love instead of hate. True pacifism is not unrealistic submission to evil power. It is rather a courageous confrontation of evil by the power of love."— Martin Luther King, Jr, American Baptist minister, and activist
Also Read |