Mahatma Gandhi Jayanti - History, Facts, Significance, Importance
About Gandhi Jayanti:
Mohandas Karamchand Gandhi was born on October 2, 1869, in Porbandar, present-day Gujarat. He shares his birth date with another great figure, former prime minister Lal Bahadur Shastri (born 1904). October 2, 2022, will be the 153rd birth anniversary of Mohandas Karamchand Gandhi. In India, Gandhi Jayanti is observed to commemorate Mahatma Gandhi's birth. One of India's three national holidays, it is observed on the second of October each year.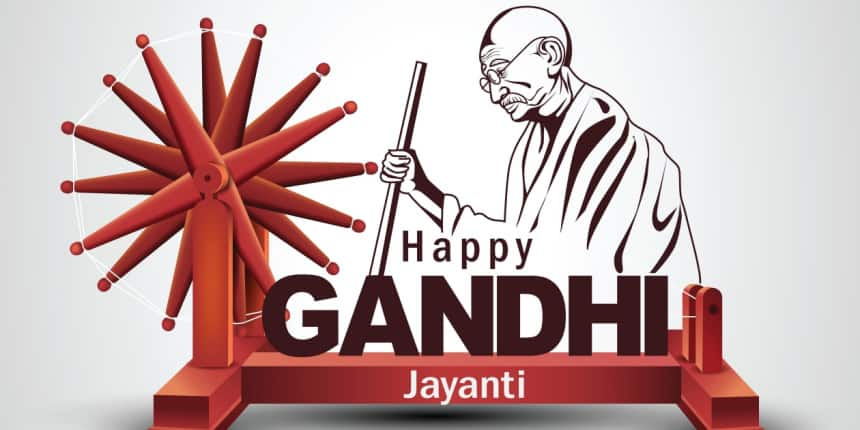 Also Read | Gandhi Jayanti (October 2): How Schools In Delhi Are Planning To Celebrate
The best way to find your self is to lose yourself in the service of others.-Mahatma Gandhi
History- Mahatma Gandhi
Gandhi, a lawyer whose time in South Africa had a profound impact on his life, was a key figure in the nonviolent marches that led to India's independence. As he was a nonviolent freedom fighter, the UN General Assembly announced on June 15, 2007, that it had passed a resolution designating October 2 as the International Day of Non-Violence. Along with many other national leaders, he was known as the "Father of the Nation" and spearheaded the Indian independence fight against British rule. Throughout the world, various civil rights groups drew inspiration from his nonviolent approach. The title of "Father of the Nation," Netaji Subhash Chandra Bose bestowed upon him in recognition of his tenacious fight for independence.
Gandhi was a strong supporter of religious diversity and a pioneer of truth and non-violence. He put forth a lot of effort to make India a secular nation. Thus, Gandhi Jayanti is a day set aside to honour the legendary figure who inspired people to fight for their rights in a non-violent manner. He also criticised the nation's caste structure and untouchability.
On October 2, 2014, India began the "Swachh Bharat Abhiyan," or "Clean India Mission," based on Mahatma Gandhi's teachings and beliefs, with the goal of eradicating open defecation and enhancing solid waste management in rural and urban areas. The Indian people place a great deal of emphasis on Gandhi Jayanti. In addition, it is a day to commemorate Mahatma Gandhi's principles, teachings, and ideals and to uphold them.
Read about gandhi jayanti quiz questions and answers
Also Read | Mahatma Gandhi's hologram shares message on education, non-violence at United Nations
Places Commemorating Mahatma Gandhi
Mahatma Gandhi's 153rd birthday will be celebrated on October 2' 2022 around the country. Let's take a look at how India has commemorated Mahatma Gandhi.
Gandhi Smriti, Delhi | Gandhi was assassinated here by Nathuram Godse while he was on his way to the morning prayers. Formerly known as Birla House, this location is now known as Gandhi Smriti.
The Martyr's Column | The place where Mahatma Gandhi was attacked on January 30, 1948.
Sabarmati Ashram, Ahmedabad | The Gandhi Ashram served as the nerve core of the Indian struggle for independence. Gandhi made use of this Ashram as his home while testing out nonviolence, nonviolent demonstrations, and the truth.
Aga Khan Palace, Pune | History texts frequently make reference to this location. It served as the jail for Bapu, Kasturba Gandhi, and Gandhi's assistant Mahadev Desai during the Quit India Movement. Here at the Gandhi National Memorial, artworks and photographs of Gandhi are now on display.
Raj Ghat | Gandhi's memorial. The royal platform, also known as "Raj Ghat," has a platform made of blue-black marble. People from all around the nation congregate at Raj Ghat on Mahatma Gandhi Jayanti to honour Mahatma Gandhi. Raj Ghat is situated on the Ring Road, also called Mahatma Gandhi Road, which is closer to Daryaganj.
Also Read | Pacific World School, Greater Noida, Celebrates Gandhi Jayanti
Read on to know more about Gandhi Jayanti and its celebrations.
Mahatma Gandhi Jayanti: Previous Years' Celebrations
Mahatma Gandhi Jayanti, several schools will commemorate the Father of the Nation. Along with several other national leaders, Mahatma Gandhi spearheaded the Indian independence fight against British rule. Throughout the world, various civil rights groups drew inspiration from his nonviolent approach. Every year, on October 2, Mahatma Gandhi Jayanti is observed to recognise his contributions to the country. It is a national holiday. The United Nations also recognises this day as the International Day of Nonviolence.
Also Read | Celebrate the Father of the Nation with Gandhi Jayanti Quiz 2021
Mahatma Gandhi Jayanti: Kanya Maha Vidyalaya
"On the occasion of Mahatma Gandhi's birth, Kanya Maha Vidyalaya paid reverence to Gandhi by celebrating Mahatma Gandhi Jayanti. Principal Atima Sharma Dwivedi lit the lamp to start the ritual, which was then followed by floral tributes. The principal urged the kids to emulate his example in these trying times. Speaking further on Gandhi's relevance, she said that the concepts of Swadeshi, Swachhta, and Sarvodya are now more important than ever in the modern world. She praised the work of the Gandhian Studies Center of KMV, which was established in 2007 and was the first of its sort in any college in North India. She praised the efforts made by this centre to educate many facets of society about the Gandhian ideology" says the school website.
Also Read | Happy Gandhi Jayanti 2021: President, UN Chief among others pay tribute to Father of the Nation
Mahatma Gandhi Jayanti: K.R. Mangalam World School, Paschim Vihar
In 2019, K.R. Mangalam World School, Paschim Vihar celebrated Mahatma Gandhi Jayanti. "Through a variety of events, the school commemorated this era's greatest freedom and motivation. The day started with the Pre-School and Pre-Primary pupils singing his favourite devotional song, "Raghupati Raghavaa Raja Ram," which brought to mind the Father of the Nation. Some of the kids showed up in Gandhi costumes, and they shouted anti-violence, truth, and patriotic chants. Many children expressed their sentiments about this outstanding, illustrious leader" says the school website.
"Teachers informed the kids about Gandhi's life narrative and principles through class discussions. The young students heard an explanation of his "Mission of Cleanliness'' and were inspired to maintain a clean atmosphere. The students took part in a "Shram Daan'' exercise to maintain this spirit of cleanliness and to adhere to the Prime Minister Shri. Narendra Modi's motto, "Ek Kadam Swachhta Ki Aur." With their tiny garbage cans in hand, the young volunteers gathered to clean the school's grounds" says the school website.
Below is Gandhi Jayanti Images for celebrations at K.R. Mangalam World School.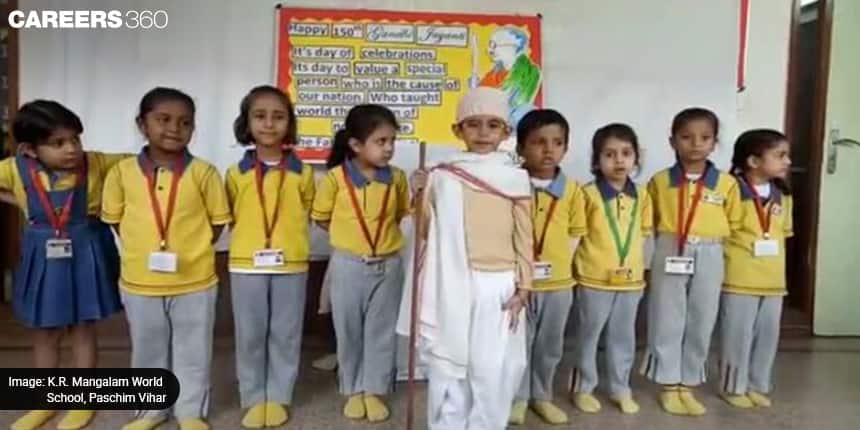 M
ahatma Gandhi Jayanti: Hindu International School, Chennai
"On October 10, 2019, the Hindu International School, students and faculty attended a Special Assembly to celebrate Mahatma Gandhi Jayanti and honour Mahatma's life and teachings. Gandhi's favourite bhajan, "Vaishnav Janto," was performed with great enthusiasm by the student-led choir. The audience learned more about Gandhi during a unique lecture that included comments and thoughts from this legendary leader. The kids performed a skit that portrayed Gandhian values in the most effective way possible. All of our students embraced Gandhian principles and made a commitment to serve as good citizens of both India and the world" says the school website.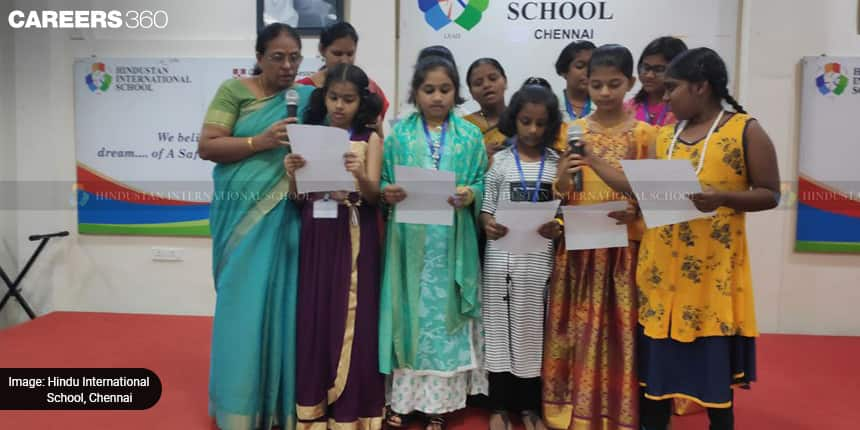 Above is the Gandhi Jayanti images for the Hindu International School celebration.
Also Read | Happy Gandhi Jayanti 2021: President, UN Chief among others pay tribute to Father of the Nation