NIOS Admission Status 2020 – Check Your Admission Status Here
NIOS Admission Status 2020 - NIOS provides the facility to check the status of NIOS admission for 10th, 12th in online mode. Students can check their NIOS admission status by reference no. generated during the submission of application for NIOS admission 2020. Alternatively, they can also check NIOS 2020 admission status by entering Email ID or enrollment number. Students can track their NIOS 10th & 12th admission status 2020 through the official website: nios.ac.in. They can check their subject details, study centre details, fee and transaction details, admission remarks using NIOS admission status window.
Latest: NIOS Result 2020 announced. Check now.
After the payment of NIOS admission fees, a candidate will be able to keep a tab on the NIOS 2020 admission status. Read the complete article below to know more about NIOS admission status 2020 for a block I, NIOS registration and admission etc.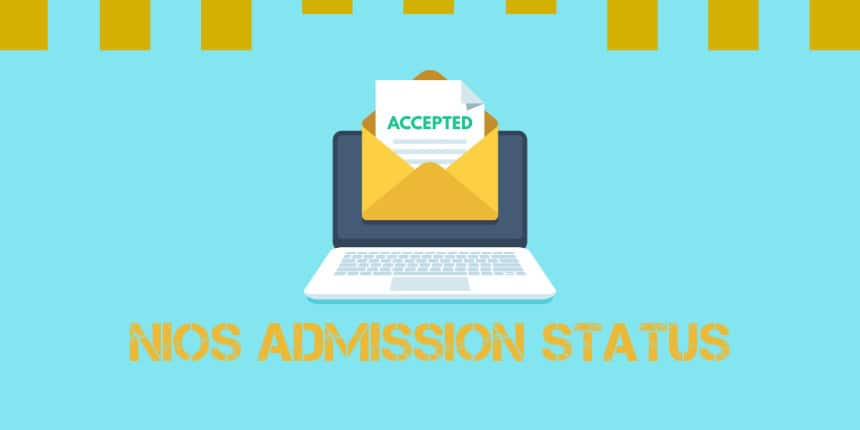 How to check NIOS admission status?
Click here to open NIOS 2020 admission status window.
Enter Email ID, Reference number or Enrollment number in it.
Click on the submit button.
The dashboard of the NIOS admission status will open on the screen.
Now, a student can see the status of NIOS admission under the section of RC comments.
NIOS admission status window will look like as shown here: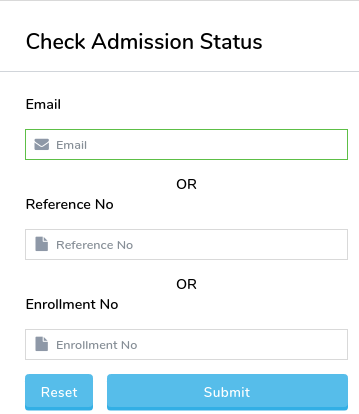 Visit the following links to know about NIOS 10th and 12th admission process.
Details communicated through NIOS Admission Status Window
Admission and course details
Comments/Remarks
Student's personal details
Previous qualification details
Subjects
Study Centres allotted to a student
Transaction and fee details
NIOS Admission Status Dashboard will look like as shown below: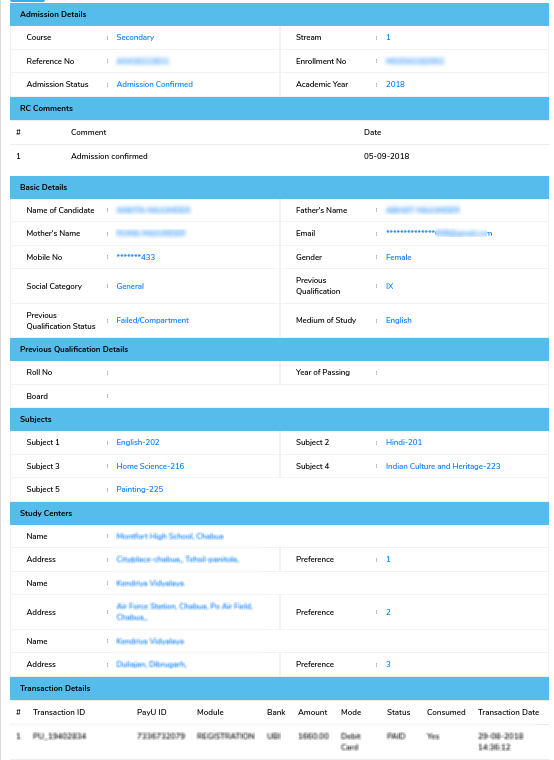 NIOS Admission Status 2020 – How is it Confirmed?
The admission to a particular course is normally confirmed by NIOS by issuing an Identity card or they can check RC comments section of NIOS admission 2020 status which specifies wheater admission is confirmed or not.
If any discrepancy is noticed at any stage of admission and even if the identity card is issued, the admission will be cancelled and the NIOS result 2020 will not be declared even if you have appeared in the examination.
On confirmation of admission, enrolment number is also informed to the learner vis SMS or Email which can be used to check NIOS admission status 2020 to track transaction and fee details.

After confirmation of admission, a student will have to pay

NIOS exam fees 2020

to appear for the upcoming exams.
RC comments will show the following comment after confirming the admission:

What Hinders to confirm NIOS admission?
While checking NIOS admission status a student will come to know that his/her admission is confirmed or not. In the case of non-confirmation, they will come to know the problem which is hindering their admission confirmation. Here are some common problems:
Lack of personal details
Wrong information provide during registration
Student's photo if not visible properly
Required documents are not available
Admission fee is not paid
The student is not eligible for the course.
NIOS admission status 2020- Correction in Admission Record
As soon as a candidate's admission to NIOS is confirmed, an Identity card is issued with details like Candidate's name, date of birth, subjects opted etc.
Candidate must check for the accuracy of these details in their NIOS admission status dashboard or ID card.
In case of any discrepancy, the same should be brought to the notice of the concerned regional centre of NIOS through the allotted study centre along with documentary proof.
It is desired that correction may be requested before the issue of NIOS admit card 2020 for the first time. No request for correction will be accepted after 3 years from the date of registration and after appearing in the examination.
Fee to be Paid to Apply for Correction in Admission Record
| | |
| --- | --- |
| Type of Correction | Amount |
| Correction in Learner's name / Father's name / Mother's name / Guardian's name after admission | 100/- |
| Correction in the Date of Birth of the learner | 100/- |
| Change in Learner's name / Mother's name / Father's name/ Guardian's name | 200/- |
| Correction of Photograph | 100/- |
| Change in learner's address | 100/- |
| Change of Study Centre | 400/- |
Click here to know the procedure to apply for correction in NIOS admission records.
Other NIOS Useful Links:
Frequently Asked Question (FAQs) - NIOS Admission Status 2020 – Check Your Admission Status Here
Question: How much time does NIOS take to confirm admission?
Answer:
Usually, NIOS confirms admission within 2 months from the date registration. But some times, it can take some more time due to public examination or any other reasons.
Question: How can I check my NIOS admission year?
Answer:
NIOS admission year can be checked using NIOS admission status. After logging in, you will be able to view your admission year in the section of admission details.
Question: Can I apply for correction in the date of birth after appearing for exams?
Answer:
No, you can not apply for correction in DOB after appearing for the exams.
Question: Why is it not showing my admission status?
Answer:
You should verify your reference number or email ID or enrollment number and ensure that it is correct. If credentials are correctly entered and it is not showing admission status then you should contact NIOS helpline by calling on a toll-free number: 1800-180-9393.
Questions related to NIOS Class 12
Showing 79 out of 79 Questions