HBSE 10th Syllabus 2020-21, Exam Pattern (All Subjects) - Check Here
HBSE 10th Syllabus 2020-21- Haryana Board releases the syllabus of HBSE 10th 2020-21 exams. Students can check HBSE Syllabus for Class 10 exams on the official website, bseh.org.in. The HBSE Class 10 syllabus 2020-21 is available in the form of a pdf file. Haryana Board 10th syllabus 2020-21 is available for all the subjects namely English, Physical Education, Home Science, Mathematics, Science, Social Science, Hindi, Computer Science etc. Students preparing for HBSE 10th 2021 board exams can check subject-wise important topics in HBSE 10th syllabus 2020-21. Knowing the HBSE Syllabus for Class 10 helps students reducing their efforts and time in figuring out what to prepare for board exams. Haryana Board of School Education (HBSE) conducts class 10th board exams in the month of March, every year. Students are advised to go through the HBSE 10th syllabus 2020 carefully and make sure that no topic is left unprepared. Besides, it is suggested to complete the entire Haryana Board class 10 syllabus 2020 before the release of the date sheet so as to keep ample time for revision. Read the HBSE 10th syllabus 2020-21 to get the details of subject-wise topics that need to be covered.
Latest: HBSE board has announced that BSEH 10th result 2020 will be declared in July 2020. Check all updates now.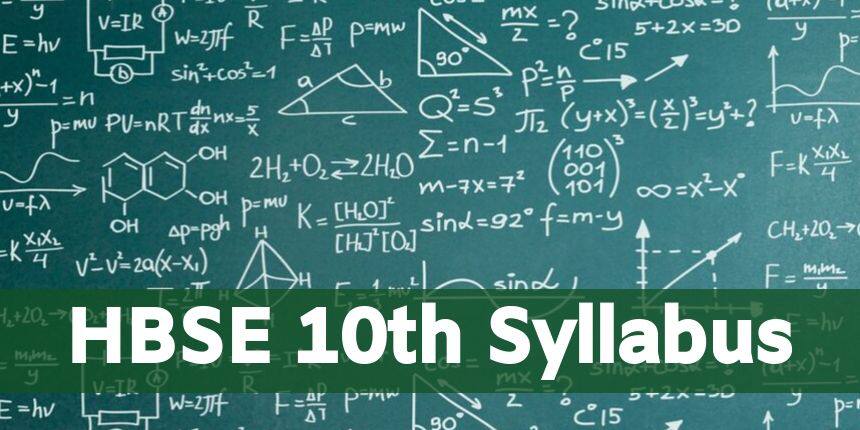 HBSE 10th Syllabus 2020-21 (Subject-wise)
With the details of the HBSE Class 10 syllabus, students can figure out the scoring areas and make their study plan accordingly. Students can download the syllabus from the link given in the table against each subject. The subject-wise detailed Haryana Board 10th syllabus 2020 is listed below for candidates' reference.
Also check, Haryana Scholarship 2020.
Subject-wise HBSE 10th Syllabus 2020-21
Subjects

Topics

Download HBSE 10th Syllabus Pdf

HBSE 10th Maths Syllabus 2020-21

Real Numbers

Triangle
Trigonometry
Coordinate Geometry
Surface Area & Volume
Circle
Area related to Circles
Statistics

HBSE 10th Science Syllabus 2020-21

El

ectric Current & Magnetic Effect
Natural Resources
Chemical reactions
Carbon and its compounds
Electricity
Human Eye
Acids, Bases and Salts
Life Processes
Control and Coordination, etc

HBSE 10th Social Science Syllabus 2020-21

Political Parties

The Rise of Nationalism in Europe

Resources and Development

Democracy and Diversity

Gender, Religion, and Caste

Sectors of the Indian Economy

Money and Credit

Globalization and the Indian Economy, etc

HBSE 10th English Syllabus 2020-21




HBSE 10th Agriculture Syllabus 2020-21

Vegetable Crops

Dry Farming

Irrigation Drainage

Agriculture Implements

Subsistence Agriculture

Field Crops

Kharif Crops

Rabi Crops, etc

Animal Husbandry

Dairying

Animal Feed

Animal Diseases

Animal Food Supplementation, etc


Computer Science

Hardware & Software

Input & output device

Primary & Secondary Memory

Ms- Windows

Ms-Access

Software-Engineering

Excel

PowerPoint

Dance

Download HBSE 10th syllabus pdf here

Drawing

Download Haryana Board 10th Drawing Syllabus pdf here

Hindi




Melodic Music




Music Tabla




Music Vocal




Physical Education

Environmental Health

Running Events

Yoga

Food & Nutrition

Boxing, Netball, Swimming

National & International Sports

Communicable Diseases
Judo, Cricket, Hockey
Wrestling, Outdoor Games

Punjabi

Download Here

Sanskrit

Download Here

Home Science

Growth & Development of Child

Effects of External Environment on the development of a child

Family Income & Expenditure

Saving & Investments

Consumer Education

Nutrients

Meal Planning

Food Hygiene & Storage

Urdu

Download Syllabus Pdf here
How to Download HSEB 10th Syllabus 2020?
Step 1: Go to the Haryana Board's official website- bseh.org.in

Step 2: Click on the "Student corner" and then select the "Class X" option

Step 3: Now, click on 'Syllabus 2019-20'

Step 4: A separate tab with subject-wise HBSE 10th syllabus 2020 PDF file will be available

Step 5: Save and download the PDF for future use.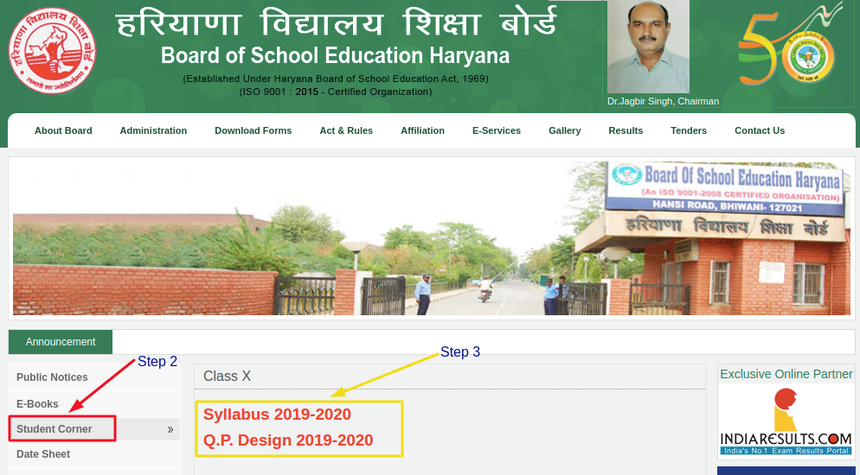 HBSE 10th Class Exam Pattern 2020 & Marking Scheme
After getting the HBSE 10th syllabus 2020 details, students should be aware of the exam duration and marks distribution. The exam will be conducted for five subjects – Hindi, English, Social Science, Mathematics and Science and any one of the optional subjects as per students' preference.
The Board will conduct the examination in offline mode.

The time duration of each paper will be 3 hours.
Haryana Board Class 10 Marking Scheme
Name of the subject

Maximum Marks in theory

Maximum Marks in practical

CCE

Total Marks

Hindi (First Language)

80

—–

20

100

English (Second Language)

80

—–

20

100

Mathematics

80

—–

20

100

Social Science

80

—–

20

100

Science

60

20

20

100

Anyone of the following :
A) Third Language (anyone out of Sanskrit/ Punjabi/ Urdu)

80

—

20

100

B) Home Science

60

20

20

100

C) Agriculture

60

20

20

100

D) Animal Husbandry

60

20

20

100

E) Drawing

60

20

20

100

F) Music

20

60

20

100

G) Dance

20

60

20

100

H) Physical and Health Education

60

20

20

100

I) Computer Science

40

40

20

100

J) Any one of the following subject :

ITES,

Automobile

Security Services,

Retail Industry Business

Beauty and Wellness

Physical Education and Sports

Patient Care Assistance

Agri-Paddy Farming

Tourism-Hospitality-Travel

Media-Animation

Banking & Finance Services

Banking Insurance

Apparel Designing

Vision Technician

30

50

20

100
HBSE 10th Board Preparation Tips 2020
Knowing the HBSE 10th syllabus 2021 is not enough to qualify the examination. There are some tricks and tips students need to follow which will help them to ace the exam.
After completing the HBSE 10th syllabus 202-21, devote time to revision. This will help you to retain the important points.

Get the details of weightage from the Haryana Board 10th syllabus pdf. Make a study schedule accordingly.

Create short notes or flashcards of important sections to make the revision process easy.

Solving previous years' HBSE 10th Board Question Papers is an important part of the preparation. Students must practice the question papers after they are through with their

HBSE 10th syllabus 2020-21

and exam pattern. It will improve their performance level.

Contact the teachers or experts to get all the doubts clarified. Better clarity leads to good preparation.

And lastly, do not take too much stress as health is more important. Only a healthy and calm mind can help you fetch good marks in the final result.
Frequently Asked Question (FAQs) - HBSE 10th Syllabus 2020-21, Exam Pattern (All Subjects) - Check Here
Question: When Haryana Board 10th exams will be held?
Question: Is there any change in the Haryana Board Class 10 syllabus 2020?
Answer:
The board has not announced any changes in the HBSE 10th syllabus 2020.
Question: Should I cover all topics of HBSE syllabus for Class 10th 2020?
Answer:
Yes, students are suggested covering each and every topic of the Haryana Board 10th syllabus to get good marks in the exam.
Question: What are the passing marks for HBSE Class 10 Board exams 2020?
Answer:
Students have to obtain at least 33% marks in total and 33% marks in practicals and theory separately to pass the exams.
Questions related to HBSE 10th
Showing 1 out of 1 Questions
56 Views
is HBSE 10th board exam harder than CBSE
Dear Nishant,
It would be very hard to say which board is tough or easy. But if you go for CBSE board, you would be better placed as the syllabus is common throughout the country. Moreover, the maths and science syllabus of the CBSE board is in sync with competitive examinations.
But if your focus is more towards state entrances, the state board would be better as it will cover the maximum syllabus of the exam.

I hope this information helps you

All the best