CBSE Class 10 Preparation Tips 2021 - Know how to Prepare for Class 10th Board
CBSE Class 10 Preparation Tips 2021- Students preparing for CBSE class 10 board exams 2021 should use subject-wise preparation strategy. The CBSE class 10 exam will be conducted in the month of March. Most of the students feel nervous but with the right CBSE class 10 preparation tips 2021, it's easy to crack the exam. So let's discuss how to study for class 10 or how to prepare for 10th board exam 2021. Before starting students should check CBSE Class 10 syllabus 2021 carefully and then head over for the CBSE class 10 preparation tips 2021. One of the most important things in the exam is the paper presentation. Students must attempt the exam in such a way that it will impact the checker in an effective way. Here we discussed some simple and useful CBSE Class 10 Preparation Tips 2021 that will guide students on how to prepare for class 10 board exam CBSE 2021.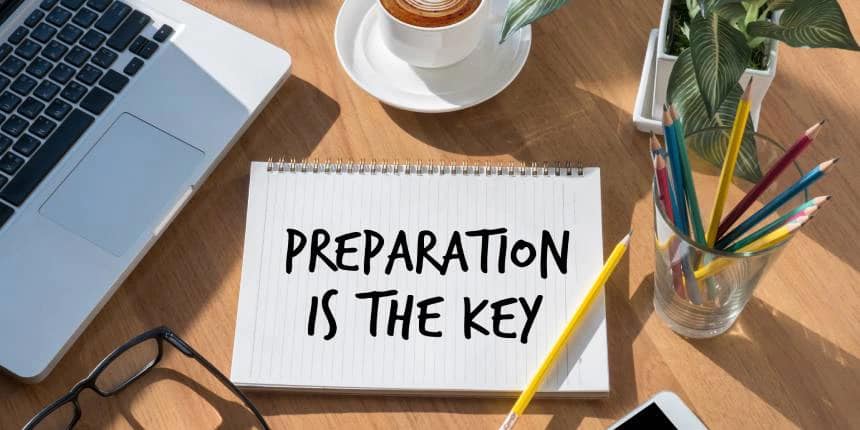 Latest- Tentative CBSE Class 10 Date Sheet 2021 is now available.
Also, check the CBSE 10th exam pattern.
How to Prepare for CBSE Class 10 Board Exam 2021 Effectively?
Follow the below given CBSE Class 10 preparation tips 2021 and make your study plan in an effective way.
Preparation Tip 1- Go Through the Exam Pattern & Syllabus
This is an important tip among CBSE class 10 preparation tips 2021. It will help students to know the details like type of questions, number of questions, marking scheme, etc. The syllabus will help them to know thoroughly about the topics of the subjects.
CBSE class 10th exam consists of a total of 100 marks which consists:
Annual Board (80 Marks): Passing marks are 33% out of 80 in each subject.

Internal Assessment (20 Marks): Periodic Tests* - 10 marks each, Notebook submission- 5 marks, Subject Activities - 5 marks
*Note: Out of 3 Periodic tests average of the best two marks will be considered for the final weightage.
Preparation Tip 2- Proper study timetable will make the preparations easy
Study timetable for class 10 CBSE board is also one of the most important preparation steps that students should take. Without proper planning it is quite difficult to achieve your goal. Making a proper timetable and dividing equal to time for each subject will help boost confidence. Studying at a constant pace is better than aggressive study, if you are weak in any subject then try to assign more time to that subject.
Preparation Tip 3- Make Short notes
Making handy and short notes always help in learning hard things easily. Write names, rules, formulas, etc. on it. Always keep an eye on them and go through it every now and then.
Preparation Tip 4- Solve Sample Papers & Previous Years' Question Papers
Solving CBSE Class 10 previous year question papers always help to boost your confidence. It is one of the best approaches to prepare & analyze yourself for the exam. This step will also help you in managing your time, students can keep track of their problem solving speed. Along with this, solve CBSE sample papers 2021 Class 10 to practise with the papers prepared by CBSE as per latest pattern
Preparation Tip 5- Avoid Using Slangs/Jargons
Students need to use simple language while practicing for exams. These minor mistakes can be avoided in the examination hall. Try avoiding the use of slang because spoken and written English both are different. This small mistake can lead to loss of marks. Also, it will make the answer easy to understand and increase the chances of getting a high score.
Preparation tip 6: Make a Strategy to Write Answers for the Board Exam
Usually students do not keep this point in mind, try not to exceed the word limit in the answer sheet. It is required to write relevant information, exaggeration can also lead to loss of marks in case something is wrong found. You must follow the proper technique of writing answers and this will come practicing only. Make the best use of the 15 minutes reading time allotted before starting writing the exam.
Preparation Tip 7- Take Proper Rest
Taking the proper mock test and solving sample papers will help to control fear, stress, & anxiety. In the examination hall these can affect your performance, so it would be better to prepare yourself prior. Also, take proper sleep especially before the exam day.
Preparation Tip 8- Take Breaks While Studying
Studying for long hours can be frustrating, so it would be best to take small breaks in between. Doing exercises in between can also help you to stay focused & fit during your preparation time.
Mathematics is one of those subjects that require conceptual knowledge & helps in scoring high. Practice more & more number of questions, sample papers can develop your understanding & concepts. Simultaneously look for best reference books for CBSE 10th Maths. Below are some points that will work as CBSE Class 10 Preparation Tips 2021.
Try solving more & more number of questions, especially NCERT books.

Make timetable & go through the syllabus carefully.

Use a stopwatch & always look for time management to improve speed & accuracy.

Solve previous year papers & sample papers, along with that make your separate notes for quick revision.

Practice Geometry, Algebra, Mensuration first as they carry maximum weightage.

Give time to each chapter depending on the weightage.
English is one of the easiest subjects to learn & score high marks. This will also improve your overall percentage in the final result. Also, refer to the syllabus of the CBSE class 10 English.
Below are some points that will help students on how to prepare for class 10 board exam CBSE 2021.
Reading is one of the ways to improve English, start reading novels, newspapers, & science fiction.

Reading & Writing skills with grammar carry a total weightage of 50 marks, so it must be practiced well.

Try to write in a clean way, keep your writing in a format. Practice how to write letters, applications, & speeches.

Read & practice more grammar to avoid minor mistakes.

Practice unseen passages because they are easy and help to score high marks.

Have a brief detail about Literature as it consists of analytical and content questions.
CBSE Class 10 Preparation Tips 2021 for Hindi
Hindi is the easiest language, especially for Indians, but should have a proper knowledge of the subject to score high marks. Hindi includes both grammar and literature which need to be prepared properly.
Practice writing parts more & more like letters, essays, etc.

Solving previous year questions papers can also help in scoring high. Solve the paper and verify the answers with the solutions.

Memorize the poetry with their meaning, also look for the type of questions asked from it.

Learn grammatical rules and practice more questions to avoid mistakes.
Science is one of the most interesting subjects that includes Physics, Chemistry, and Maths. It needs understanding & practicing a lot. Also, refer to the best reference books for CBSE 10th science.
Physics has numerical questions, it's better to practice more & more and learn the concepts.

Memorize important terms & their respective functions.

Learn Nomenclature & reactions which include conversion takes place from one compound to another.

Learn theorems & direct formulas and revise them regularly.

Memorize difficult terminology of Biology, try revising them as much as possible.

Look for important topics like Motion, Force, & Work, prepare them prior to other topics.
Social science is a big subject that consists of history, civics, geography, economics, each carrying equal weightage of 20 marks. It is one of the boring subjects but easy to understand & score. Scoring in social science is as important as other subjects. Below are some points that will help students on how to prepare for 10th board exam 2021.
Make pointers for long answers and then try to remember them.

Practice map questions as much as you can.

Create tables for important dates, names of the rulers and other important persons, go through it every now and then.

Attend short answers and then go for long ones.

Relate the concepts to real life situations for easy understanding.
Also Read:
Frequently Asked Question (FAQs) - CBSE Class 10 Preparation Tips 2021 - Know how to Prepare for Class 10th Board
Question: Is the board exam of class 10 easy or hard?
Answer:
It's easy if you prepare for 10th board exam 2021 and hard if you don't.
Question: Does CBSE pass all students of class 10?
Answer:
It is compulsory for students to have 75% attendance to appear for CBSE class 10 and score at least 33% marks in order to pass the exam.
Question: Is the syllabus reduced for CBSE 2021?
Answer:
The Board has reduced the CBSE syllabus 2021 by 30 percent for the upcoming session. It is done for the academic year 2021 amid the coronavirus pandemic.
Question: What are top 3 CBSE class 10 preparation tips for 2021?
Answer:
Go Through the Exam Pattern & Syllabus

Make a proper study timetable and start studying.

Solve Sample Papers & Previous Years' Question Papers
Questions related to CBSE Class 10th
Showing 28 out of 28 Questions