Kerala SSLC Syllabus 2020-21 (All Subjects)
Kerala SSLC Syllabus 2020-21- Kerala Board provides the Kerala SSLC 2020 syllabus for class 10 students who are preparing for the board exams. The syllabus of Kerela SSLC 2020 is available on kbpe.org. Kerala Board of Public Examinations (KBPE) provides the Kerala SSLC Syllabus 2021 in a PDF format. Students can find the chapter and topics that they should prepare to ace the Kerala Class 10 exams. Kerala SSLC 2021 syllabus includes the subject-wise important topics including Maths, Science, Social Science, English and more. Knowing the right Kerala Class 10 syllabus 2021 helps students in preparing for the board examinations with a better strategy. Kerala Board will conduct the Kerala SSLC 2021 exams in the month of March 2021. Read the detailed article below to get information about comprehensive Kerala SSLC Syllabus 2020, exam pattern, preparation tips, and exam dates.
Latest- Kerala SSLC/ 10th Result 2020 declared online on June 30, 2020.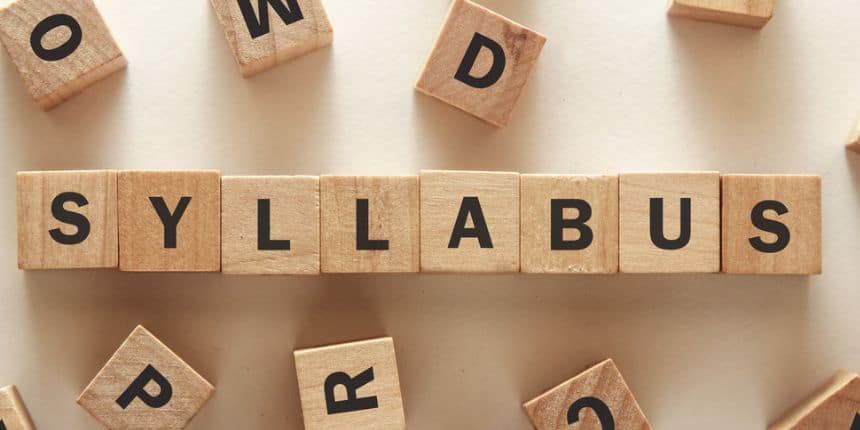 Kerala SSLC Syllabus 2020-21 for Mathematics
Mathematics is a subject of calculations and precision. To get a hold on formulas and their proper use, students must solve as many previous years Kerala SSLC question papers as possible. This practice also makes students familiar with the Kerala SSLC syllabus 2020, marking scheme and types of questions asked in the exam. Below is the unit wise and topics of Kerala SSLC Maths syllabus 2020-
Arithmetic Sequences

Mathematics of Chance

Circles

Second Degree Equations

Geometry and Algebra

Trigonometry

Coordinates

Polynomials

Tangents

Solids

Statistics
Kerala SSLC Syllabus 2020-21 for English
There is no definite syllabus for English paper as it tests the English reading and writing skills of a student. Consistency and regular practice help students pass this paper with good marks. Below are some topics of Kerala SSLC English syllabus 2020-
Reading Comprehension

Writing

Pronoun

Adjective

Verb

Punctuation

Conjunction

Sentences

Tenses

Transformation of Sentences

Vocabulary
Kerala SSLC Syllabus 2020-21 for Social Science
Social Science is a memory-based subject. Students have to remember various facts, policies, dates and more to qualify the examination. Revision is the best key to retain the concepts and important things till the exam date. Hence, students should cove the Kerala SSLC syllabus at least 02 months before the examinations.
Kerala SSLC Social Science Syllabus
Geography

India: The Land of Diversities

Seasons and Time

Human Resources Development in India

Eyes in the Sky and Data Analysis

Terrain Analysis through Maps

In Search of the Source of Wind

Resources Wealth of India

Public Administration

Civic Consciousness

The State and Political Science

Revolutions that Influenced the World

India After Independence

World in the Twentieth Century

British Exploitation and Resistance

Struggle and Freedom

Culture and Nationalism

Kerala Towards Modernity

Public Expenditure and Public Revenue, Consumer: Satisfaction and Protection, Financial Institutions and Services
Kerala SSLC Syllabus 2020-21 for Science
Science is a subject that needs practice and a logical approach. There will be a theory paper and a practical exam. To prepare effectively for Science, students should refer to the Kerala SSLC time table and reserve at least 02 hours daily to complete the Kerala SSLC syllabus for Science. Below are the topics of Kerala 10th syllabus that students have to cover for theory paper-
Kerala SSLC Science Syllabus
Physics

Effects of Electric Current

Power Transmission and Distribution

Electromagnetic Induction

Wave Motion

Heat

Electronics and Modern Technology

Colours of Light

Energy Management

Nomenclature of Organic Compounds

Mole Concept

Reactivity Series and Electrochemistry

Rate of Chemical Reactions and Chemical Equilibrium

Production of Metals

Chemical Reactions of Organic Compounds

Periodic Table and Electronic Configuration

Chemistry for Human Progress

Genetics for Future

Sensations and Responses

Unravelling Genetic Mysteries

Keeping Diseases Away

Windows of Knowledge

Chemical Messages for Homeostasis

The Paths Traversed by Life, Soldiers of Defense


Kerala SSLC Exam Pattern 2020
After knowing the Kerala SSLC syllabus 2021, students need to be aware of the exam pattern of Kerala class 10 board exams. The exam pattern will make the students familiar with the marking scheme, duration of the exam, the total number of questions and the types of questions asked in the exam. It will help the students to prepare for the exam in an effective manner.
Kerala Board 10th Paper Pattern
| | | | |
| --- | --- | --- | --- |
| Subjects | Marks | Duration | Total no. of question |
| English | 80 | 2.5 hours | 37 |
| Hindi | 40 | 1.5 hours | 19 |
| Mathematics | 80 | 2.5 hours | 29 |
| Social Science | 80 | 2.5 hours | 25 |
| Physics | 40 | 1.5 hours | 20 |
| Chemistry | 40 | 1.5 hours | 20 |
| Biology | 40 | 1.5 hours | 23 |
Other Relevant Links
Frequently Asked Question (FAQs) - Kerala SSLC Syllabus 2020-21 (All Subjects)
Question: Is there any changes in Kerala SSLC Syllabus 2021?
Answer:
No changes are notified by the board so far.
Question: What is the mode to get the Kerala Class 10 Syllabus?
Answer:
Students can check the official website of the Kerala Board to download the syllabus. However, to get the precise and correct marking scheme contact your respective schools.
Question: What the best books to prepare the complete Kerala Board SSLC Syllabus?
Answer:
Students should refer to the books prescribed by the Kerala State Board to prepare the entire Kerala SSLC Syllabus 2020.
Question: What is the passing marks for Kerala SSLC?
Answer:
Students should obtain an aggregate of 35% marks in each subject to get promoted to the next level.
Question: When will Kerala SSLC exam start?
Answer:
The exams will commence from March 2021
Questions related to Kerala SSLC
Showing 5 out of 5 Questions