IIO Result 2023-24 - The Silverzone Foundation will declare the level 1 IIO results in January 2024. The IIO results for 2023–24 will be made available online on the official website, sofworld.org. Students will need their roll numbers and other credentials in order to check the Silverzone result for IIO 2023–24. After that level 2 exam will be held and silverzone olympiad result second level will announced on May 2024.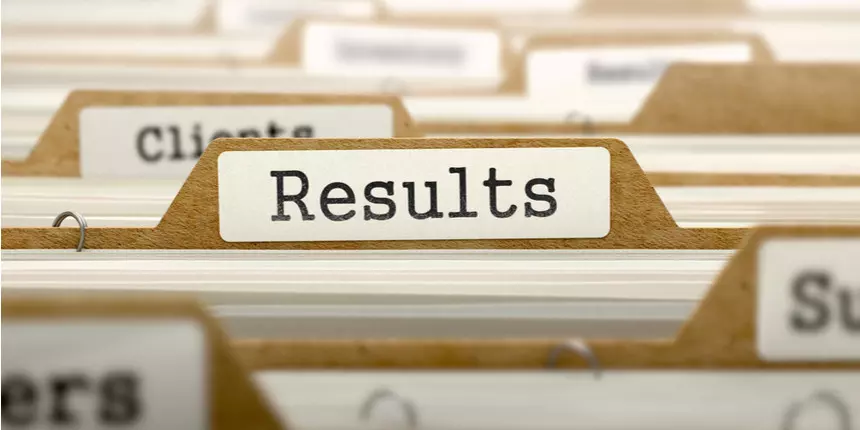 IIO Result 2023-24- Check Silverzone International Informatics Olympiad Stage 1 & 2 Result Here
The IIO result for 2023–24 includes essential information like student's name, school name, percentile, and rankings. Students may collect their results from their respective schools. Silverzone Foundation conducts level 1 of the International Informatics Olympiad 2023–24 in offline mode. To find out more regarding the IIO results, read the entire article.
IIO Result 2023-24 Dates
Events

Dates

IIO exam date level 1

October 31, 2023

November 30, 2023

IIO result 2023 level 1

January 2024

IIO exam date level 2

April 2024

IIO result 2023 level 2

May 2024

IIO exam date level 3

June 2024

IIO result 2023 level 3

August/September 2024
How to check the IIO Result 2023-24?
The steps to check the IIO result for 2023–24 are provided below. After the declaration, the international informatics olympiad results won't be available for more than 15 days. To access the IIO exam 2023–24 results, follow these steps:
Step 1: Browse the official website, silverzone.org.

Step 2: A list of quick links appears at the top of the home screen. Choose that tab.

Step 3: After clicking on the quick links, the International Informatics Olympiad result 2023-24 will be displayed.

Step 4: In the next screen, select International Informatics Olympiad.

Step 5: Next, choose an exam level.

Step 6: Enter the required credentials and press the submit button.
IIO Result 2023-24 Login Window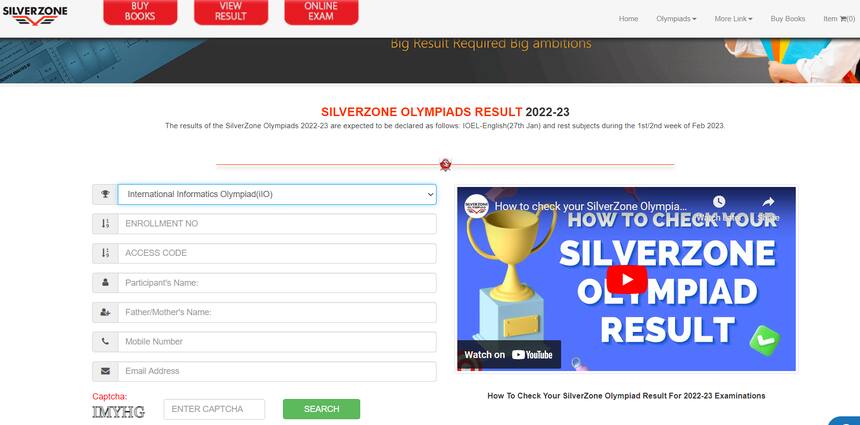 Details mentioned in IIO result 2023-24
The IIO 2023–24 exam results will include the information listed below. Students can download the first and silverzone 2nd level result and compare their performance at different levels.
Student Performance Report 2023-24
The IIO result for 2023–24 will also be provided in the form of a student performance report. This performance report will be divided into four sections. These are the sections:
Section A – This section provides the student's marks and ranks achieved in Class, Zonal, and international level.

Section B – This section will give the Chapter-wise performance score of the student.

Section C – This section provides a percentile score.

Section D – This section gives a percentage score analysis of the student with a comparison at Class, zone and international level.
IIO Result 2023-24 for Level 2
After passing level 1, students will compete at level 2 in order to go to the third and final level. Regular study and practice are essential for success in this exam. Students must therefore regularly practise the IIO sample papers. The IIO level 2 result for 2023 will be released in April. The eligibility criteria for the IIO Level 2 exam are listed below.
The top 500 Olympiad rank holders in the 1st level from each class will be qualified for the level 2 exam.

1st rank holders from each class with a minimum of 60% marks and at least 100 students from a particular school will also be eligible for IIO level two exam.
IIO Result 2023-24 for Level 3
Students in classes VI to XII who received the top score in the level 2 exam are eligible to take the level 3 exam. The level 3 exam will be the final stage for students to compete for positions in the international stage. This exam will be held in New Delhi. The IIO level 3 results for 2023–24 will be announced in August 2023.
IIO 2023-24 Prizes
Students who achieve international and national rankings will receive a cash prize, trophies, and certificates. Check the awards given to the rank holders in the table below.
| | |
| --- | --- |
| Rank. No. | Award |
| 1st Olympiad rank | 1st Intl. Olympiad rank holder in each class will be awarded with a Cash Prize of Rs. 10,000/-. |
| 2nd Olympiad rank | 2nd Intl. Olympiad rank holder in each class will be awarded with a Cash Prize of Rs.7,500/-. |
| 3rd Olympiad rank | 3rd Intl. Olympiad rank holder in each class will be awarded with a Cash Prize of Rs. 5,000/-. |
| 4th to 10th Olympiad rank | 4th to 10th Intl. Olympiad rank holders in each class will be awarded with Gift Certificate of Different Value. |
| 11th to 25th Olympiad rank | 11th to 25th Intl. Olympiad rank holders in each class will be awarded with Gift Certificate of Different Value. |
| 26th to 500th Olympiad rank | 26th to 500th Intl. Olympiad rank holders in each class will be awarded with Topper Achievement Certificate. |
| 1th, 2th and 3rd Zonal Rank | All Zonal Rank 1st, 2nd 3rd rank holders of all classes will be awarded Medals of Excellence |
| 1th, 2th and 3rd State Rank | All State Rank 1st, 2nd 3rd rank holders of all classes will be awarded Medals of Excellence |
| 1st, 2nd 3rd Class Topper | Class Topper 1st, 2nd 3rd rank holders of every class of each school will be awarded with Medals of Excellence, provided the topper obtains at least 50% marks |
| All | All the participants will be awarded with the participation Certificate Reflecting their Class/Zonal/State/Olympiad Ranks and Marks. |
IIO Zones 2023-24
All Indian states and union territories, as well as international countries participating in Olympiads, have been divided into the zones listed below. This information will be used for the following purposes:
| | |
| --- | --- |
| Zone | State |
| North Zone | Delhi NCR, Haryana, Punjab, Himachal Pradesh, Uttarakhand, J&K, Ladakh, Chandigarh, Rajasthan, Uttar Pradesh |
| West Zone | Maharashtra, Goa, Gujarat, Daman & Diu, Dadara & Nagar Haveli, Madhya Pradesh |
| East Zone | West Bengal, Bihar, Jharkhand, Odisha, Assam, Arunachal Pradesh, Tripura, Sikkim, Meghalaya, Mizoram, Nagaland, Manipur, Chhattisgarh |
| South Zone | Tamil Nadu, Karnataka, Kerala, Telangana, Puducherry, Lakshadweep, Andhra Pradesh, Andaman & Nicobar |
| International Zone | All countries except India |