Apeejay School, Faridabad, Celebrates Dussehra
Apeejay School, Faridabad, recently celebrated Dussehra for the students of primary wing to keep the festive spirit alive. Through a variety of performances, the students were taught the significance of the Dussehra festival. A special assembly was organised to commemorate Lord Rama's conquest over Ravana and to recognise the victory of good over evil. The students were advised to choose the righteous path by the headmistress, Ritu Kanwar. She emphasised that although the dussehra celebration goes by various names, its central theme—the triumph of good over evil—remains the same.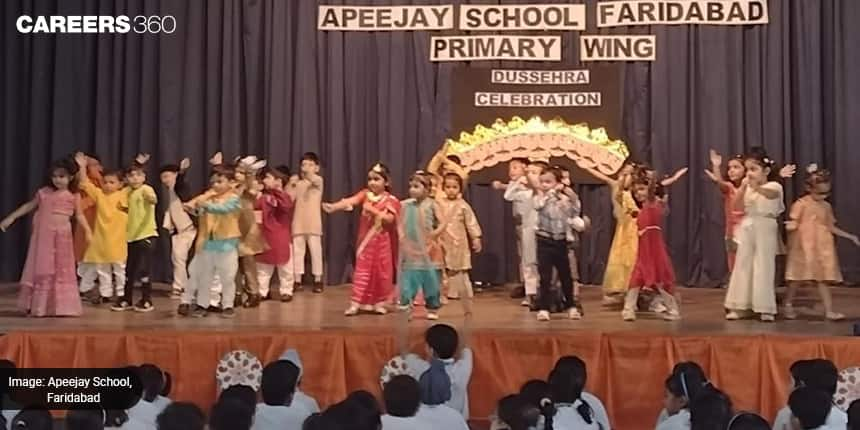 About Apeejay School, Faridabad
Apeejay School in Faridabad was founded in 1972 and is associated with the Central Board of Secondary Education (CBSE). Apeejay Education Society oversees its management. "Every organisational breakthrough is preceded by a significant amount of laborious effort motivated by a clear sense of vision. Apeejay School, strives to uphold excellence in all endeavours and be a pioneer in providing quality education that is based on values and promotes 'nation-building' and 'man-making', where academic excellence coexists with human excellence and channels youthful energies toward creativity and self-actualization" says the school's website.
Also Read | DAV, Sector 14, Faridabad Celebrates International Day Of Peace
"The human mind is our fundamental resource', we endeavour to send into the world empowered students, who, supported by strong roots, soar high on stronger wings, embodying the motto of the School, 'Soaring High is my Nature'", remarks Apeejay School officiating principal Anita Yadav.
Apeejay School, Faridabad Events
Annual AISMUN 2022 will be held at Apeejay School in Faridabad from September 30 to October 1. Five committees will discuss various topics during the 6th Annual Apeejay Inter-School Model United Nations Conference, including 'Freedom of Speech and Expression', 'Current Crisis in Sri Lanka', and 'Impact of Ukraine-Russia Conflict.' This year, Apeejay AISMUN launched a Continuous Crisis Committee, whose agenda will be made public during discussions.
Also Check | Best Schools in Faridabad 2022
We'd love to know what's happening in your campus - achievements, awards, camps, workshops, and the various competitions that your students and teachers may participate in. Send us the3 details on schoolevents@careers360.com