What Are SMART Goals
Goals are an integral part of a productive and fulfilling life. If you have ever found yourself working hard without getting any tangible results, it's likely that you're not working towards a goal. Or, even if you are, the goal may not be clearly defined or suited to you. That's why goal setting is so important. Working hard doesn't always lead to success in life, but working smart towards a target almost always does. This is where SMART goals come in.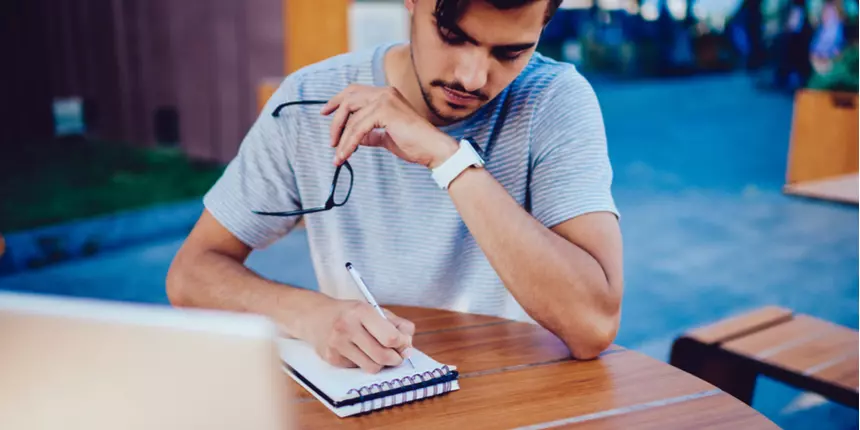 What Are SMART Goals: Definition And Examples
SMART goals examples abound in every sphere of life, be it for work, studies, health, or whatever else that one may be working towards. All it takes is a little understanding of SMART goals, meaning, what is its full form, how SMART goals help, and how to go about setting them. Here is the breakdown of SMART goals:
S - Specific
You can't aim without a target. So specifying what your goal is should be the first aspect of goal setting that you should get right. When you specify a goal, you bring it to the foreground and get a high-resolution image of it in your mind. This enables one to reflect on other related things such as the resources that the process requires, what needs to be done, and, perhaps most importantly, why is this goal important.
Here are a few questions that you may want to ponder on when specifying a goal:
What do you want to achieve?
Why is it important?
Who is involved?
Where is it located?
What limitations or resources are involved?
Don't Miss- Exam Time: How To Best Support Your Child
M - Measurable
Progress towards a goal can only be determined if the goal is measurable. A measurable goal can be broken down into small chunks that act as milestones in your journey towards the final end. These markers allow you to re-evaluate your course and make corrections if required.
There can be multiple ways of measuring a goal, and it doesn't really matter which parameters you choose as long as you're consistent with them. For example, if you're reading through a physics textbook that is particularly difficult, you might measure your goal by the number of hours studied or pages read, or by answering the questions at the end of each section and seeing how many you get right. Whatever the case may be, consistency is key.
Don't Miss: How Do You Know You Need A Carer Counsellor: Signs To Help You Evaluate
A - Achievable
The next quality of SMART goals examples is that they are achievable. What is easily achievable for others may not be so for you, and vice versa. It depends completely on your skill level and how aware you are of your strengths and weaknesses.
It is better to choose goals that are not too far off, so as not to feel demotivated if you don't see results even after continuous effort. Nor should they be too easy, or they beat the purpose of setting goals. The ideal spot is somewhere between these two extremes, and you're free to moderate your goals based on how difficult you want them to be.
Also Read- SWOT Analysis
R - Relevant
Goals need to be relevant to your values and your higher, long-term goals. This is the big 'why' of goal setting. The more relevant your goals are, the more they'll contribute towards your long-term aspirations and purpose. If your goals do not contribute to bigger objectives, you may want to reconsider them. Think about why setting a goal towards something is important to you, and what you get out of it. There should be a real benefit in setting goals, preferably one that contributes to your broader objectives.
T - Time-bound
Goals without deadlines are incomplete by design. Without a start and end date, there is no sense of urgency or motivation to work towards the goal. So time restraint becomes essential if you want to prioritize your goal over other daily chores and be driven to achieve it. If, for instance, you're aiming to lose ten kilograms of weight, give this goal a deadline so you don't procrastinate doing something about it. Can you do it in six months or three months? How will you set up your daily routine to do what's necessary to get there before the deadline?
By binding the goal in time this way, one is impelled to prioritize tasks that lead to their fulfilment or risk failing.
Don't Miss- Why And How To Not Make Exams Larger-Than-Life Events
Why You Need SMART Goals?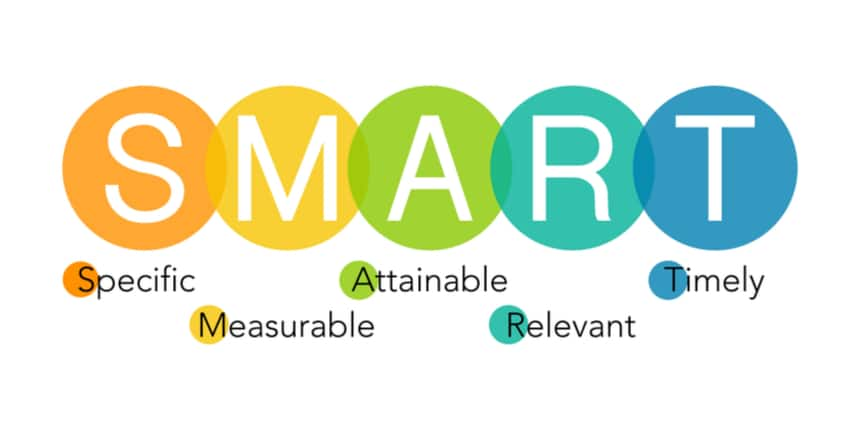 SMART Goals
'Work smarter, not harder' may be cliched advice, but a productive one for those that follow it. The SMART acronym is a definite reminder to set goals that are meaningful, motivating, and beneficial to us and others.
If ever you are motivated to set a goal, rather than set arbitrary, low-resolution and poorly defined goals that go unaccounted, use the SMART acronym to help you in the process. Following the SMART goals examples that are easily measurable, achievable, bound by a time frame and bearing good benefits to you in life will keep you accountable and motivated to see them through till the end.
If you're already working towards a goal, use the SMART goals examples to fine-tune your goal further and get a deeper perspective on your goals and values.
Don't Miss- Which Are The Psychometric Tests Every Student Must Take?
SMART Goals Examples For Students
Let's take a look at a few SMART goals examples for students.
Setting a budget - Whether it is your parent's money or your own, if you don't budget, you should start as early as possible. Set a daily, weekly, or monthly spending limit. Target a certain amount of savings for a duration of time and slowly work towards reaching that goal. Setting a budget is a specific goal that is measurable in terms of your savings, one that is easily achievable by most, relevant to your long-term financial goals, and time-bound to keep your expenditure in check and increase savings. That is why it is a SMART goal.

Read books outside of the school curriculum - Reading for pleasure and without any worry of being tested on what you read is one of the most rewarding habits. Set a goal of reading ten to twenty pages, or a chapter of a book of choice for specific hours every day. This makes it specific and measurable. Reading ten pages is an achievable goal, but it can be modified depending on your ability. Such SMART goals examples for students are relevant to a variety of other, broader goals, such as improving your English, comprehension, etc., and keeping it within a time frame lets you know when you should be reading.
Don't Miss: Talking To Your Teen About Love And Relationships
SMART Goals Examples For Work
Let's take a look at a few SMART goals examples for work:
Get over the fear of presenting in the next 6 months - Not everyone is gifted with the ability to speak to a group naturally, let alone presenting to a group that's expecting a detailed and thorough presentation. But it is a SMART goal that can be worked upon with some effort. Enrol in a training program, practice presenting before others, and get feedback from your friends and colleagues. It's specific in that you know exactly what the goal is, how to measure it along the way, achievable with the right work, relevant to your professional career, and finally, time restrained. Good presentation skills are highly valued in all sectors and can always be improved upon.
Also Read:
SMART Goals Examples For Teachers
Let's take a look at SMART goals examples for teachers:
Improve average test scores of students by 10% in a semester - Improving test scores is dependent on improved learning, and there are a variety of things to do to get there. Teachers can implement interactive learning methods like e-learning and gamification, assist in online learning, give special attention to students from the lower strata on particular days, and learn from other teachers to improve the organization and delivery of material. Because the aim is specific and clear, measurable in percentages, achievable, relevant to better learning overall, and bound by the time frame of a semester, it is a SMART goal.
Don't Miss: Career Planning In The Face Of Covid-19: Which Industries Have Been Affected
SMART Goals Examples For Health
Health and well being is one of the most important subjects of our time. Here are a few SMART goals examples for health that you can start implementing today:
Allocate 3 hours for self-care every week - Mental health is as important as physical health. Spend the weekend by yourself, retire to your corner of the house, or go on a solo date night. Use such SMART goals examples for health to make sure you get enough time to recharge from the humdrum of life. Allocating 3 hours is specific, easily measured, achievable, relevant to psychological, social, and emotional well being, and is bound by the time frame of a week, making it a SMART goal.
We hope the above article helped you to understand what SMART goals are and how you could use them to set and achieve more precise targets. The practice of setting and working towards SMART goals shall most definitely help you up your efficiency as a student and as an individual.
Read more:
Shashwat Khatri is a psychology graduate. He is a content developer with Careers360.