NSEP Registration 2021 Started!- Check IAPT NSE Dates, Application Fee Here
NSEP Registration 2021 - IAPT (Indian Association of Physics Teachers) has closed the IOQP registration window. Students could submit applications online for NSEP 2021 till December 25, 2020. IAPT released the application form of NSEP 2021 on iaptexam.in. Along with the NSEP 2021 application form, students need to submit the registration fee. IOQP or NSEP registration fee is Rs 150. Indian Association of Physics Teachers will conduct the NSEP exam on February 7, 2020, which has been renamed with Indian Olympiad Qualifier in Physics (IOQP) for this year.
Latest Update: IOQP admit card 2021 is available. Download now.
There will be two stages of this exam for this year only, the first stage is Indian Olympiad Qualifier exam and the second stage is an Orientation-cum-Selection Camp (OCSC) which will be organised by HBCSE. To read more about how to NSEP Registration 2021, stages of NSEP, benefits and such, read below: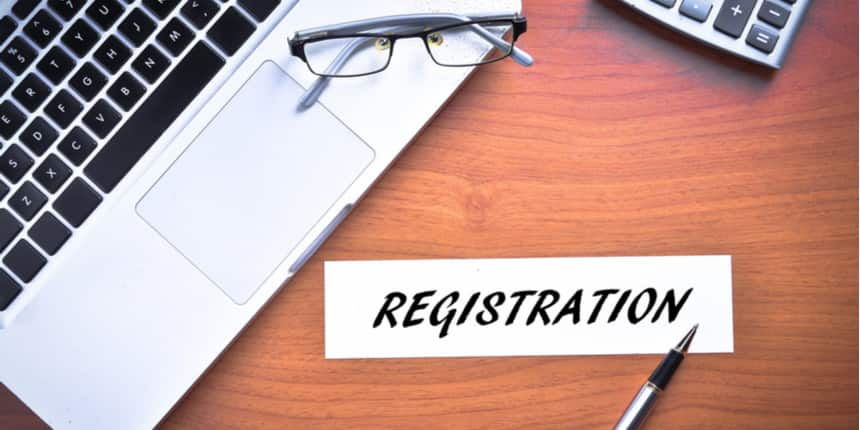 NSEP Registration 2021 Dates
Students can register for NSEP through their schools. Check the table given below to know dates and events for NSEP 2021 registration-
NSEP Application Dates 2021
| | |
| --- | --- |
| Events | Dates |
| Enrollment start date | November 1, 2020 |
| Last date of payment of fee | December 25, 2020 |
| IOQP admit card | January 27, 2021 |
| IAPT Exam date of IOQA & IOQC | February 6, 2021 |
| IAPT Exam date of IOQP & IOQB | February 7, 2021 |
| Display of Marks | March 2021 |
| Declaration of Minimum Admissible Score (MAS) | April 2021 |
| Final list of selected students for INO | April 2021 |
NSEP 2021 Eligibility Criteria
Before moving on to the IOQP registration 2021, it is important to check if you are eligible for the exam or not. Here is the complete eligibility criteria for NSEP 2021:
Must be eligible to hold an Indian passport.

OCI applicants will not be eligible for selection to the Indian team for the International Physics Olympiad.

Students must be born between July 1, 2001, and June 30, 2006, including both days.

The applicant must be living and studying in India since November 30, 2017, or earlier.

Students must not have qualified the class 12 board exam before November 30, 2020.

The applicant must not have started or planning to start studies in a university or equivalent institution by June 1, 2021.

The candidate must not be appearing in NSEJS 2020 too.

A maximum of 10 scholarships will be awarded to encourage students to pursue their careers in physics. Candidates seek admission in B.Sc. (with physics) are eligible for NSEP scholarships.
- Click here to download the notification.
- NSE 2020 brochure has been released. Click here to download.

How to register for NSEP 2021?
To register for NSEP or National Standard Examination in Physics 2021, students will have to contact their respective centres. students can follow the following steps to fill IOQP registration forms:
Step 1: Click on the New Registration link available on the official website.
Step 2: Fill the form with correct details and use capital letters to fill the form where asked.
Step 3: Provide all the information in NSEP 2021 registration form
Step 4: Submit the form to your respective centre along with the exam fee before the last date.
NSEP Registration fee 2021
Students will have to pay the registration fee to the school authorities in order to complete the NSEP registration 2021.

After collecting money from all the candidates, schools will pay the application fee to IAPT.

This is a one-time fee and students who qualify and progress further won't have to pay any fee till the last stage, i.e., International Physics Olympiad.

Fee once paid will not be refunded.
NSEP Registration Fee
Total Fees - Rs. 200/- per student per subject

Students have to submit registration fees online.
Details to be filled in NSEP Registration Form 2021
Students need to fill the below-given details in the IOQP form correctly.
Name of the Student
Class
Gender
Father's Name/ Mother's Name
Date of Birth
Subject
School Name & Address
Student's Postal Address
Snapshot of
NSEP Student Form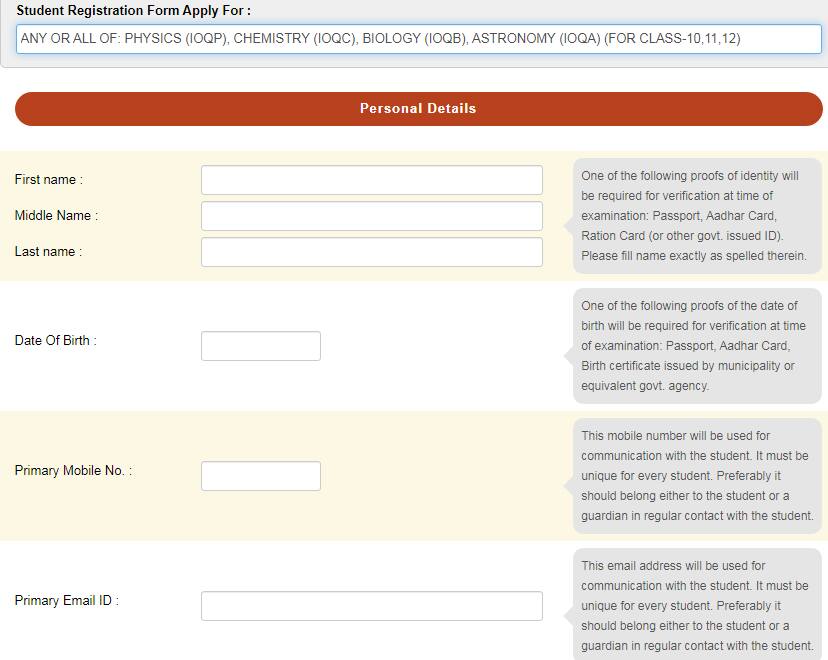 NSEP Admit Card 2021
IAPT has released the admit card of NSEP 2021 for all the applicants on January 27, 2021. Students who completed the IOQP registration 2021 before the last date can download the admit card in online mode.
Indian Association of Physics Teachers (IAPT) prescribes the syllabus of NSEP. The questions can be asked NCERT syllabus up to class 12th. NSEP Exam is conducted to analyze the candidate's Theoretical Skills and Experimental Skills. The syllabus also includes Maths to test a candidate's problem-solving skills. The NSEP syllabus includes topics such as
Electromagnetic Fields

Oscillations and Waves

Dynamics

Mechanics

Measurement techniques and apparatus

Data Analysis

Geometry and stereometry

Approximate and numerical methods etc.
NSEP 2021 Exam Pattern
NSEP 2021 exam is divided into two parts, A1 and A2.

Part A1 will consist of 60 questions of 180 marks and part A2 will comprise of 10 questions of 60 marks.

The total score of NSEP 2021 will be 240 marks.

Students will also be penalized for 1 mark for each wrong answer and for each correct answer, 3 marks will be added to the scores.

The question paper will be available in English, Hindi, Gujarati, Bangla, and others. Students have to select one during NSEP enrollment.
IAPT also releases the previous year's NSEP question papers for the students who are for the NSEP exam. These question papers are helpful for the candidates to analyze their preparation level and know the difficulty level of the exam. Click on the link given above to download NSEP question papers along with the solution.
IAPT will declare the result of NSEP 2021 in March 2021. Students who qualify NSEP will be eligible to appear for Indian National Physics Olympiad (INPhO), which is a qualifying round for Orientation-cum-selection round and further to the 50th International Physics Olympiad (IPhO).
What after NSEP 2021?
NSEP 2021 is the first stage of the five stages till International Physics Olympiad. Read more about all the stages below:
Stage 1: National Standard Examination in Physics 2021 (NSEP) will take place in registered schools all across India. There are approx. 1400 centres and around 20,000 to 60,000 students appear for NSEP every year.
Stage 2: Indian Olympiad Qualifier in Physics (IOQP) will be conducted on February 7, 2021. Approx 300-500 students will be selected from IOQP 2021. This year INPhO will not be conducted.
Stage 3: Orientation-cum-selection Camp will be held at the Homi Bhabha Centre for Science and Research and 35 - 50 students will be selected for further stages in this camp. Applicants will be asked questions based on experimental and theoretical sessions at the camp.
Stage 4: Succeeding Orientation-cum-selection Camp, a Pre-Departure Camp will take place from July to November 2021. Out of the 35-50 students, 4 - 6 students will be selected to go for the next stage of the Olympiad.
Stage 5: The last stage is International Physics Olympiad (IPhO) in which 4 - 6 students will be representing India at the international level. Students who win the gold medal at IPhO have a provision to join the Department of Atomic Energy, an organization directly under the Prime Minister of India, which works to develop nuclear power technology and applications of radiation technologies in the fields of agriculture, medicine, industry and basic research.
Stages of NSEP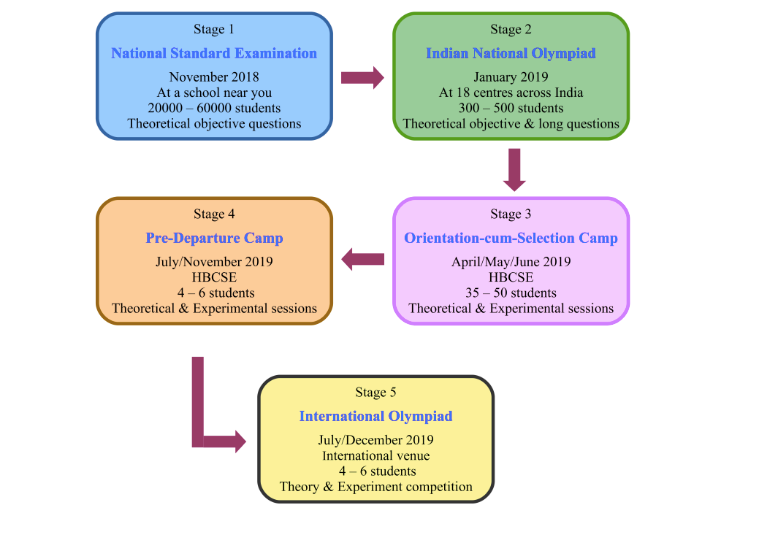 Also, Check -
Frequently Asked Question (FAQs) - NSEP Registration 2021 Started!- Check IAPT NSE Dates, Application Fee Here
Question: Can Open students apply for NSEP 2020-21?
Answer:
No, open school candidates are not eligible for NSEP Exam.
Question: Can I change my exam centre for NSEP 2020?
Answer:
No request for changing the exam centre is allowed.
Question: What is NSEP?
Answer:
NSEP stands for National Standard Examination in Physics, conducted by IAPT.
Question: Is there any negative marking in NSEP?
Answer:
Yes, 1 mark is deducted for each wrong answer.