MBSE HSLC Syllabus 2021 - Check Mizoram Board Class 10th Syllabus Here
MBSE HSLC Syllabus 2021 - Mizoram board has released reduced MBSE Class 10 syllabus 2021 pdf. The Mizoram Board 10th syllabus 2020-21 contains subject-wise topics to be studied for exams. Students preparing for Mizoram Class 10 exams should refer to the latest MBSE HSLC syllabus 2021. After reading the reduced MBSE HSLC 2021 syllabus, students will find it easy to track their preparation. Mizoram Board of School Education syllabus 2021 includes 5 compulsory subjects and an optional subject. Students have an option of choosing a language instead of Mizo. The MBSE HSLC exams 2021 will be conducted from April 1 to 15, 2021. Students can download the Mizoram Board 10th syllabus in PDF format. Read this article to get details of the MBSE HSLC syllabus 2021 for all subjects.
Latest update: MBSE HSLC routine 2021 announced. Check exam dates here!
Click here to access reduced MBSE 10th Syllabus 2021 .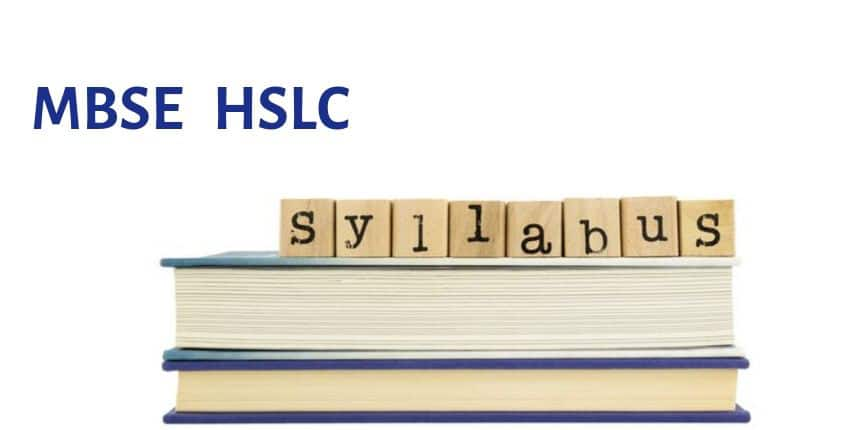 How to download MBSE HSLC Syllabus 2021?
Students should follow the below-mentioned steps to download the Mizoram Board of School Education syllabus 2021pdf without any hassles.
Visit the official website, mbse.edu.in.
Click on 'Academic'.
Select the "Syllabus" option
Now, Click on "Higher School"
MBSE HSLC syllabus 2021 will appear on the screen in PDF format
MBSE 10th Syllabus 2021 Link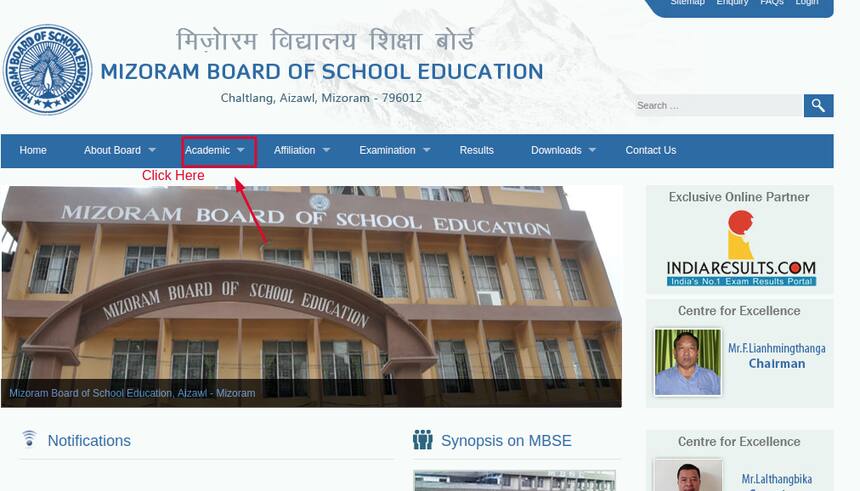 MBSE HSLC Syllabus 2021 for Class 10 Maths
Maths requires practice and continuous preparation. Being a calculation based subject, it is also a time-consuming subject. So, students should prepare themselves to solve the MBSE HSLC Question papers within the exam duration time. Below is the Mizoram board HSLC Syllabus 2021 the chapters and the topics along with the weightage that needs to be studied by the students.
MBSE HSLC Complete Syllabus for Maths
Chapters
Topics
Total Marks
Commercial Mathematics
Instalments payments and Installments buying
08
Time, Distance and Work
Solution of problems based on time, work and distance.
Algebra
Polynomials, Linear Equations in Two Variables, Quadratic Equations, Arithmetic Progression (AP), Sets
21
Geometry
Triangles, Circles, Constructions.
15
Co-ordinate Geometry
concepts of coordinate geometry, including graphs of linear equations, geometrical representation of quadratic polynomials,
Distance between two pairs and section formula (internal). Area of a triangle.
08
Trigonometry
Proving simple identities, Heights and Distances
10
Mensuration
Areas related to Circle, Surface Areas and Volumes,
10
Statics and Probability
Mean, Probability, Pictorial representation of data
08
Total Marks = 80
Also, check NCERT Solutions
MBSE HSLC Syllabus 2021 for Science-
Science is a logical and conceptual subject. Students need to clear all concepts and doubts before appearing in the exam. To prepare the complete MBSE HSLC maths syllabus on time, students must follow the daily class lectures and revise the class notes regularly. Students should also practice calculation and formula-based questions to score good marks in the subject. This subject is divided into two sections - theory & practical, students are required to pass both sections. You can find the Mizoram board Class 10th syllabus here
MBSE HSLC Complete Syllabus 2020-21 for Science (Theory)- 70 marks
Chapters
Topics
Total Marks
Natural Phenomena

Convergence and divergence of light.
Images formed by a concave mirror; related concepts; centre of curvature; principal axis. Optic centre, focus, focal length.
Refraction; laws of refraction.

10
How things work

Effects of current-
Potential, Potential difference, Ohm's law; Series combination of resistors, parallel combination of resistors.
Power: dissipation due to current.
The interrelation between P, V, I and R.
Magnet-
Magnetic field, field lines, field due to a current carrying wire, field due to current carrying coil
or solenoid.
Force on current-carrying conductor.
Fleming's left-hand rule.
Electromagnetic induction.
Induced potential difference.
Induced current.
Direct current.
Alternating current; frequency of AC.
Advantage of AC over DC.
Domestic electric circuits.

10
Materials

Chemical Substances- Nature and behaviour.
Acids, bases and salts-
General properties, examples and uses.
Chemical reactions-
Types of chemical reactions: combination, decomposition, displacement, double
displacement, precipitation, neutralization, oxidation and reduction in terms of gain and loss of oxygen and hydrogen.
Metals and non-metals-
Basic metallurgical processes, Properties of common metals.
Carbon Compounds-
An elementary idea about bonding.
Saturated hydrocarbons, alcohols, carboxylic acids (no preparation, only properties).
Some Important chemical compounds-
Soap-cleansing action of soap.
Periodic classification of elements-
Gradations in properties: Mendeleev periodic table.

23
The World of the Living



Our environment-
Environmental problems, their solutions. Biodegradable, non- biodegradable, Ozone Depletion.
Life Processes: "living" things; the Basic concept of nutrition, respiration, transport and excretion in plants and animals.
Control and Coordination in plants and animals-
Tropic movements in plants; Introduction to plant hormones.
Control and co-ordination in animals: voluntary, involuntary and reflex action nervous system, chemical co-ordination: animal hormones.
Reproduction-
Reproduction in plants and animals. Need for and methods of family planning. Safe sex vs HIV, AIDS. Childbearing and women's health.
Heredity and evolution-
Heredity.
Origin of life: a brief introduction
Basic concepts of evolution.

17
Natural Resources

Conservation of natural resources-
Management of natural resources.
Conservation and judicious use of natural resources.
Forest and wildlife.
Coal and petroleum conservation.
People's participation- Chipko movement.
Legal perspectives in conservation and international scenario.
The Regional environment-
Big dams: advantages and limitations.
Water harvesting.
Sustainability of natural resources.
Sources of energy-
Different forms of energy- fossil fuels,
solar energy, biogas, wind, water and tidal energy.
Nuclear energy.
Renewable versus non - renewable sources.

10
Total marks 70
MBSE HSLC Syllabus 2021 for English-
English is a language subject. Students must read and write English regularly to improve their reading, and grammar skills. Also, you can start practising letter writing, summarization, report writing and essay writing. The details of the Mizoram board Class 10th syllabus are given in the table
MBSE HSLC Complete Syllabus for English
Section
Topics/syllabus
Marks
Reading
A factual passage or a literary passage or a discursive passage of 350-400 words with 3 Short answer Questions, 2 Multiple Choice Questions, 2 Very Short Answer Questions.
10
Writing
Short composition of 50 words limit e.g. Postcard, notice, message writing, poster, reports, invitation, summarisation (Precis Writing) etc
One long composition of 150-200 words e.g. Article, letter writing (Formal/informal), Essay(descriptive/narrative), diary entry, Recoding information etc.
15
Speaking
This will not be tested in a formal examination.


Grammer
verbs, sentence structure, other areas(determiners,pronouns,prepositions,punctuation, synonyms/antonyms,word order in sentence type)
15
Literature
Questions will be asked from coursebook which includes Pros, Poetry, Literature readers.
40
Total marks 80
MBSE HSLC Syllabus 2021 for Social Science-
Social science is a complete theory subject. The sub-division includes history, geography, economics, political science and disaster management. Students should prepare social science by revising the chapters regularly and memorizing important facts and dates. Also, practice map-based questions. Refer to given table for complete Mizoram board Class 10th syllabus
MBSE HSLC Complete Syllabus 2020-21 for Social Science
Unit 1- History- India and Contemporary World
chapters
Marks
Nationalism in Europe
10
Nationalism in India
Age of Industrialisation
10
Making of a Global World
Print Culture and Nationalism
04
Unit 2- Geography; India- Resources and Their Development
Resources and their development
09
Forest and Wildlife resources
Water Resources
Agriculture
04
Unit 3- Political Science; Democratic Politics II
Working of Democracy
05
Power-sharing
Competition and Contestation in Democracy
04
Outcomes of Democracy
Challenges to Democracy
03
Unit 4- Economic: Understanding Economic Development-II
The story of Development.
07
Money and Financial Systems
The Role of Service Sector in Indian Economy
Consumer Awareness
05
Globalisation
Unit 5- Disaster management
Disaster Management
05
Survival Skills
Alternative Communication Systems
Total marks
80
MBSE HSLC Preparation Tips-
First, read the complete MBSE HSLC syllabus 2021 given above. Make sure you understand the course structure, subjects and topics along with their weightage.

Make a fixed study plan on the basis of MBSE HSLC routine 2021 and start your preparation. Work hard on all important chapters because a lot of questions will be asked from these only, so leave no space for any error while preparing.

Complete the entire MBSE HSLC syllabus 2021 at least 1 month before the exam. Students should revise daily whatever they read. Else, they may forget the topics read earlier and all the hard work will go in vain.

After completing the MBSE HSLC syllabus 2021, move towards solving question papers. Solving these will give students a complete overview of exam pattern, marks distribution and difficulty level of papers. Moreover, students will also get to know their weaknesses before the exam so solve all question papers before the exam.
Related Links
Frequently Asked Question (FAQs) - MBSE HSLC Syllabus 2021 - Check Mizoram Board Class 10th Syllabus Here
Question: Can I refer to the MBSE HSLC 2020-21 syllabus for NTSE exam?
Answer:
Yes, students can refer to Mizoram board HSLC syllabus 2021 for NTSE stage 1 exam.
Question: Where can I download reduced MBSE HSLC syllabus 2021 from?
Answer:
Students can download Mizoram board 10th class 2021 syllabus from this page.
Question: What are the changes in Mizoram HSLC syllabus 2021?
Answer:
There are very many changes in MBSE 10th syllabus 2021 as the syllabus has been reduced by 30%. The latest syllabus is available here to download as a pdf file.