How to become a Data Journalist?
How to Become a Data journalist?
Do you enjoy developing stories out of available exclusive statistics? Do you love an engaging audience with your write-ups? Have you ever thought of becoming a data journalist? Read the complete article below to know more about making a career in data journalism. Do you know which country has the largest market for LinkedIn after the US? A report by howindialives.com, a website that thrives on data-driven stories, says India occupies this space with approximately 37 million members! With credible stories, data journalism is all about the presentation of facts, visuals, and investigations over the traditional 'reporting first'. Read further to know "How to become a Data Journalist".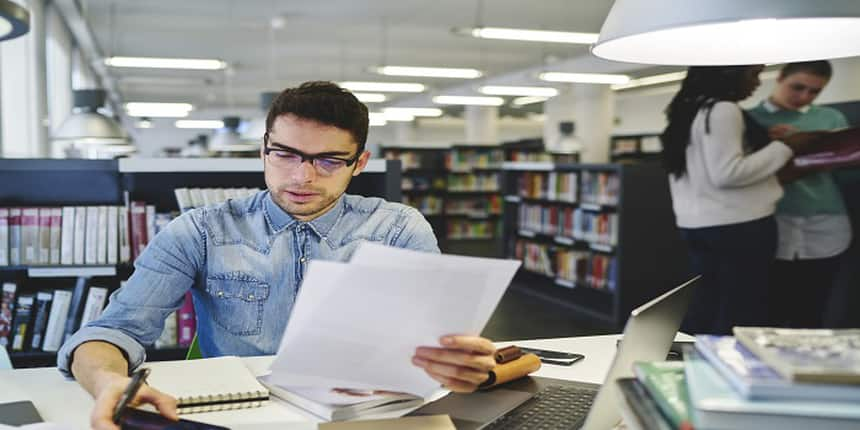 Digital transition in journalism is quite visible with the increasing demand and need for digital platforms. Digital trends in journalism show that websites are experimenting with new ways to increase readability. News contains interactive tools that are more accessible, reliable and foster a culture of impactful stories in unforeseen ways.
Data journalist job description
Data journalism is a combination of keen news sense and using the available data. It refers to developing a story out of the available exclusive statistical sources, analyzing the numbers, structuring them into an informative descriptive story, and making it visually impactful to the readers by incorporating media tools.
Shajan Kumar Shajan Kumar, Assistant Professor, Bennett University, says, "Figures that support facts! A career in data journalism helps you to focus on a point that you want to explain. In today's evolving media, a career in data journalism has an upper hand. Data journalism helps a journalist to tell a complex story using engaging infographics."
Data journalism aids in clarity on complex stories by focusing on the point which needs to be explained. One example of data journalism is a story on the decline of student enrolments in government schools across 20 states between 2011-2016, which was published by Business Standard. It was information which was based out of research and it had a huge impact on this problem.
Data journalism scope
These days news stories are flowing from multiple sources and through several mediums. The issue is that the stories do not have any credibility and there is zero filtration. This results in fake news. This is where data journalism plays a crucial role. Using data is a way to ensure that there is authentication in the stories.
Nick Routley, Director and Data Journalist at Visual Capitalist, says, "With the recent proliferation of fake news across the globe, people are looking for reliable information. Articles anchored by credible data sources are trustworthy sources of information for the public."
The social generation needs information which is short, more visual and backed with data. Using data as a tool to present compelling stories, data journalism caters to the needs of such readers. To be at par with the constantly evolving social media trends, journalism should focus on presenting developing stories rather than reporting first.
Pioneers such as The Guardian, The New York Times are constantly revolutionizing data journalism with their data-driven stories. One of the prominent examples of a revolution in data journalism in India is Mumbai based independent non-profit website, IndiaSpend. Founded in 2011, it describes itself as 'India's first data journalism initiative'.
One such data-driven story was the content analysis of English media by IndiaSpend which stated that Muslims were the target of 52 percent of violence on bovine issues for nearly eight years (2010 to 2017). Another breakthrough data story was by The Hindu, which presented that DMK, AIADMK, TDP make up more than 60 percent of all regional parties' earnings.
A career as a data journalist is moving towards becoming a vital component of 'reporting' in the era of digital media.
Data Journalist Interview
Subhomoy Bhattacharjee

Consulting Editor, Business Standard

Presenting valuable story by analyzing numbers

Careers360: What is data journalism, it needs and across what sectors can it be effective?

Subhomoy: People typically understand data journalism where there is a massive role of numbers, whereas, it is quality information about numbers and analysis from various sources driven towards a story. Until now, such analysis or data-driven reports were limited to the generation of business reports. Gradually what has happened is that people have started demanding more facts and opinions from relevant sources, hence the need for data journalism.

Today, we need data journalism across all beats. It all depends on the creativity of the journalists, how, when and where they use data to present a story. Data in a story can come in any place and in any form, it is only a question of creativity.

Careers360: In France, 56 percent of newsrooms have a data journalist, followed by Germany with 52 percent. Despite its huge growth, data journalism in India still faces challenges. Why is it so?

Subhomoy: If you crawl the database, it would not tell you the exact number of data journalists in any newspaper or channel. The reason for this is that very few of such channels maintain a database/identity set. So a journalist reporting for the medical sector will be doing all data related stories for that beat, but will that person be qualified as a data journalist? This is the reason numbers in India particularly do not show because there is no classification of data journalists either in newspapers or television newsrooms. It is not that we don't have any; it is just that there is no categorization. This is one problem that comes up in getting comparable data for the reports.

There is a good percentage of journalists in India who work on data-based reporting. We have adapted to the changing global journalistic trends, and are coming up with a good number of data related stories. But that said, we also need journalists who can analyze numbers in a way to present valuable story out of it.

Careers360: What are the challenges and opportunities in data journalism?

Subhomoy: Despite the huge jump, what we lack is the quality of reporting and the weak internal housekeeping of the data within newspapers and channels. These are the core challenges.

Journalists here have neither focused on data analysis nor have they practiced it. Every reporter is expected to do investigative journalism, additional to the regular reporting. There is no division as such as to who specifically deals with leads, investigations, data and related stories. This is the gap we need to bridge. Regarding the opportunities in data journalism, there is more than ample.

What we need is skills training and focus on quality rather than quantity; this is how we can break this next big thing – with a career in data journalism.
How to enter in data journalism?
From an economic boom to the financial crisis, political exposure and other similar topics, there is a wide range of topics for data journalism. What you require is creativity and how to use data to present a good study.
All a journalist needs is an art of analyzing data for stories. The idea is to be able to cut through the noise of reporting first and quantity, determine what people really need to know. Nick Routley further adds, "Having a basic knowledge of how statistics work, being able to assess white-paper and report methodologies, and a sense of where to find reliable data-sets are all good skills to manage your way in data journalism."
Shajan Kumar adds, "Learning the art and science of data analysis will make our journalists understand the data points in a user-friendly manner".
Data Journalist

Skills
One must not only have experience in news and editorial department but also have a knack for statistics and media tools. An important skill is the ability to question, visualize and analyze the numbers. This helps data journalists to uncover hidden facts and report them to the readers.
Basically, a learner with capabilities to tackle complex stats in the understandable, visually appealing way; similar to what journalism is.
Skills required
Ability to perform research

Breaking news and developing stories

Researching and analyzing valuable data for features, reports, and events

Using data trends a basis for news stories

Identifying new data sources and trends

Creating 'follow up' and analysis pieces using fresh data
Data Journalism- Challenges and opportunities
According to a global survey report by Google News Lab and PolicyViz, 42 percent of journalists said they use data regularly to tell stories, and 51 percent of news organizations have a dedicated data journalist on their staff. Despite its huge growth, a career in data journalism in India still faces challenges. Explaining one of the reasons for such disparity, Subhomoy Bhattacharjee, Consulting Editor of Business Standard, explains, "The core challenge is the weak internal housekeeping of data within newspapers and channels. Journalists here have neither studied data analysis nor do they practice it. This is the gap we need to bridge."
Adding to the challenges, Shajan Kumar says, "India's journalism practices have been totally different. We love to emotionalize news. Facts and figures come in very late! Data science needs to be studied seriously by all journalism students." Some of the most compelling articles have been driven by data. And with skilled training and resources, the challenges can be turned into opportunities. With more adaptation of data journalism in the country, the workflow will boost the reader's credibility will increase, and fake news will diminish.
Data Journalist salary
The average salary offered to data journalist ranges from Rs 119,080 - Rs 836,614
An entry-level Journalist with less than 5 years of experience can earn an average of Rs 310,000

Mid-career experience data journalist with 5 to 10 years of experience can earn an average compensation of Rs 500,000

An experienced Journalist having 10 to 20 years of experience can earn an average total compensation of Rs 610,000