How to study Engineering after 12th
How to study Engineering after 12 – Engineering is the art of applying scientific and mathematical principles, experience, judgment, and common sense to make things that benefit people. Engineering is the process of producing a technical product or system to meet a specific need. A career as an engineer can be very challenging and exciting. There are different domains in which an engineer aspirant can choose to make his/her career. A few of them are chemical engineering, civil engineering, mechanical engineering, industrial engineering, electrical engineering, aerospace engineering, biomedical engineering etc. To begin with, a student studying in school needs to select Science with Mathematics or PCM in Class 11 and 12. Mathematics is a very important subject to make a career as an engineer for its use in Physics. In many cases, engineers optimize by varying the parameters in a physics-based model. Mathematics is one tool in taking engineering to the edge of economic and technical performance. This article on How to study engineering after 12 can be your guide to making a successful career as an engineer.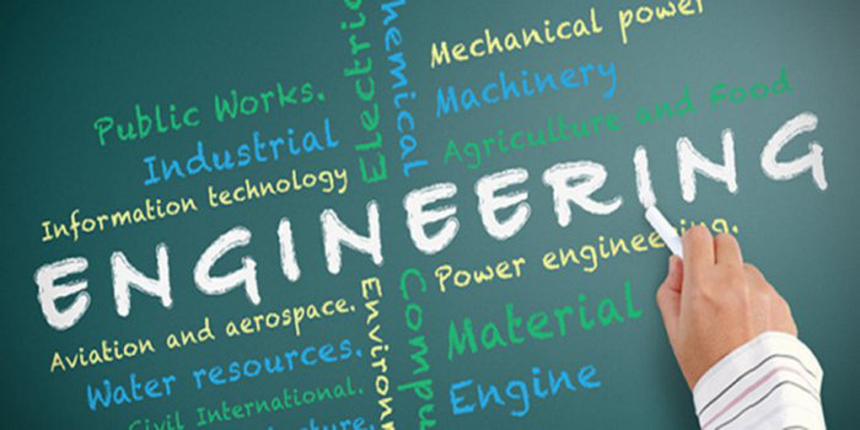 How to study Engineering after 12 – Undergraduate Engineering Programmes
B.E. (Bachelors in Engineering) and B.Tech (Bachelors in Technology) are the two 4-year undergraduate engineering programmes one can apply to after completing class 12. Many colleges/universities of India offers B.Tech and B.E programmes in various disciplines. A few of them are listed below:
Computer Science and Engineering

Information Technology

Electronics and Communication Engineering

Electrical Engineering

Mechanical Engineering

Civil Engineering

Petroleum Engineering

Chemical Engineering

Aerospace Engineering

Industrial Engineering

Aeronautical Engineering 
To get admission in B.E or B.Tech programme, a student will be required to clear entrance exam. JEE (Joint Entrance Examination) MAIN is the national level entrance exam for engineering to get into top engineering colleges of India. There are other state level and university level exams too. To get admission into IITs, one would require to clear next level of JEE, i.e JEE Advanced. Some of the top institutes providing programmes in engineering are mentioned below. After the entrance exam is held, various counselling sessions are conducted for candidates who have cleared the entrance exam for admissions to various UG programmes.
Where to study Engineering after 12? - Top Engineering Institutes
| | |
| --- | --- |
| Institute | Intake Exam |
| Birla Institute of Technology, Mesra | |
| Indian Institute of Technology (IITs) | |
| Birla Institute of Technology and Science, Pilani | |
| Jadavpur University | |
| Govt. Engineering College, Painavu, Idukki | |
| Delhi Technological University, Delhi | JEE Main |
JEE Main
Joint Entrance Exam (JEE) Main is the national level undergraduate engineering entrance exam conducted by Central Board of Secondary Education for admission to BTech/BE programmes in 31 NITs, 23 IIITs and 22 CFTIs. JEE Main also acts as the first stage or preliminary exam for admission to 23 IITs including ISM Dhanbad. Along with NITs, IIITs and various centrally funded technical institutuions (GFTIs), some private universities consider the score of JEE Main for admission to their UG engineering courses. Around 12 lakh candidates appear for JEE Main every year. CBSE conducts the entrance test both in online (computer based test) and Offline (Pen & Paper based test) mode. It is conducted in the month of April every year. 
JEE Advanced
Joint Entrance Examination Advanced (JEE Advanced) is a national level engineering entrance exam conducted by seven zonal Indian Institutes of Technology (IITs) under the guidance of Joint Admission Board (JAB) every year, for admissions to 23 Indian Institutes of Technology (IITs). JEE Advanced is the second stage of JEE and is conducted for top 2,24,000 rank holders of JEE Main. A candidate can attempt this exam a maximum of two times and that too in consecutive years. The national level entrance test is being conducted in online mode from 2017. JEE Advanced is the gateway for admissions to 10,988 seats at the IITs. It is conducted in the month of May every year. 
BITSAT
BITSAT is conducted annually in the month of May in online mode by Birla Institute of Technology and Science (BITS) for granting admissions to various Integrated First Degree Programmes of Engineering in the university. Nearly 2 lakh candidates appear for BITSAT every year and compete for around 2,000 seats available in various BE (Hons.) programmes offered across three campuses of BITS - Pilani, Goa and Hyderabad. This national level engineering entrance exam is conducted across various exam cities in India and Dubai. 
WBJEE
West Bengal Joint Entrance Examinations (WBJEE) Board conducts WBJEE, a state level undergraduate engineering entrance exam conducted every year for admission to 9 government and 94 private engineering colleges/universities of West Bengal. Approximately 1.27 lakh candidates appear for WBJEE every year for admission to 37 B.Tech programmes. The Board conducts the 4 hour duration test in offline mode across various centres in West Bengal, Tripura and Assam. 
KEAM
Kerala Engineering Agriculture Medical Entrance Examination (KEAM) is a state level entrance exam for admissions to Engineering, Agriculture and Medical programmes across the colleges/institutes of the state. There are 2 programmes conducted for B. Tech programmes - Paper 1 for Physics & Chemistry and Paper 2 for Mathematics. The offline exam is conducted in the month of April. 
Masters in Engineering
Personally, I believe that candidates shall pursue M.Tech after gaining some work experience. At that stage, they will have a better idea about where they want to take their career and how to go about achieving goals. Candidates can pursue postgraduate in Engineering by pursuing M.E (Masters in Engineering) or M.Tech (Masters in technology). Few colleges for pursuing post-graduation in engineering are listed below.
Colleges offering M.E/M.Tech
| | |
| --- | --- |
| College/Institute | Intake Exam |
| IITs | |
| | |
| | GATE |
GATE
Graduate Aptitude Test in Engineering (GATE) is conducted jointly by Indian Institute of Science (IISc), Bangalore and seven IITs. GATE for PG admissions to Engineering/ Technology/ Architecture and Science programmes offered across IITs, NITs and other leading centrally funded institutes in addition to many state universities as well as private universities. An increasing number of PSUs use GATE scores for recruitment. The three hour duration exam is held in the month of February every year. 
TANCET
Tamil Nadu Common Entrance Test (TANCET) is conducted by Anna University for the admissions to M.Tech and M.E programmes in the various colleges in Tamil Nadu. The exam which is held in offline mode is conducted in the month of May every year. 
Career Opportunities for those who study Engineering after 12
Engineering is a vast and varied industry and an in-demand profession. Engineers will find many opportunities all over India and the world. A few of the career opportunities for engineers are:
Aerospace engineer

Automotive engineer

Contracting civil engineer

Control and instrumentation engineer

Maintenance engineer

Mechanical engineer

Nuclear engineer

Agricultural engineer

Biomedical engineer

Civil engineer

Computer engineer

Electrical engineer

Drafting & Design engineer

Environmental engineer

Geological engineer

Marine engineer

Petroleum engineer and many more... 
Thus, studying engineering after 12 can lead to exciting career prospects and earning top salaries across a wide range of industries. A challenging but rewarding career, engineers have the opportunity to make a huge difference to the lives of individuals and society as a whole.