CGBSE 10th Preparation Tips 2021 - Check Subject Wise Tips & Tricks
CGBSE 10th Preparation Tips 2021 - Students appearing in Chhattisgarh Board Class 10 exam must know the preparation tips. These CGBSE Board 10th preparation tips 2021 will help students in clearing the exam with flying colours. Class 10 exams play a crucial role in deciding the career of a student. The marks obtained in the CGBSE 10th exam will decide the stream for class 11. These CGBSE 10th preparation tips 2021 will be beneficial for academic as well as competitive examination. While preparing for the exams, students should know the complete syllabus of CGBSE. It is important to follow the prescribed books by the board only. Another important CGBSE 10th preparation tip for 2021 is to keep calm and healthy. Do not overburden yourself with studies, take proper breaks during preparation. Keep yourself away from distractions like social media to concentrate better. Check all the CG Board 10th preparation tips.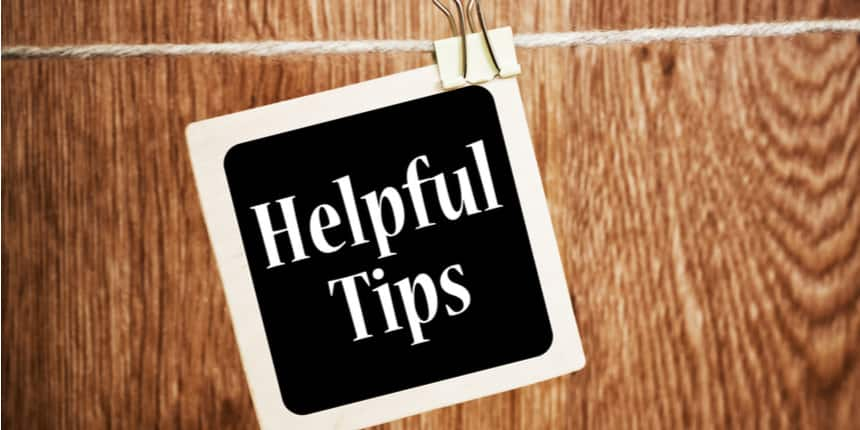 Know the Syllabus and Exam Pattern
It is important for the students to know what they are going to study in an academic year. Go through the CGBSE 10th Syllabus 2021 for all subjects and strategize your preparation. Check all the important topics and mark them specifically. Apart from this, check the examination pattern to have a better understanding of the subjects. This way you will get to know which topics and sub-topics you need to focus more.
Prepare a Time Table
Planning is among the most essential factors to crack the exam. Decide how much time you want to dedicate to each subject and plan your study schedule accordingly. Do not miss subjects like English, Hindi. The marks obtained in these subjects will improve your aggregate marks. Hence give equal time to these subjects along with the subjects like Science and Maths. Take short breaks in between and relax in the break time. Try to learn the concepts behind every topic. Most importantly, do not try to cover everything in one go. Also, follow the books prescribed by the board only.
Self Assessment
Take regular tests while preparing for the exam. Most of the students ignore this CGBSE 10th preparation tips 2021 but it is important to self assess while preparing. Solve CGBSE 10th question papers 2021 to check your preparation level. At the initial level, solve at least one question paper in a week. Later solve one question paper or sample paper daily. Check your strengths and weaknesses, and work on them.
Revision
Another important CGBSE class 10th Preparation tip is to Finish the complete syllabus at least two months before the examination. Afterwards, give all your time to revise the syllabus. Do not cover any new topic or refer to other reference books during revision. Focus on your weaknesses during revision and cover them by practising more. Give an approximate 6 hours daily for revision. Revision is necessary to score good marks in the CGBSE 10th Result 2021.
Subject wise CGBSE 10th Preparation Tips 2021
Every subject demands a different level of approach for preparations. Henceforth, for the ease of students, here we are providing CGBSE 10th preparation tips 2021 for major subjects. Implement these preparation tips during studies to make the best use of your time.
CGBSE 10th Preparation Tips 2021 for Maths
Make a separate notebook for important formulas and keep revising them whenever you get spare time.

Solve each and every problem given in your textbook along. At times questions have been asked directly from the course books with just minute changes in the numerical values.

Practice is the key to excel in this subject. So practice questions on a daily basis.
CGBSE 10th Preparation Tips 2021 for Science
Chapters of Physics and Chemistry are concept-based and questions asked from these subjects will be either conceptual or numerical. Hence, prepare all the laws, formulas, equations and diagrams and practice the questions related to the topics.

To prepare for the Biology section, one needs to focus on diagrams. Learn the terminology and concepts with the help of diagrams.

Make flow diagrams for important topics and do not to mug up any topic, instead learn the facts and concepts behind it.
CGBSE 10th Preparation Tips 2021 for Social Science
The easiest way to prepare for the History section is to make a flowchart for all the dates and events. Go through these flow charts every now and then. This way you can easily recognise the events of History.

To prepare for the Geography section, practice maps alongside the theoretical part. Map work does contain some weightage in the exam, hence do not neglect it.

Make quick notes for all the important topics of Social Science.
CGBSE 10th Preparation Tips 2021 for English
Read at least one paragraph from the English newspaper to develop the habit of reading. This habit will be helpful in the reading section.

Practice writing sections regularly. Analyse your answers and try to improvise in every other answer. Aske teachers or seniors make an ideal format for letter writing, articles, and other questions of the writing section.

For English literature section, practice all the questions provided at the end of chapters and poems. Also, take help from the class notes to prepare for the literature.
Frequently Asked Question (FAQs) - CGBSE 10th Preparation Tips 2021 - Check Subject Wise Tips & Tricks
Question: How can I prepare for the CGBSE 10th exam in the last 15 days?
Answer:
In the last 15 days, practice sample papers daily and revise all the important topics only.
Question: How many hours do I need to study daily to Score 90 per cent in the exams?
Answer:
Study for at least 6 to 8 hours daily with a proper schedule to score 90 percent.
Question: What is the benefit of practising sample papers of CGBSE Class 10?
Answer:
With regular practice from the sample papers, your time and efficiency to write the answers will increase.
Questions related to CGBSE 10th
Showing 1 out of 1 Questions
41 Views
for scoring high Marks use of Prabodh or navbodh parksha saar is usefull
Both are good. Basically it depends on you the way you are going to make it worth for yourself. If you dedicatedly study from any of those, you can score well and there are many who complete both as well. So try to be the second person. Or doing only 1 but thoroughly will also help.
Thankyoj.