NBSE HSLC Routine 2021 - Check Nagaland Board 10th Date Sheet Here
NBSE HSLC Routine 2021- Nagaland Board of Secondary Education will release the NBSE HSLC date sheet 2021 in the month of December. The NBSE HSLC routine 2021 will be released in online mode on the official website nbsenagaland.com. The NBSE routine 2021 Class 10 will comprise of exam dates for each subject along with exam timings, and other important instructions. The NBSE HSLC examination 2021 will tentatively be conducted from February 15 to February 26, 2021. Students appearing the NBSE Class 10 exams must complete their syllabus before releasing the NBSE HSLC routine 2021. Having a good understanding of all the details of NBSE HSLC exam routine 2021 significantly helps students in preparing for the exam. Read the complete article to know the exam dates of the main exam, supplementary exam dates, preparation tips, and other details.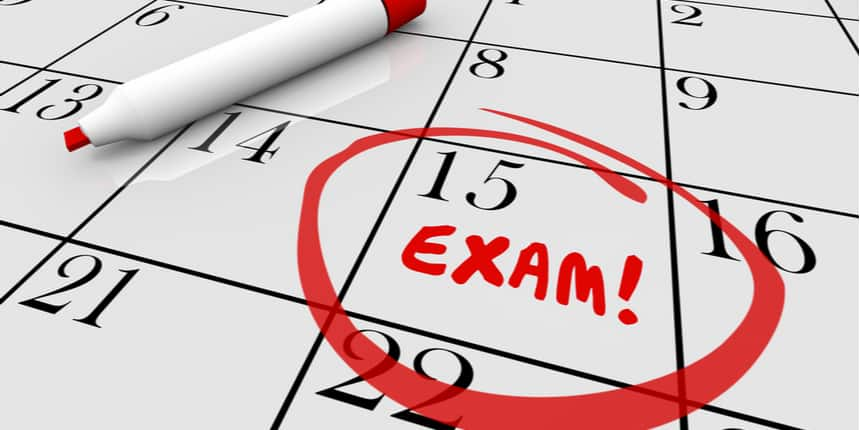 NBSE HSLC Routine 2021
The expected dates of NBSE HSLC exam routine 2021 is given in the table below. The exact dates will be updated as soon as the date sheet will release.
NBSE HSLC Date Sheet 2021
Day & Date

Subject

Time

February 15, 2021

Social Science

9:00am - 12:00pm

February 17, 2021

Mathematics

9:00am - 12:00pm

February 19, 2021

Second Language

(Hindi/ Alternative English/ Sumi/ Lotha/ Tenyidie/ Ao/ Bengali)

9:00am - 12:00pm

February 22, 2021

English

9:00am - 12:00pm

February 24, 2021

Science

9:00am - 12:00pm

February 26, 2021

Sixth Subject

(Foundation of Information Technology/ Music/ Home Science/ Book Keeping & Accountancy/ Environmental Education)

9:00am - 12:00pm

February 26, 2021

Vocational Subjects

(Information Technology Enabled Services/ Travel & Tourism/ Retail/ Healthcare)

9:00 am- 11:00 am
NBSE HSLC Routine 2021 for Supplementary Exams
It has been observed that each year, a large number of students appear for the supplementary exam. NBSE conducts HSLC supplementary examination every year. The application form for supply exams will be released after the declaration of NBSE HSLC result 2021. To apply for the supplementary exams, students have to pay the fees of Rs. 350 per subject. Below is the estimated NBSE Class 10 Routine 2021 for supplementary exams
NBSE HSLC Supplementary date sheet 2021
| | |
| --- | --- |
| Particulars | Dates (Tentative) |
| Application form submission starting date | First week of May 2021 |
| Last Day To Submit Forms | Second week of May 2021 |
| Commencement Of Examination | May 29, 2021 - June 4, 2021 |
| Declaration Of Results | June 27, 2021 |
How to download NBSE HSLC Routine 2021?
Follow the steps mentioned below to download the NBSE HSLC 2021 routine online.
Step 1 - Visit the official website of Nagaland Board i.e.nbsenagaland.com.
Step 2 - In the recent notification section, click on the HSLC exam routine 2021 link.
Step 3 - The routine will be displayed on your screens.
Step 4 - Click on the download button and save the routine for further reference.
Important Guidelines For NBSE HSLC Supplementary Examination
There are some important guidelines that any student appearing for the NBSE HSLC supplementary examination must be aware of. The guidelines are released after the announcement of NBSE HSLC result. Below is a list of information or guidelines.
Any candidate who appears for the HSLC examination and secure "needs improvement" grades in three or fewer subjects can appear for NBSE HSLC supplementary examination.

Any candidate absent in a subject at the HSLC examination is not eligible for a subject at the NBSE HSLC supplementary examination.

Students eligible for supplementary examination have to contact their schools or HSLC exam centre for filling their forms. The board will not accept the forms directly.

Students who will be unable to clear the supplementary examination will have to reappear for all subjects in the main HSLC examination next year.
NBSE HSLC Preparation Tips 2021
First, go through the complete syllabus before starting the preparation. It is quite important to know what you are going to study in the whole academic year and then start your preparation.

While going through the syllabus, mark all the important chapters and topics which have high weightage. Pay some extra attention to these topics.

Make handwritten notes for each chapter. While preparing for Science and Social Science, make a note of all the definitions and important information which you need for last-minute preparations.

It is highly recommended to cover up your entire syllabus before the release of NBSE HSLC routine 2021

Solve NBSE HSLC question papers regularly. This way, you will get to know about the important topics, marking scheme and so many other factors which will help in your preparations.
NBSE HSLC Exam Day Instructions
One of the most important things to remember is to not read any new topic right before the examination. Just revise whatever you have studied till date.

Go through your NBSE HSLC routine 2021 carefully and check the examination timings and other important information.

Take a printout of the admit card and cross-check all the details given in it.

Make sure you have all important documents and other stuff like pens, pencils, etc with you.

While attempting the question paper, do not be in a hurry and read the questions very carefully before answering them.
Frequently Asked Question (FAQs) - NBSE HSLC Routine 2021 - Check Nagaland Board 10th Date Sheet Here
Question: What is the expected date of NBSE HSLC exams 2021?
Answer:
The exams are expected to be conducted from February 15 to 26, 2021.
Question: When will the NBSE routine be released?
Answer:
The routine will be released in December 2020.
Question: What should I do if I will not get satisfactory marks in the NBSE HSLC exams?
Answer:
You can apply for revaluation or if you have failed in one or more subjects, then you can appear in the supplementary exams.
Latest Articles
Nagaland Board Result 2020 Date - NBSE will declare class 10 a...
04 Mar 2020