KVPY 2020 Topper Interview - Rishit Shrivastava (SX, AIR 2) - Check here
KVPY Topper Interview - Rishit Shrivastava (SX, AIR 2) - Students who are planning to appear for the upcoming KVPY 2021 exam can check the tips and tricks by the topper. Rishit Shrivastava, KVPY 2020-21 topper (SX, AIR 2) gives insights to his strategies to prepare for the KVPY exam. Sharing his experience with Careers360, Rishit said "In my opinion, Mathematics was the toughest and Chemistry was the easiest subject in the KVPY exam". Let us know the secret behind the KVPY 2020-21 topper's success.'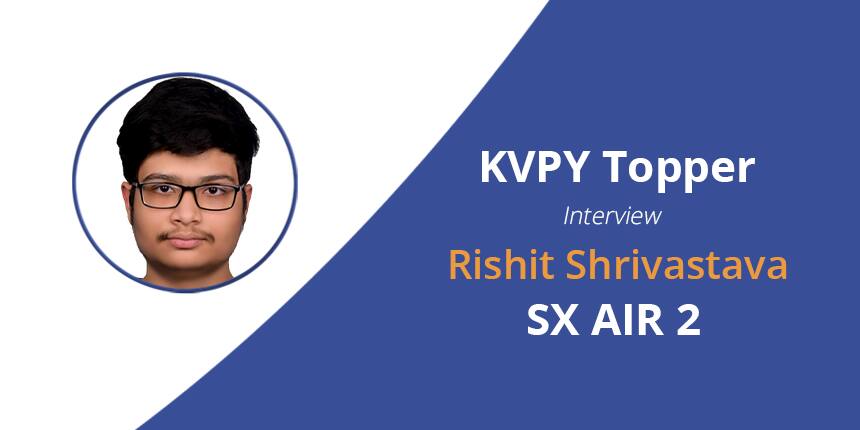 Also check - KVPY Toppers List
KVPY Topper Interview - Rishit Shrivastava
Students can check out the best preparation tips for the KVPY 2021 exam by going through the following questions and answers by the topper himself.
Q. Firstly, congratulations on your performance in the KVPY 2020 exam! What was your reaction upon knowing your result?
A. Thanks a lot, I was very happy after knowing the result. I was expecting a rank in top 10.
Q. Tell us something about yourself like school, education, etc.
A. I am a student of DDPS, Kota and currently preparing for JEE Advanced.
Check the best KVPY preparation tips 2021
Q. When did you first hear about the KVPY exam?
A. I was knowing about it since my early school days as it is a very prestigious exam. I also appeared for the KVPY exam in Class 11 and secured AIR 27.
Q. Tell us something about your daily schedule and KVPY exam preparation strategy.
A. My daily schedule includes attending classes in the morning. After that, I prepare for the board and JEE exam. I also play badminton almost everyday. In my understanding, KVPY does not require any special preparation if someone is already preparing for the JEE Advanced. I focussed more on concepts and solved higher difficulty level problems of JEE Advanced and of National and International Olympiads.
Also, check KVPY Scholarship
Q. How did COVID-19 pandemic affect your preparation?
A. It had no major impact on my preparation as my online classes and as well as regular exams started in April itself.
Q. Did you take coaching for KVPY and if yes from where? What are the benefits of coaching as per you?
A. I joined Allen Careers Institute in Class 10. Coaching provides a very competitive peer group and highly qualified faculties which helped me to build confidence and conceptual clarity.
Q. Which books did you prefer for the KVPY and is there any particular subject you are more inclined towards?
A. I did nothing special for KVPY other than my JEE Advanced preparation.
Q. Did you practise previous year papers and sample papers for the KVPY exam preparation?
A. Yes, I solved a few previous year's sample papers before appearing for the KVPY exam.
Q. In your opinion, which was the easiest and the toughest subject in KVPY 2020?
A. In my opinion, Mathematics was the toughest and Chemistry was the easiest subject.
Q. What are your future goals?
A. Currently, I want to secure a rank in the top 20 in JEE Advanced and study Computer Science at IIT Bombay.
Q. Did you appear or plan to appear for any entrance exam?
A. Yes, I appeared in JEE Main and will write JEE Advanced in July 2021.
Q. Any message or advice for future KVPY aspirants?
A. Focus more on concept building.
Questions related to KVPY
Showing 980 out of 980 Questions