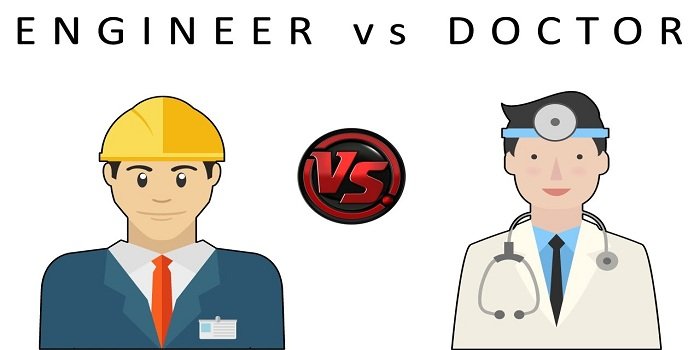 Engineering vs Medical: Which is better? - Choosing a career path after completing school in Science stream is the most mind boggling decision one has to take. With Engineering and Medical being the two most sought careers in India, it becomes difficult settling for one without proper information. With an array of new careers emerging out from engineering and medical stream, the confusion further rises. This article will help one make a choice between a career in engineering or medical by understanding the aptitude, academic career path and job prospects. Read the complete article to gain clarity on engineering vs medical: which is better?
Engineering vs Medical
Given below are the traits/skills students must possess in order to be able to select whether to go for Engineering or Medical.
Why Engineering?
If you're a problem solver and love to come out with a unique solution, love to apply scientific theory while providing solutions to people and have a curious/creative mind, then career as an engineer is just right for you. But beware, completing B.Tech or any other engineering programme does not bring an end to learning. Engineers must learn continuously and come up with new and innovative solutions to existing problems.
Why Medical?
If spending all day deep in the world of science and getting to help people along the way sounds like the perfect career for you, majoring in medicine may be the right fit. One must have patience and problem-solving skills. Those who choose the medical field must also possess the ability to work well under pressure. Since, one is responsible for the good health and life here, those with a laid-back attitude and procrastination approach must not choose this field.
Academic Path in Engineering
To make a career as an engineer, one must opt for science stream (PCM) at +2 level in school and then appear for various engineering entrance exams like JEE Main, JEE Advanced, GATE, BITSAT, VITEEE etc. After clearing the written exam, candidates will be required to appear for counselling. Upon clearing the 4-year duration programmes- B.Tech/B.E programme, candidates can go for higher studies if they are interested to pursue Masters degree in this field. One has the option to purse M.Tech after B.Tech. Master of Technology (M.Tech) is the advancement in this field through which one is specialized in a particular area. Some candidates also choose MBA after B.Tech. One can also opt teaching field and become a professor after M.Tech.
Academic Path in Medical Field
To make a career in the medical field, one must choose Science stream in class 11th and 12th (PCB). After school, one can appear for NEET, AIIMS, JIPMER etc to pursue MBBS thereafter. In India, MBBS is of 5.5-year duration. Apart from MBBS, students can opt various other programmes in Geriatric medicine, Obstetrics and Gynaecology, Radio-diagnosis and many more.
Job Prospects in Engineering vs Medical
 Job prospects and salary is another factor which students need to consider before finally deciding on engineering or medical. Read below to know more.
Job Prospects in Engineering
Engineers can work in profiles such as Software Engineer, Testing Engineer, System Analyst, Technical Support Engineer. After the completion of the programme, an individual can earn an average package of Rs.2 to 4.5 Lacs. Some of the major recruiters for B.Tech. Computer Science course are software giants like Infosys, TCS, and Accenture etc.
Job Prospects in Medical Field
Making a career in medicine is not limited to becoming a doctor. The other sought-after courses in medical field after class 12 are:
Optometry

Medical Laboratory Technology

Dialysis Therapy Technology

Health Information Management

Audiology & Speech Language Pathology

Medical Radiology and Imaging Technology

Operation Theatre Technology

Physiotherapy

Radiotherapy Technology

Nutrition & Dietetics

Biomedical Engineer

Biotechnologist
The initial salary of a person in medical field ranges between 3 lakh to 8 lakh. The salary increases manifold with experience.
Thus, students must keep in mind their aptitude before selecting a field of career. Job prospects and salary also affect the selection of the study field. Those who do not wish to study for many years after school may go ahead and choose engineering.