TBSE Madhyamik Syllabus 2021 for All Subjects
TBSE Madhyamik Syllabus 2021 - Tripura Board (TBSE) has released the detailed TBSE 10th syllabus 2021 for Maths, Science, Social Science and other subjects. Tripura Board Madhyamik syllabus 2021 is available online on tbse.tripura.gov.in. Alternatively, students can download the TBSE Class 10 syllabus 2021 pdf in this article for starting their preparation.
TBSE 10th exams have been postponed until further notices. The new Tripura Board 10th time table will be released soon.
Syllabus Link: Click here to download pdf
Along with TBSE Madhyamik 2021 syllabus, the topic-wise marks distribution is provided. Having details of the TBSE 10th syllabus 2021 and marks distribution allows students to ensure that they are not missing any important topic. TBSE 10th exams were all set to be conducted from May 19 to June 4, 2021. However, the exams have been postponed now. Try to complete the TBSE Madhyamik syllabus 2021 at least a month before the exam and start solving TBSE Madhyamik question papers. Keep reading to know the detailed TBSE Madhyamik syllabus 2021 along with the topic-wise marks distribution for each subject.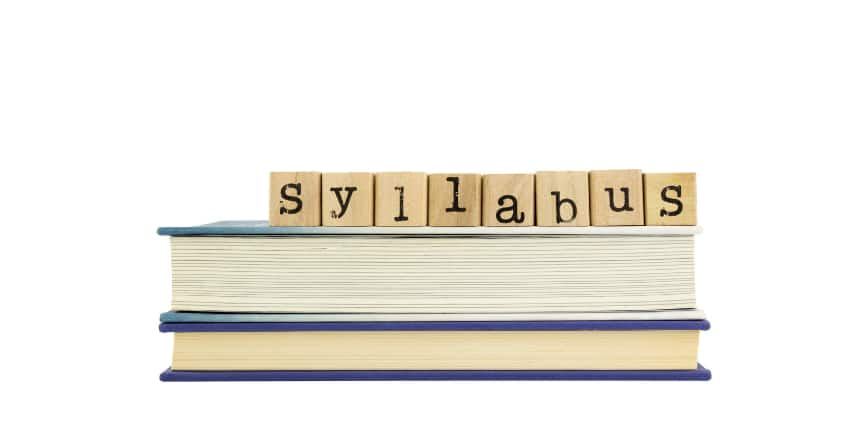 TBSE Madhyamik Syllabus 2021 for English
The English language is one of the most important languages as it is one of the most spoken languages in the world. Having good English language skills benefits a person and provides various opportunities. Below is the table stating the TBSE Madhyamik syllabus and the unit-wise marks distribution for class 10th examination.
Also, check TBSE Madhyamik result 2021
TBSE Madhyamik English Syllabus 2021
Section
Section Name
Marks
A
Reading Skills
20
B
Writing Skills with Grammar
30
C
Literature Textbooks and Supplementary Reading Text
30
Total
80
TBSE Madhyamik Syllabus 2021 for Mathematics
Mathematics is a subject that consists of various formulas and it includes the study of topics such as arithmetic, algebra, geometry, and trigonometry. When it comes to mathematics, practice is the key to success. The table below lists the units, sections covered and the unit-wise marks distribution for TBSE madhyamik exam.
TBSE Madhyamik Maths Syllabus 2021
| | | |
| --- | --- | --- |
| Unit | Unit Name | Marks |
| 1 | NUMBER SYSTEMS | 6 |
| 2 | ALGEBRA | 20 |
| 3 | COORDINATE GEOMETRY | 6 |
| 4 | GEOMETRY | 15 |
| 5 | TRIGONOMETRY | 12 |
| 6 | MENSURATION | 10 |
| 7 | STATISTICS & PROBABILITY | 11 |
TBSE Madhyamik Syllabus 2021 for Science
Physics is one of the sub-subjects in the field of science. It includes the study of topics that are associated with motion, energy, force, and behaviour through space and time. The complete syllabus and topic-wise marks distribution for science exam in TBSE Madhyamik examinations is given below.
TBSE Madhyamik Physics Syllabus 2021 (Complete)
| | |
| --- | --- |
| TITLE | SECTIONS COVERED |
| Electricity | Electric current, Electric power, Interrelation between P, V, I and R, Ohm's law, resistance, resistivity. |
| Magnetic effects of current | Magnetic field, field lines, Flamingo's left-hand rule, Flamingo's right-hand rule, electromagnetic induction. |
| Light – Reflection and Refraction | Reflection of light by curved surfaces, Images formed by spherical mirrors, centre of curvature, principal axis, principal focus, focal length, mirror formula, magnification. |
| Human Eye and Colourful World | Functioning of a lens in human eye, defects of vision and their correction, dispersion of light, scattering of light. |
| Sources of Energy | Different sources of energy, fossil fuels, solar energy, renewable vs non-renewable sources of energy. |
| Total | |
TBSE Madhyamik Chemistry Syllabus 2021 (Complete)
| | |
| --- | --- |
| TITLE | SECTIONS COVERED |
| Chemical reactions | Chemical Equation, Balanced chemical equation, implications of a balanced chemical equation, types of chemical reactions. |
| Acids, Bases and Salts | Concept of ph scale, importance of ph in everyday life, preparation and uses of sodium hydroxide. |
| Metals and Non-metals | Properties of metals and non-metals, reactivity series, formation and properties of ionic compounds. |
| Carbon compounds | Covalent bonding in carbon compounds, versatile nature of carbon, ethanol and ethanoic acid, homologous series. |
| Periodic classification of elements | Need for classification, Modern Periodic table, Gradation in Properties, Valency, Atomic number, metallic and non-metallic properties. |
| Total | |
TBSE Madhyamik Biology Syllabus 2021 (Complete)
| | |
| --- | --- |
| TITLE | SECTIONS COVERED |
| Life Processes | 'Living being', Basic concept of Nutrition, Respiration, Transport and excretion in plants and animals. |
| Control and Coordination in Animals and Plants | Tropic movements in plants- Phototropism,Geotropism, Hydrotropism,Chemotropism; Immediate response to stimulus; Introduction to plant hormones, Nervous system. |
| Reproduction | Reproduction in animals and plants. Reproductive health, childbearing and women's health. |
| Heredity and Evolution | Heredity, Mendel's contribution: Laws of inheritance of traits, Sex determination, Brief introduction, Basic concepts of Evolution. |
| Our Environment | Ecosystem, Environmental problems, Ozone depletion, waste generation and their solutions, biodegradable and non-biodegradable substances. |
| Total | |
TBSE Madhyamik Syllabus 2021 for Social Science
Social science consists of a total of 4 sub-subjects and each subject has its own importance. In the Tripura 10th exams, each sub-subject has different marks weightage. Geography and History hold the highest weightage with 25 marks each. The complete TBSE 10th syllabus 2021 for SST is given below.
Tripura Madhyamik Social Science Syllabus 2021 (Complete)
SUBJECT

TOPICS COVERED

History

Unit 1 - Growth of new India

Unit 2 - National movement in India (Indian National Congress (1885-1905), Gandhi and Mass Movements, Subhas Chandra Bose and the Indian National Army)

Unit 3 - Peasants' and Workers' Rebellions (Naval Revolt,1946, Telangana, Tebhaga, 1946, Trade Union Movements, 1920-1945)

Unit 4 - North East India (Assam and the Revolt of 1857 Merger of principalities of Manipur, Tripura Creation of Arunachal Pradesh, Meghalaya, Mizoram, Nagaland and Sikkim)

Political Science

Unit 1 - Power sharing, Democracy, Gender and Caste (Purpose and objective, Indian Federalism and National Unity, Gender and Politics)

Unit 2 - Political Parties in India and Challenges to Democracy (Major National and Regional Parties in India, Role of Political Parties, Major Challenges to Democracy in India, Democracy-Conditions for itsSuccess, Role of citizens in Democracy)

Geography

Unit 1 - Earth as a Planet (Movement of Earth, Determination of the location of a place on the earth's surface)

Unit 2 - Major domains of the Earth (Lithosphere rocks, atmosphere, hydrosphere)

Unit 3 - Resources (agriculture, minerals, energy resources, water)

Unit 4 - Transport System (Concept of major transport system, Status of Tripura as an industrial unit, Transport system of Tripura)

Economics

Unit 1 -

Development (Traditional concept of development, National Income and Per capita Income, Concept of Human Development)

Sectors of Indian Economy, Money(- Difference between Economic and Non-Economic activities, Sectors of Economic activities, Difference between organized (Formal) and unorganized)

Money and credit (Meaning and evolution of Money, Modern forms of Money, Functions of Nationalized Commercial banks, Informal Financial Institutions)

Unit 2 -

Globalization and the Indian Economy (Concept of Economic Reforms in 1991, Meaning of globalization. Strategies adopted in reform measures)

Consumer Rights (How Consumer is exploited, Rise of Consumer's awareness, Role of government in Protecting Consumers rights)
TBSE Madhyamik Syllabus 2021 for Kokborok (First Language)
Kokborok is defined as the sini-tibetan native language for Tripura people. TBSE conducts Kokborok exam each year and it covers topics such as poetry, prose, and supplementary reading. The detailed TBSE 10th syllabus for this language is given below.
TBSE Madhyamik Kokborok Syllabus
| | | |
| --- | --- | --- |
| UNIT | TITLE | MARKS |
| 1 | Poetry | 17 |
| 2 | Prose | 17 |
| 3 | Supplementary Reading | 10 |
| 4 | Writing (essay writing and amplification) | 16 |
| 5 | Grammar | 20 |
| 6 | Project Internal assessment | 20 |
| | Total | 100 |
TBSE Madhyamik Syllabus 2021 for Mizo (First Language)
Mizo is a language that belongs to sino-tibetan family. It is considered to be the first language subject in the 10th board exam conducted by TBSE. Below you can find the detailed syllabus for this subject.
TBSE Madhyamik Mizo Syllabus
TITLE

SECTIONS COVERED

MARKS

Poetry

Ka tan Ni leh Thla reng a eng tawh lo by Taivela , Zan a lo thleng mek e by Dr. Ramdinthara,Zobawmtu Chhawkhleipar by H. Lalringa ,Mahriakte'n Ar ang ka vai e Parte by Lalzova, Hmangaihna by Vankhama)

20

Prose

Zahawmna by Siamkima, Zawlbuk by Remkung , Chantawka lungawina by LalzuiaColney , Nihna by Darchhawna , Mizote leh an nihna by B. Lalthangliana.




20

Rapid Reading

Tualte vanglai by Pastor Nikhum

10

Grammar

Parts of speech, Mizo tawng hman dan dik leh diklo thenkhat, Mizo tawng thumal thenkhat ziahzawm hun leh ziahzawm loh hun awm ve ve chi te

18

Composition

Mizo Thufing, Tawng Upa

Essay
-
12
TBSE Madhyamik 2021 - Preparation Tips
TBSE Madhyamik 2021 is an important exam that requires effective planning. Some of the preparation tips for students planning to appear for the examination are as follows:
Keep yourself updated. Regularly check the official website of Tripura Board and look for any new notification. Board generally releases TBSE Madhyamik Routine and other details on their website.
Carefully go through the topic wise marking scheme and ensures that you cover all the important topics.
Do not forget to solve previous years question papers. This will help you understand your weaknesses.
Also, read
Frequently Asked Question (FAQs) - TBSE Madhyamik Syllabus 2021 for All Subjects
Question: Which is the high-weigtage chapters of TBSE 10th Physics?
Answer:
Light- Reflection and Refraction & Electricity contains 15 marks. Students should cover these topics on priority.
Question: What is the total marks of TBSE 10th science paper?
Answer:
Science exams will be held for a total of 100 marks including 80 marks theory exam and 20 marks practical.
Question: What are the qualifying marks of TBSE 10th Board exam?
Answer:
Students must obtain a minimum of 30 marks in every subject to pass the TBSE 10th exams.
Questions related to TBSE Madhyamik
Showing 2 out of 2 Questions
53 Views
Has test paper 2020 of vlass 12 released?
Hii Ayush!
The Tripura board of Secondary Education ( TBSE ) will conduct the class 12th examination in the month of March or April. You can download the test papers with the help of the following link -
https://www.google.com/amp/s/school.careers360.com/articles/tbse-12th-question-papers/amp
Hope this helps.
Good luck!