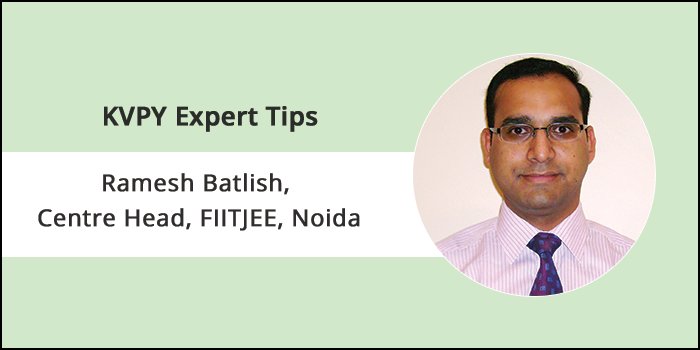 Ipshita Sarmah, 31 Jul 2018, #
KVPY
KVPY Preparation Tips 2018 by Expert – It is not an easy job when it comes to excelling in competitive exams such as Kishore Vaigyanik Protsahan Yojana (KVPY). There are various elements that you will need to consider while preparing for the exam. To add to it, KVPY preparation tips 2018 by expert will surely make it more effective in the limited time you have in hand. Careers360 talks to Ramesh Batlish, Centre Head at FIITJEE, Noida who shares vital preparation tips for KVPY from his vast experience of coaching numerous toppers. Read on to know what can make or break your preparation for KVPY into a success story through the KVPY preparation tips 2018 by expert- Ramesh Batlish, who is the Centre Head at FIITJEE, Noida.
JEE Main Sample Paper
Download Free Sample Paper For JEE Main
Download Now
Ramesh Batlish suggests that a "never say die" attitude while staying calm and relaxed at the same time is a crucial trait one needs to develop in order to crack KVPY. KVPY 2018 which will be conducted on November 4, 2018 by Indian Institute of Science (IISc) Bangalore. It is a fellowship programme through which the Department of Science and Technology, Government of India awards scholarships to deserving students who wish to pursue research careers in science. Over 1 lakh candidates appear for the exam every year out of which 2500 are selected.
KVPY Preparation Tips by Expert – What is KVPY?
KVPY exam is held for students of Class XI and XII and UG first year. Those who will qualify KVPY 2018 will be granted a monthly scholarship up to their pre- Ph.D. level or the next five years, whichever is earlier. KVPY is held for the following three streams: 
KVPY stream SA – For students of Class 11

KVPY stream SX - For students of Class 12

KVPY stream SB - For first-year students of B.Sc./ Integrated M.Sc./ Integrated M.S. 
How to prepare for KVPY – Tricks and Tips
The syllabus and pattern of exams such as JEE Main, Olympiads and several other competitive exams accommodate the important topics for KVPY. Candidates who are already preparing for the aforementioned exams will hence find it easier to study for KVPY 2018. Here are a few tips that will act as a panacea to the several complexities that students face while preparing for KVPY: 
1. Effective study plan and time management 
Students preparing for KVPY are advised to prepare a time table or study plan which is feasible and at the same time, utilises the time effectively. There needs to be equal emphasis to all the subjects included in KVPY syllabus 2018, and an equal segregation of the time to cover all concepts. The most important task after that is following the time table, which requires a lot of discipline. Students should keep an hour daily for self-analysis and correction, which plays a very important role in improving on one's weak areas. Keeping a separate time slot for the subjects in which the candidate is weak proves to be helpful too. The key to ace any competitive exam is time management. It is thus advisable to attempt the known portions of the question paper first on the day of exam. 
2. Efficient utilisation of resources at hand 
To master any subject, or in that case, any topic, it is important that one has their concepts clear. Strengthening the concept necessitates the proper choice of study material and the right option here would be to choose a book which is easy to understand. Another way to clear one's concepts are to consult teachers and expert faculty. Besides, students can also go for group study, which is very effective in clarifying doubts. Make short, self-written notes are also very much beneficial for retaining what has been learnt fir a longer period. 
3. Self-evaluation and reinforcement of weak areas 
There is no bigger mistake a student can make than to neglect the areas they are weak in. As such, analysis of one's own performance through self-evaluation becomes a significant part in one's preparation for KVPY 2018. Once students start working harder, they will see themselves solving the problems they were once afraid of. 
4. Staying connected with experts 
Institutes like FIITJEE provide doubt clearing sessions and result analysis for their students from time to time. This is usually done once or twice a month at their study centres. This practice of face to face interaction with the faculty helps candidates in resolving their queries instantly, without any delay. 
5. Judging your performance with periodic tests 
This can be done with regular practice of KVPY sample papers that are available online. One can also practise previous years' question papers of KVPY to get a fair idea of relevant topics that have been covered through the years. Besides, one can also take as many KVPY mock tests that will make them more efficient and finally, perform better.
Subject-wise KVPY preparation tips 2018
KVPY preparation tips for Physics 
The syllabus of Class XI serves as the foundation for any competitive exam and hence, students preparing for KVPY 2018, especially for the SA stream must be thorough with it. While no portion of the syllabus should be left untouched, more focus should be put on topics like Optics, Mechanics and electromagnetism. Some other important topics are thermodynamics, Simple Harmonic Motion (SHM) and waves.
Students appearing for SX level must solve a plenty of numerical problems to keep their concepts clear. Kinematics, Capacitors & Electrostatics, Heat & Thermodynamics, Gravitation, Fluids, Waves & Sound, Magnetics, Optics & Modern Physics and Electromagnetic Induction amongst others are some of the important topics that candidates must focus on. 
KVPY preparation tips for Mathematics 
One must have basic knowledge of Geometry as well as number theory to perform well in the Mathematics section of KVPY 2018. Circles, sequence, series and trigonometry are some fundamental topics, proper knowledge of which will guarantee good scores in the exam. One should go through these topics once before the exam as they can expect atleast 3-4 questions from these topics. Students appearing for KVPY SX stream can go through topics like integration, vector algebra, statistics, and 3-D Geometry as there will be sure shot 2-3 questions from these with one easy question from each topic. Other easy to score topics are application of derivatives, matrices and determinants and limits. The paper will carry 1-2 questions from each of these topics. There will also be mental ability based questions covering topics such as Quadratic equation, Algebra, P&C, Series and progression and basic geometry. 
KVPY preparation tips for Chemistry 
Test takers appearing for KVPY 2018, SX stream should be thorough with the periodic table. For inorganic Chemistry, they can consult the NCERT books. The weightage in this section is less and evenb the seemingly difficult questions will be answerable once the concepts are clear. In case of Organic Chemistry, one must be clear from the basic levels and ensure regular practice of the same. Students must also practice as many numerical problems as possible from the Physical Chemistry section. The following topics are important -
| | |
| --- | --- |
| S.No. | Important topics for KVPY Chemistry Section |
| 1 | Coordination Chemistry |
| 2 | Chemical Bonding |
| 3 | Electrochemistry |
| 4 | Chemical & Ionic Equilibrium |
| 5 | Mole Concept |
| 6 | Atomic structure |
| 7 | Chemical bonding |
KVPY preparation tips for Biology (for class XI - SA category only) 
It's relatively easier to score good marks in Biology as compared to the other subjects included in KVPY 2018. Being thorough with the class IX and X NCERT books and going through some important topics from class XI and XII NCERT books are enough for a student to expect more than 80% score in the exam. One must go through the following topics from 10+2 level NCERT books:
Genetics

Cell and Biomolecule
Physiology (both animal and plant - specially photosynthesis in plants and control and coordination in plants and animals)

Health and disease are extremely important topics from the point of view of KVPY 2018.   
Questions related to KVPY