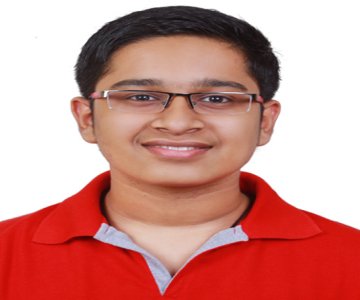 KVPY 2017 Topper Interview – Cracking Kishore Vaigyanik Protsahan Yojana (KVPY) the National Program of Fellowship in Basic Sciences held by IISc Bangalore is a matter of pride. Vishnu Vinod from K.E School, Mannanam, Kottayam, Kerala is one of the students who cleared the KVPY 2017 SA test in flying colours. Here he talks to Careers360 about his deep interest in science, KVPY preparation strategies, books he referred to along with his success mantras, stress buster strategies and more. Read on the complete KVPY 2017 Topper Interview of Vishnu Vinod below.
Careers360: Tell us something about yourself. Which school are you studying in?
Vishnu: I am a class 12th student. I am studying in K.E School, Mannanam, Kottayam, Kerala.
Careers360: How did you come to know about KVPY? What made you apply for it?
Vishnu: My school was instrumental in giving me the details of the fellowship. I checked the details and felt that the opportunities and weightage it offers are really worthwhile and therefore I applied for it.
Careers360: Are you interested in studying science? If yes, which subject are you most interested in and why? Which programme would you be interested in and why?
Vishnu: Yes, I am pretty much interested in studying Science. I would probably go for Applied Physics, in IISc, Bangalore.
Careers360: When did you start your KVPY preparation? Tell us something about your preparation strategy and daily routine for KVPY?
Vishnu: Well, I started with my preparation in the previous year only. My main focus was on NCERT books as these build your concepts better. My knowledge in the subject basics is actually strong so this helped a lot during preparation and the exam too.
Careers360: How did you manage to study for KVPY exam along with regular classes?
Vishnu: Actually it is not that tough. The subjects overlap with current school syllabus so if you prepare for the school, syllabus, it is enough.
Careers360: Did you take any coaching for KVPY preparation? If yes, how fruitful was it?
Vishnu: Yes, I did take coaching for KVPY but I think that the coaching wasn't really fruitful. So you can crack it even if you don't take coaching if you study well.
Careers360: Which books did you refer for your preparation?
Vishnu: I referred to a few standard text books like HC Verma for Physics, RD Sharma for Maths and Bahl for Chemistry. Like I said earlier, I was studying from the NCERT text books also.
Careers360: Do you think practising from the previous year papers help and how?
Vishnu: Practice definitely helps. You get to know the question pattern, understand the exam better which is a good thing.
Careers360: Are you a PCM student? If yes, how did you prepare for Biology?
Vishnu: Yes, I am a PCM student, Biology is not that difficult, as my foundation is strong there. You need to look up the syllabus and see how to study it. Basically you must have studied it in class 10 so it's a matter of refreshing the same.
Careers360: What was your daily study schedule like? How many hours did you study daily and how did you prepare for all the KVPY subjects?
Vishnu: I did not undertake any special preparation methodology or schedule for KVPY, except for the last few days prior to the exam. Regular study of 4-5 hours a day is enough to revise through the concepts which we have been learning over the last two years.
Careers360: How did you de-stress yourself during the preparation? What are your hobbies? How often could you pursue them?
Vishnu: Reading is my hobby. So I would indulge in that. Spending time with family is another stress buster as it takes out all stress and rejuvenates one to get back to studies. So that's another thing I would do.
Careers360: What do you think is a tough thing to manage during the KVPY exam?
Vishnu: Too much of information is given out there if one searches the internet. So one can easily slip out from the syllabus and get distracted with so many details. So I made it simple. I decided that sticking to the prescribed syllabus is important and practicing with the time constraints is another factor to keep a check on. Rest all will fall in place if you go about it the right way.
Careers360: Give us your view of the interview process. How many members were there in the panel? What kind of questions did they ask you?
Vishnu: The interview panel had four members. They were very cordial and supportive and ensured that I was comfortable with the process. The questions asked were mostly on the subject itself.
Careers360: Did you prepare for the interview in any manner?
Vishnu: Not really. The questions were related to the syllabus and I had already prepared for that so it was not such a difficult thing.
Careers360: Which factors would you attribute your success to?
Vishnu: Meticulous planning and execution always lead to success. This holds good for most things and KVPY is no exception.
 Careers360: Which colleges would you be applying to?
Vishnu: I am still studying class 12 so there is time for that. I haven't given a thought to colleges and all yet. It's too early for that.
Careers360: Tell us something about your future plans, ambitions, career dreams?
Vishnu: That's a long way to go. Currently, my focus is on my Class 12th studies. For now, that consumes all my time.
Questions related to KVPY