Top 10 Careers in Hotel Management
Top 10 Careers in Hotel Management - Career in hotel management is promising and challenging at the same time. It is among the top job-oriented sectors in India, which covers catering, event management, housekeeping, food and much more. To make a career among the top 10 careers in hotel management, one can pursue a Bachelor of Hotel Management (BHM), a BSc in Hospitality and Hotel Administration, etc after 12th. There are some entrance tests conducted at university level like ITM NEST, to get admission in UG courses. Diploma courses are available in this field. If you want to get expertise in this area, then you can also opt for Masters in Hotel management or MBA in Hotel/Hospitality Management. In most cases, candidates are absorbed by the recruiters directly from the campus placement. In the top 10 careers in hotel management, you can check the job description, required skills, average salary, and career growth. Choose the career of your interest from a wide range of options.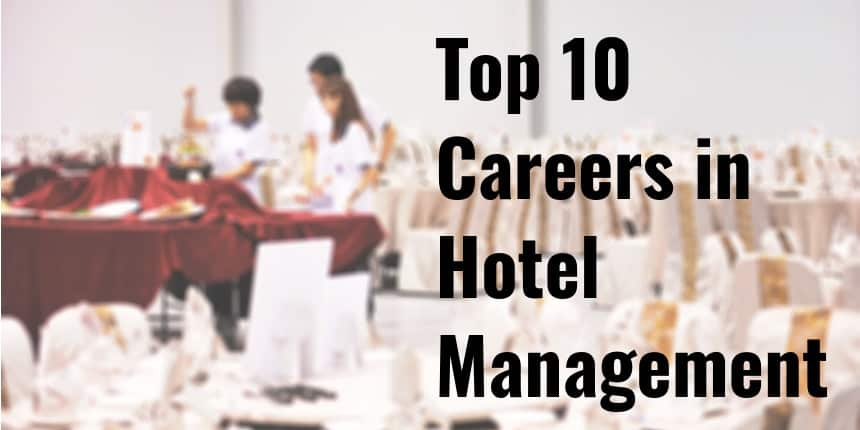 Top 10 Careers in Hotel Management - Overview
Careers

Required Skills

Average salary per annum

Director of housekeeping

Good management skills

Time management

Team-building skills

Rs. 3 to 10 Lakhs

Executive chef

Culinary Expertise

Food Preparation

Presentation

Cooking Techniques

Multi-tasker

Leadership

Up to 15 Lakhs

Government jobs

Knowledge of various computer software programs (MS Office, MS Word, etc)

Good command over the subject

Ability to resolve problems efficiently

Rs. 2.5 to 7 Lakhs

Hotel manager

Good communication

Operational Knowledge

Team Building

Financial Management

Rs. 3 to 10 Lakhs

Event manager

Creative minded

Good in Planning and executing

Finance planning

Multitasking

Rs. 6 to 12 Lakhs

Cabin crew

Excellent management

Communication

Physical fitness




Rs. 4 to 12 Lakhs

Catering Manager

Communication and interpersonal skills

Time management

High standards of personal hygiene.

Rs. 5 to 8 Lakhs

Travel & Tourism Manager

Administration skills

Passionate about traveling

Friendly and professional

Rs. 2 to 5 Lakhs

Sales and Marketing Manager

Knowledge of sales and marketing

Strong analytical skills

Knowledge of data analysis

Rs. 3 to 6 Lakhs

Restaurant Manager

Planning

Time management

Great communication skills

Rs. 5 to 10 Lakhs
Housekeeping
The housekeepers are mainly responsible for the daily management of duties and chores involved in the cleaning and maintenance of rooms, common areas, etc. The housekeeping looks after all the housekeeping staff. Planning, managing, and organizing the overall operations of housekeeping staff are the main work involved in this post. The housekeeping should also control labor and operating expenses through effective planning, budgeting, purchasing decisions, policymaking, and inventory control of their respective company. The candidate must be proactive and possess good management skills to grow further in this job. This is one of the top 10 careers in Hotel management.
Career growth as a Director of Housekeeping - There are innumerable hotels and resorts in India and the world, where the Housekeeping is hired. Top hotel chains in India such as Taj, Leela, Oberoi, etc. offer an attractive salary for this post.
Chef
The chefs are responsible for everything that cooks in the kitchen of a restaurant or hotel. They are also called culinary experts. In addition to the great cooking skills, and creativity while presenting their dish. The chefs need to plan the meals, instruct the staff, create new dishes, etc. They have to oversee the kitchen staff and their activities as well, hence they have to be a team player. Some other responsibility of executive chefs includes the management of administrative operations and keeping a track on the financing of kitchen supply. The Chef must have a great command of cooking and should fulfill the need of the hour.
Career growth as an Executive chef - The job of an executive chef could be glamorous and hectic both, which makes it among the Top 10 Careers in Hotel Management. They can work in a hotel or restaurant or they can also start their own restaurant. After years of experience, they might get a chance to represent cooking shows on Television. Many famous chefs like Ranveer Brar run their own Youtube channel for cooking.
Government jobs in Hotel management
In the government sector, there are some great career options for hotel management graduates. FSSAI recruits candidates for various positions like food and safety officer, fellows, etc. However, candidates have to qualify for examinations conducted for that particular post. Apart from this, after master's in Hotel management, students can also apply for posts of Associate professors in the Institute of Hotel Management.
Career growth in Government Jobs - In the government sector, one can always expect job security and other special allowances by the government. In government jobs, the initial salary will be around 20-25k, which will be increased as time passes.
Hotel manager
The hotel managers play an important role in effectively running the hotel. They have to look after all the day to day operations of a hotel such as reservations, conventions, housekeeping, catering, etc. They have to hire, train and supervise the staff of their respective hotel. The work of hotel managers can be hectic at times. The hotel managers have to ensure safety measures carefully for their hotel. They have to monitor the financial and administrative functions of the hotel as well. There is high career growth in this field, which makes it a top 10 Careers in hotel management. All that is required is patience, hard work, and great leadership quality.
Career growth as a Hotel manager -
The hotel managers are hired in each and every hotel. The job is versatile in nature where you have to manage all the tasks effortlessly. A candidate can reach the maximum level, can work with the Five or Seven-star hotels depending on their abilities.
Event manager
There are numerous personal and professional events organized in hotels or restaurants. Be it an official meeting, wedding or concert, hotels are a one-stop destination for mainly all the events. Event managers are responsible for planning an event from start to finish. They have to prepare the budget, contact the vendors, communicate and plan with all the related people. Event managers have to ensure that the event is completed smoothly and without glitches. The essential skills required for the event manager are great management and a creative mind. This is one of the top 10 careers in hotel management in today's era.
Career growth as Event manager -
The opportunities as an event manager are not only limited to working in the resorts, hotels or restaurants. There are enormous opportunities available in this field. From small organizations to award ceremonies event planners can work anywhere. The pay scale may also vary from company to company.
Cabin crew
All the airlines hire cabin crew, hence it is one of the most attractive careers among Top 10 Careers in Hotel Management. A degree in hotel management, hospitality, will be required to become a cabin crew. Good communication skills and interpersonal skills are required for this post. Along with this, one should also be fit, healthwise.
Career growth as a Cabin crew - There are approximately 15-20 airlines currently operating in India. There are great career opportunities in the airline's sector for cabin crew. The initial salary will be around 25-35k.
Catering Manager
The catering managers lead the team of chefs and other staff. The work of the catering manager can be outdoors too. It is one of the top 10 careers in hotel management because the catering industry is an evergreen industry that is why there are ample opportunities as a catering manager. They plan and oversee food and beverage for the events and look after the customer's satisfaction. They might have long working hours to accommodate the different Indoor and outdoor catering requirements.
Career growth as Catering Manager- At the initial level, one can start as a trainee and then can be promoted further at the managerial level. Candidates can work in restaurants, cafes, bars, or catering companies.
Travel & Tourism Manager
To make a career in Travel and Tourism, one has to be very passionate about traveling and exploring new places. This sector is quite fascinating. India is among the top tourist hubs in the world with numerous historic places and scenic beauty. There are some various UG and PG courses available for this sector, such as BA in Tourism, B. Sc. in Travel and tourism, etc. Many diploma courses are also available for tourism.
Career growth as Travel & Tourism Manager- One can start as a Travel consultant, tour guide, travel coordinator, etc and then further reach up to the managerial level. Along with the basic salary, the tourism managers are also entitled to many incentives and perks, which will depend upon the number of clients, etc.
Sales and Marketing Manager
The high-end hotels usually hire sales and marketing managers to promote their business or the events happening in their property. For this role, a candidate should have a good knowledge of Social media, advertising, and digital marketing. As they have to manage the sales part too, hence the accounts handling skill is also a prerequisite. The educational qualification required for the Sales and Marketing Manager is a Bachelor's degree and a few years of experience in the relevant field.
Career growth as Sales and Marketing Manager- There are a certain number of hotels that hire Sales and Marketing managers. They mainly look after all the sales reports, brand marketing, event promotions, etc. If one is capable enough in their skills then they can surely fly high in this field.
Restaurant Manager
The Restaurant managers are mainly hired to manage all day to day operations except for the kitchen. They work on developing the look and feel of the restaurants or cafes. The restaurant managers ensure that the services of their outlet are up to the mark. Meeting the customer's requirements is the primary responsibility of them.
Career growth as Restaurant Manager- It is one of the top 10 careers in hotel management where you can earn more. Although to become a restaurant manager one needs to work dedicatedly in this field for years. At initial levels, a person needs to work and prove their management skills. The opportunities for employment are available at restaurants, hotels, resorts, and other hospitality areas.
How to apply?
Most of the big companies, hotels or restaurants in the hospitality industry hire the candidates directly through campus placement. This campus placement depends upon the performance of candidates during the course and interview as well. Candidates are also hired through many placement agencies.
Top Recruiters in Hotel Management
1. Hyatt
2. Country Inn Suites
3. Shangri-La
4. Le Meridien
5. Ramada
6. Taj Group of Hotels
7. Leela Group
8. Radisson Chain of Hotels
9. JW Mariott Group
10. ITC Welcome Group