JAC 12th Toppers 2023 - The Jharkhand Academic Council releases the JAC Class 12 toppers list 2023 for Science, Commerce and Arts streams. Jharkhand board class 12 toppers list 2023 is published online on the official website. Separate announcements is made for the JAC 12th toppers 2023 in the Science, Commerce, and Arts streams. In JAC 12th Science stream intermediate exams 2023, a total of 73,833 candidates appeared in the exams and out of this 60,134 were declared pass. The overall JAC 12th Science pass percentage stood at 81.45%. For JAC 12th arts stream the pass percentage stood at 55.9%, while the overall pass percentage in JAC 12th Commerce stream stood at 88.6%. To download the complete list of Jharkhand Board 12th toppers 2023, students can visit the official website of the Jharkhand Board, i.e. jac.jharkhand.gov.in.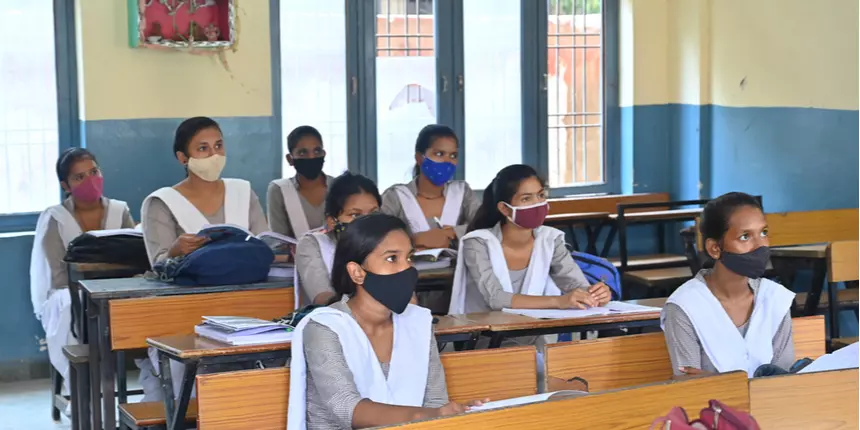 JAC 12th Toppers 2023 - Check Toppers List Here
As per JAC exam schedule, the JAC 12th exams 2023 were conducted from March 14, 2023, to April 15, 2023. The Jharkhand Board releases the best scorers up to rank three as part of the JAC result 2023. Read the article for more information about the Jharkhand Board Class 12 toppers 2023.
JAC 12th Toppers 2023
The board announced JAC 12th Science stream results 2023 on May 23, 2023 and JAC 12th Arts and Commerce streams results have been declared on May 30, 2023. Following the official publication of the JAC result 2023, the list of Jharkhand Board 12th toppers will be updated stream-by-stream in the table below. Meanwhile, students can also check the previous year's statistics of the JAC result toppers.
JAC Class 12 Toppers 2023 - Science Stream
| | | | |
| --- | --- | --- | --- |
| Rank | Students name | Marks obtained out of 500 | Stream |
| 1st | Divya Kumari | 479 | Science |
| 2nd | Khushi Kumari | 476 | Science |
| 3rd | Priyanka Ghosh | 475 | Science |
| 3rd | Pawan kumar rana | 475 | Science |
JAC Class 12 Toppers 2023 - Arts Stream
| | | | |
| --- | --- | --- | --- |
| Rank | Students name | Marks obtained | Stream |
| 1st | Kashish Parveen | 469 | Arts |
| 2nd | Diksha Sahoo | 465 | Arts |
| 3rd | Sudhanshu Kumar | 464 | Arts |
JAC Class 12 Toppers 2023 - Commerce Stream
| | | | |
| --- | --- | --- | --- |
| Rank | Students name | Marks obtained | Stream |
| 1st | Shrishti kumari | 480 | Commerce |
| 2nd | Mahish Parveen | 479 | Commerce |
| 3rd | Riya Kumari, Priyanka Kumari, Riya Kesari, Shruti Kumari | 475 | Commerce |
| | | |
| --- | --- | --- |
| Rank | Student Name | Marks |
| 1st | Mansi Saha | 474 |
| 2nd | Rohit Kacchap | 467 |
| 3rd | Anchal Kumari | 465 |
| 4th | Priya Kumari | 460 |
| 5th | Vaishnavi Keshri | 459 |
| | | |
| --- | --- | --- |
| Rank | Student Name | Marks |
| 1st | Nikky Kumari | 474 |
| 2nd | Shreya Pandey | 467 |
| 3rd | Nushrat Jahan, Sanjana Pramanik, Pragati Susang, | 465 |
| 4th | Kashish Kumari, Ananta Mishra, | 460 |
| 5th | Sneha Kumari | 459 |
| | | | |
| --- | --- | --- | --- |
| Rank | Name of the student | Marks obtained | School name |
| 1st | Amit Kumar | 457 | SRSSR High School, Suriya, Giridih |
| 2nd | Nitish Kumar Keshari | 452 | Inter Science College, Hazaribagh |
| 3rd | Mukesh Kumar | 451 | Marwari College, Ranchi |
| 3rd | Tapasvi Mittal | 451 | St. Xavier College Ranchi |
| 3rd | Rama Kumari Dube | 451 | St. Xavier's College, Ranchi |
| 4th | Suraj Kumar | 449 | St. Xavier's College, Ranchi |
| 4th | Rupesh Kumar Yadav | 449 | Inter Science College, Hazaribagh |
| 4th | Rahul Board | 449 | Channel Intermediate College, stream |
| 5th | Laxmi Kumari | 448 | Ursuline Inter College, Ranchi |
| 5th | Neha Kumari | 448 | Inter Science College, Hazaribagh |
| 5th | Suraj Dev Mehta | 448 | Inter Science College, Hazaribagh |
| 5th | Aman Kumar | 448 | Inter + 2 School, Godda |
JAC 12th Commerce Toppers 2020
| | | | |
| --- | --- | --- | --- |
| 1st | Shubham Kumar Thakur | St. Xavier College Ranchi | 450 |
| 2nd | Rupa Kumari | Chunnilal High School Lohardaga | 448 |
| 3rd | Ankita Agarwal | Ursaline Inter College Ranchi | 445 |
| 4th | Sabbi Parveen | Ursaline Inter College Ranchi | 443 |
| 5th | Jitu Singh | Jamshedpur Co-operative College | 438 |
JAC 12th Arts Results 2020
| | | | |
| --- | --- | --- | --- |
| Rank | Toppers Name | Marks obtained | School name |
| 1st | Nandita Haripal | 419 | Jamshedpur Women's College |
| 2nd | Prerna Raj | 418 | Ranchi Women Colleges |
| 2nd | Jyoti Kumari | 418 | Ursaline Inter College Ranchi |
| 3rd | Sujata Kumari | 416 | BPM High School Burma Mines Jamshedpur |
| 4th | Manisha Kumari | 415 | St. Xavier College Ranchi |
| 4th | Priyanka Soren | 415 | Ursaline Inter College Ranchi |
| 5th | Indu Kumari | 414 | Nirmala College Ranchi |