Things to Look in a school
Things to look in a school - How do you choose the right school for your child? What are the factors you consider? The variety of choices available today can make this decision very difficult. A child today has probably more options for schools than their parents did when they were growing up. It is important to consider the child's strengths, interests, and specific needs when selecting a new school for a child to make the right decision. The right school for a child should provide opportunities for learning, growth, and development. Below are a few things to consider in choosing a school.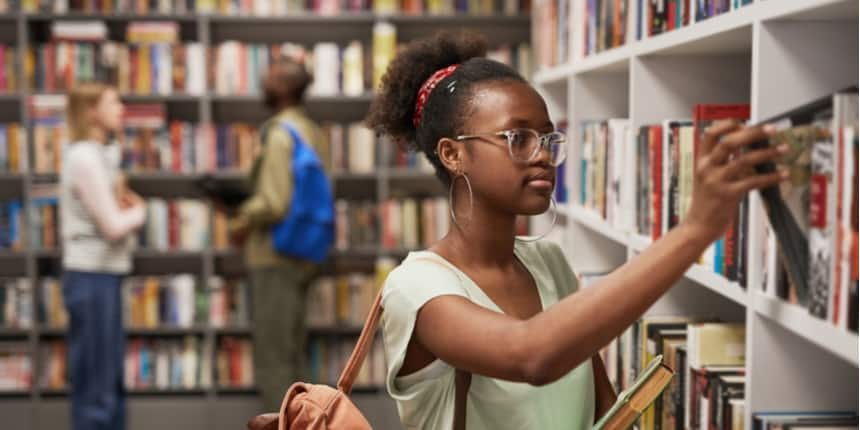 See also: Which stream to choose after 10th
Things to look in a school - Identify schools and gather information about them
When you look to buy a car, mobile phone, or refrigerator, you talk to friends and family and look for information and reviews on the internet, in newspapers, magazines, etc. Likewise, if you are searching for schools for your child, you might find it useful to gather information about the school. For example, you can contact the school directly, visit their website, and ensure the school is NAAC accredited. It may be helpful to research a school online before a personal visit to answer many standard questions. A visit to a school and meeting with the teachers and staff can provide you with a better understanding of the school's philosophy and how it operates. Furthermore, it would be useful to know if the school offers any after-school activities, such as sports, clubs, tutoring, etc. Putting in the effort will be worthwhile if you discover a school that brings out the best in your child.
See also:
Things to look in a school - Right curriculum
When looking for things to consider in choosing a school, the right curriculum will provide a good start for the child. It also plays a vital role in fostering quality learning and supporting proper education. Given the many curriculum options available, picking the right one can be challenging. The best curriculum recognizes the value of each learner and caters to all their educational needs. The schools in India offer different curriculums, such as CBSE, ICSE, or other international curriculums such as the International Baccalaureate (IB) or Cambridge curriculum (IGCSE). ICSE and CBSE are very popular in India, providing students with a highly supportive and focused environment designed to help them reach their full potential. The IB and IGCSE take a student-centred approach to learning. This gives them a sense of freedom while fostering creativity and enhancing their learning and also provides an opportunity for global exposure. A curriculum should be selected based on the child's learning styles and needs, the child's interest level, as well as its adaptability and development appropriateness.
See also:
Things to look in a school - Cost of education
How much money are you willing to spend on your child's education? A lot of parents may think that schools charging high school fees provide better education. But this isn't necessarily true. Some government-run schools offer quality education at a much lower fee than some private schools. Nevertheless, a variety of factors, such as the availability of additional facilities and amenities in the school, could affect the fees charged. Amenities such as computer classrooms and multiple curriculum options can significantly increase the fee cost, and shouldn't be left out when looking for things to consider in choosing a school.
See also:
Things to look in a school - The ratio of teachers to students
Before enrolling yourself/your child at a school, make sure to check the teacher-to-student ratio. This is one of the important things to consider in choosing a school. Some schools tend to increase the size of each class rather than the number of classes and teachers. If the number of students in a class is high, a teacher will not be able to give each child the attention that they need when they are growing. The teacher should be able to identify the difficulties and help students gain clarity, which can be accomplished only when a good connection is established between the teacher and student. As a general rule, a school should have one teacher per 30 to 35 students for primary/secondary schools and in a preschool class of 10-15 children, there should be a teacher and two assistants.
See also:
Things to look in a school - Extra-curricular activities
For a child to experience success in academics and extracurricular activities, he or she must have the support of the school. Schools should offer a variety of extracurricular activities, such as outdoor sports, arts and crafts, and performing arts, and are amongst the top things to consider in choosing a school. These experiences are essential to a student's learning experience since they foster team spirit, self-confidence, and leadership abilities. It is therefore vital that curricular and co-curricular studies should be seamlessly integrated for the holistic development of students, and a heavy emphasis on academics may hinder the development of these critical life skills. These activities can provide a child with a high-interest activity to keep him or her interested in school which is why it is crucial that you .
See also:
Things to look in a school - Location and transportation facilities
It is important to consider the distance between your home and school when choosing a school. The child should have as little travel time as possible each day. A study suggests that the long journeys to school may adversely affect the physical and mental health of students, which may negatively affect their overall well-being both personally and academically. In addition to safety concerns, enrolling your child in a school that is located near to your home would be advisable. It allows the child to have more free time, which can be spent on other activities as well as studies.
See also: DTC says can't provide buses to schools
Things to look in a school - Infrastructure
Given the steep fees schools charge, wouldn't you also want the schools to provide good infrastructure to the students? It is a physical space where your child will be growing up so it should naturally be one of the top things to look in a school. Well-planned school infrastructure is a key factor in effective teaching and learning. The infrastructure essentials that every school should have for its students include extracurricular workshops, libraries, sports fields, auditoriums, sports equipment, well-equipped laboratories, assembly areas, and proper sanitary facilities.
See also: Top schools in Delhi
The school years, without a doubt, are some of the most crucial years in a child's development. The quality of schools plays a huge role in shaping a child into a well-rounded individual. School serves as a second home for a child. So make sure to go through the list of things to consider in choosing a school. Choosing a school is a task that should be done only after analyzing and checking the standards of the school. This will help the child to grow both in his/her skill set and in his/her existing talent set. Furthermore, the school should help the child understand the world, encourage them to step out of their comfort zone, and be a beacon of hope for the future.
Author- This article has been authored by Yashodhra Arora, who is a Counselling Psychologist, with extensive experience in career counselling for high school students.
Read more:
Frequently Asked Question (FAQs) - Things to Look in a school
Question: What are the most important things for a school?
Answer:
The most important things for a school are its infrastructure, well-trained teachers and staff, and convenient transportation facilities. Schools should provide a child with the appropriate curriculum along with co-curricular activities.
Question: How many curriculums are offered in India?
Answer:
Some of the popular school curriculums in India are CBSE, ICSE, IB, IGCSE, state boards, etc.
Question: What questions should I ask when visiting a school?
Answer:
Parents can enquire about the philosophy of the school, their approach to learning, past academic performances, transportation facilities, safety and what other facilities and services are offered.
Question: What is the priority one should look for when shortlisting a school for a child?
Answer:
Identifying a space that fosters a child's growth and development should be the priority. Children's best values can only be fostered in a school with a positive learning environment with supportive teachers.
Question: How can technology enhance the learning experience?
Answer:
Learning and development are prioritized in a school that makes use of the latest technologies to deliver education. Games and interactive content should be used adequately with digital resources. This will help a child develop their imagination while also keeping them captivated. Multimedia and video are included in online learning, to promote real-time teaching.
Things to Look in a school